KABUL -- A child suicide bomber detonated his explosives Tuesday (October 31) in Kabul's heavily fortified diplomatic quarter, killing at least four people, reported AFP.
"The suicide attack was carried out by an underage bomber, a boy we think 13 or 15 years old, killing at least four and wounding over a dozen more civilians," Interior Ministry spokesman Najib Danish told AFP.
A police spokesman said the attacker may have been as young as 12.
The attacker appeared to be targeting workers leaving an Afghan Defence Ministry facility inside the Green Zone, where many embassies and the head offices of major international organisations including NATO's Resolute Support Mission are situated, a Western source told AFP.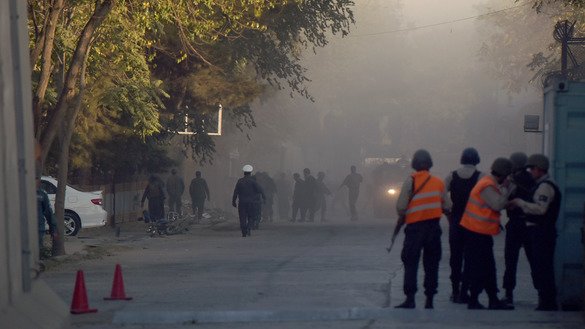 Defence Ministry spokesman Dawlat Waziri said the attacker "made it through the first check-point but was stopped at the second check-point and detonated."
Target unknown
"We don't know the target, but it happened a few metres from the Defence Ministry's foreign relations office. There were no casualties to our personnel," Waziri said.
"I was 100 metres away when the explosion happened, and as I ran towards the site I saw several people lying in blood -- one had been hit in the head and was moving. It was a horrible scene," an eyewitness told TOLOnews.
The "Islamic State of Iraq and Syria" (ISIS) claimed responsibility for the attack, which follows a spate of suicide assaults by Taliban and ISIS insurgents on security installations and mosques in recent weeks.
These children, so-called "cubs of the caliphate", are recruited, brainwashed and trained by ISIS through a variety of forcible tactics, Afghan officials and analysts say.
"ISIS operatives either recruit or kidnap and train these children in areas under their control," Fazlullah Wahidi, a former governor of Kunar and Herat provinces, told Salaam Times. "In addition, they take advantage of Afghans' illiteracy and poverty to recruit and brainwash their children."
"After brainwashing the recruited children, ISIS forces train the children to commit suicide bombings and to work with explosives," he said. "Moreover, they completely radicalise these children to the point that they no longer think of anything but murder, suicide attacks and oppression."
"I have personally witnessed cases when ISIS recruits did not even show mercy towards their own families, murdering their own brothers," Wahidi said.
This was the first attack targeting the Green Zone since a massive truck bomb ripped through an area close to the German embassy May 31, killing 150 people. Special truck scanners, barriers and permanent and mobile check-points were rolled out across the city as part of an effort to boost security.