KABUL -- The "Islamic State of Iraq and Syria" (ISIS) Khorasan branch stooped to a new low recently when it released a video from an undisclosed location in Afghanistan showing children executing children.
The ISIS executioners appear to be between the ages of 7 and 12 years old. Dressed in black, they stand behind their prisoners, kneeling and dressed in the orange jumpsuits ISIS commonly makes its prisoners wear.
The executioners, brandishing handguns, jerk back the prisoners' heads before shooting them at close range.
In a later scene of the 10-minute video, another child, dressed in military fatigues, points a handgun in the face of a man kneeling before him. A man dressed in the same khaki camouflage uniform oversees the execution.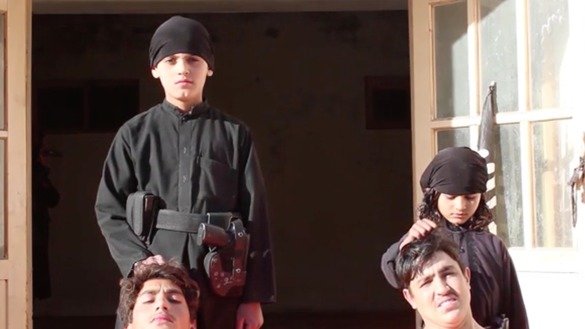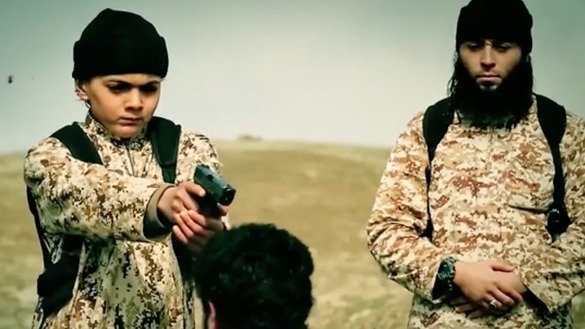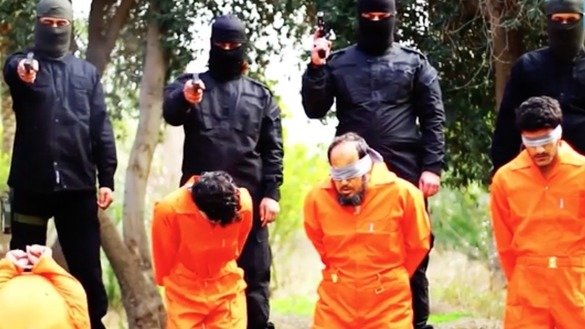 Other scenes show four men standing in a row, dressed in black with their faces covered, executing blindfolded prisoners kneeling before them.
The video is evidence of the desperate attempt by ISIS Khorasan to exert its dwindling power following a series of irreversible defeats across Afghanistan over the past year, observers say.
ISIS kidnaps, brainwashes children
These children, so-called "cubs of the caliphate", are recruited, brainwashed and trained by ISIS through a variety of forcible tactics, Afghan officials and analysts say.
"ISIS operatives either recruit or kidnap and train these children in areas under their control," Fazlullah Wahidi, a former governor of Kunar and Herat provinces, told Salaam Times. "In addition, they take advantage of Afghans' illiteracy and poverty to recruit and brainwash their children."
"After brainwashing the recruited children, ISIS forces train the children to commit suicide bombings and to work with explosives," he said. "Moreover, they completely radicalise these children to the point that they no longer think of anything but murder, suicide attacks and oppression."
"I have personally witnessed cases when ISIS recruits did not even show mercy towards their own families, murdering their own brothers," Wahidi said.
ISIS under pressure, losing ground
"ISIS has suffered heavy blows in Afghanistan, and Afghans constantly hear news of the group's defeats in all four corners of the country," Gen. Dawlat Waziri, a spokesman for the Ministry of Defence, told Salaam Times.
Among the reverses suffered by ISIS in Afghanistan, coalition forces have killed three of its leaders in a year, including Abu Sayed July 11 in Kunar Province.
"This group is desperate to prove its existence in Afghanistan by exploiting innocent children and putting up fake displays of power," he said.
"ISIS has committed the most heinous crimes against the people of Afghanistan," Waziri said. "The Afghan people consider ISIS to be a horrible terrorist group that shows no mercy to any Afghan citizen."
"ISIS can no longer recruit new members among Afghan adults," he said. "As a result, it recruits children who do not know about Islamic principles, lack sufficient knowledge, don't understand the rules of engagement and war, and are unaware of human rights principles."
"It recruits children by force, by pressuring their families," he added.
"According to the reports published by the government as well as the media, ISIS has lost the absolute majority of its combat forces, and its main centre of power, which was located in Nangarhar Province, has been completely dismantled," said Asadullah Walwalji, a Kabul-based political analyst and former military officer.
"All of this has caused ISIS to lose its military capability," he told Salaam Times. "In order to cover up its defeat ... ISIS has put the use of children on its agenda, a practice that is contrary to all generally accepted rules of engagement."
"ISIS is trying to ... instill horror and terror in society and to fulfill its future plans by recruiting and brainwashing children," Walwalji said.
"But ISIS's plan in Afghanistan is never going to work, given that Afghans never wanted ISIS," he said. "In fact, they played a vital role in defeating ISIS, a group on the verge of annihilation."
'Flagrant violation of children's rights'
"The video published by ISIS of children executing other children ... is a crime against the children of Afghanistan," said Kabul-based children's rights activist Abdul Baqi Samandar.
"Children are the building blocks of the future of every country," he told Salaam Times. "Unfortunately, ISIS is committed to destroying the foundation of Afghan society by recruiting children and by teaching them brutal terrorist acts."
"Recruiting children by terrorist and militant groups is against the laws of Afghanistan, children's rights conventions, and all Islamic and Afghan values," he said, adding that governments are required to protect children's rights according to international conventions.
The Afghanistan Independent Human Rights Commission (AIHRC) also expressed deep concern about the recruitment of children by militants and terrorist groups in Afghanistan.
"ISIS's recruitment of children as soldiers, training of them as executioners and executions of children ... conflict directly with human rights values, international humanitarian laws, universal human rights conventions, the laws of Afghanistan and Islamic principles," AIHRC spokesman Bilal Sediqi told Salaam Times.
"[AIHRC] calls on the government, the international community and international human rights institutions to prevent terrorist groups, by any means possible, from recruiting and exploiting children," he said.