KABUL -- The "Islamic State of Iraq and Syria" (ISIS) is in "a desperate situation" in Afghanistan, as evidenced by the terrorist group's use of children to carry out its inhumane and un-Islamic acts, Afghan officials and children's rights activists say.
Children's rights activists and human rights organisations have slammed ISIS for forcibly recruiting children, providing them with combat training and utilising them as executioners.
The latest evidence of these actions -- which are contrary to Islamic principles, rules of war and international humanitarian laws -- came to light in a 25-minute video released by ISIS's Khorasan branch on March 4.
The video, allegedly made in Nangarhar Province near the border with Pakistan, shows dozens of children, many of them forcibly recruited and brainwashed, armed and waving ISIS's flag.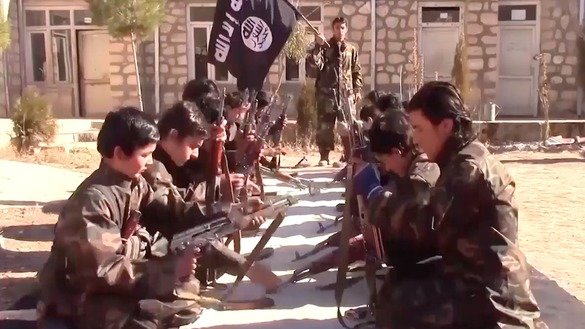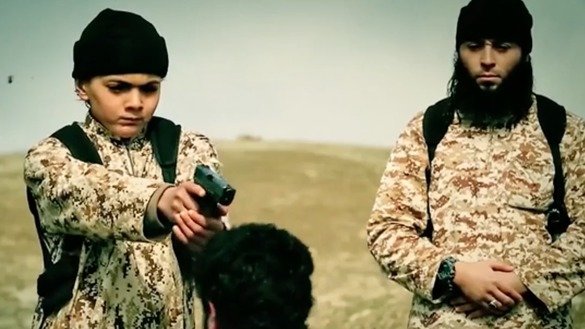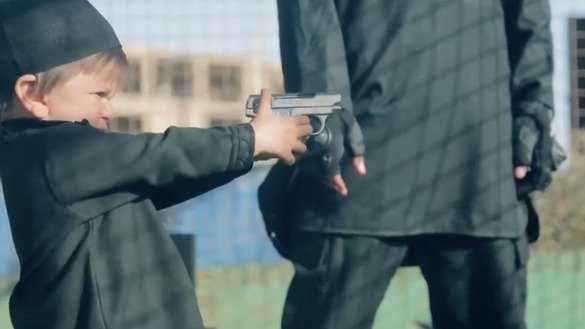 Other children can be seen being forced to participate in weapons training and grimacing as they are made to stand in formation.
ISIS on the verge of annihilation
ISIS has failed in Afghanistan and has resorted to using children to carry out its brutal acts, said Gen. Mohammad Radmanesh, deputy spokesman for the Afghan Ministry of Defence.
"ISIS in Afghanistan has been defeated and is on the verge of complete annihilation," he told Salaam Times. "For this reason, it captures and murders innocent Afghans to show that it still has some presence in Afghanistan."
"ISIS has completely lost its position and control in most parts of Afghanistan mainly because of the inhumane atrocities that it has committed against Afghans and the widespread defeats that it sustained over the course of the past year," he said.
"It is now in a desperate situation. For this reason, it has resorted to the use of children," said Radmanesh.
"ISIS's recruitment of children as soldiers and training them as executioners, as well as the execution of ISIS's captives, are contrary to Islamic principles, rules of war, the laws of Afghanistan, human rights values and international humanitarian laws," said Bilal Sediqi, a spokesman for the Afghan Independent Human Rights Commission (AIHRC).
The AIHRC "strongly condemns the recruitment of children by terror groups and their subsequent provision of terror activities to these children", he told Salaam Times.
Protecting Afghanistan's most innocent
"Children in Afghanistan are vulnerable," said Faiz Farahmand, a member of the Afghan Social Protection Centre for Children and Youth. "Their rights have been violated in many cases and they have been hurt the most in the hands of terror groups."
"Recruitment of children as soldiers by ISIS, or any other group, and providing them with training to carry out terror attacks are in blatant violation of international laws and conventions concerning the rights of children," he told Salaam Times.
"According to the country's constitution, as well as the [United Nations] Convention on the Rights of the Child, children are entitled to rights and privileges such as social security, education [and] a safe environment, to name but a few," he said. "Unfortunately, the terrorist groups have blatantly violated children's rights by recruiting them."
Farahmand called on the authorities to ensure Afghan children are afforded these rights.
"The Afghan government is obligated to prevent the violation of children's rights by terrorist groups and to also prevent recruitment of children by these groups by taking all possible measures," he said.
"The luring and recruiting of children by terrorist groups are a manifestation of the blatant violation of the fundamental rights of the children, an act which we strongly condemn," said Maryam Ataei, spokeswoman for Save the Children in Afghanistan.
"Children are innocent victims of groups involved in wars," she told Salaam Times. "We call on all of the fighting sides to protect children in the times of conflicts and wars and not to use them."
ISIS's history of child abuse
Last year, ISIS released a shocking video showing two boys, believed to be between the ages of 7 and 12, executing two other children.
In a later scene of the 10-minute video, another child dressed in military fatigues points a handgun in the face of a man kneeling before him.
These children, so-called "cubs of the caliphate", are recruited, brainwashed and trained by ISIS through a variety of forcible tactics, according to Afghan officials and analysts.
"ISIS operatives either recruit or kidnap and train these children in areas under their control," Fazlullah Wahidi, a former governor of Kunar and Herat provinces, told Salaam Times in June 2017. "In addition, they take advantage of Afghans' illiteracy and poverty to recruit and brainwash their children."
It is a tactic used by ISIS in Syria and Iraq as well.
A video released January 8, 2017, showed three boys, one of them no more than 4 years old, executing three young men in rural Deir Ezzor, Syria.
In Mosul, Iraq, ISIS has preyed on the mentally ill, the physically disabled and children, taking advantage of their vulnerability and fragility to use them as human shields or suicide bombers.