KABUL -- Members of the "Islamic State of Iraq and Syria" (ISIS) are in disarray following a ferocious crackdown on the terrorist group in Jawzjan Province, Ministry of Defence and provincial officials say.
Certain death awaits ISIS fighters in the form of air and ground operations.
"Throughout the past solar calendar year in Afghanistan [beginning on March 21, 2017], a total of 1,964 ISIS members were killed, 289 others injured and 29 others arrested," said Gen. Mohammad Radmanesh, a spokesman for the Ministry of Defence.
"We, in co-operation with aerial support from Resolute Support Mission forces, have been able to reduce ISIS movement in Jawzjan," he told Salaam Times.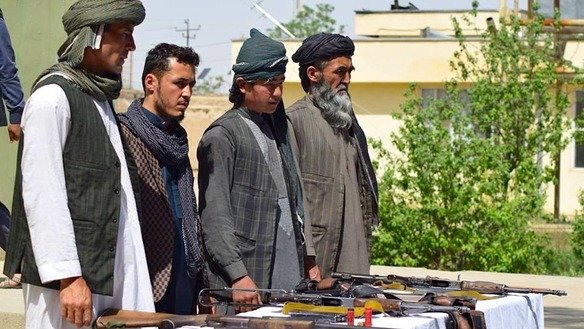 "ISIS's voice is diminishing and dying across Afghanistan," he said. "The truth ... is that the United States and Afghanistan fight together against ISIS. In fact, we have been able to [inflict heavy losses] on this group."
Afghan, US forces pressure ISIS
"The intensification of air strikes by Afghan and Resolute Support Mission forces in Jawzjan Province has been effective and has reduced the threat of ISIS," Mohammad Reza Ghafoori, a spokesman for the Jawzjan governor, told Salaam Times.
"The increase in air strikes and the targeting of ISIS bases and militants in Darzab killed almost 50 ISIS militants over a period of two months, leaving the group's members in turmoil," he said.
"Security forces have planned for a major ground operation," he said. "The spring Operation Nusrat to crack down on ISIS is set to begin soon."
Afghan and US forces March 26 conducted their first joint overnight operation against ISIS in Jawzjan Province, according to NATO's Resolute Support Mission.
"Afghan special forces in co-operation ... with US forces in Darzab District carried out an overnight operation, destroying an ISIS base and terminating an ISIS commander," Radmanesh said.
Since then, air strikes have continually targeted ISIS leaders and foot soldiers alike.
"Three Uzbek members of [ISIS] ... as well as ISIS's financial director, were killed by Resolute Support Mission air strikes the night of March 28 targeting ISIS's strongholds in Qezel Qush village of Darzab District," Mohammad Hanif Rezayi, a spokesman for the 209th Shaheen Corps, told Salaam Times.
"Moreover, one of its strongholds with a large ammunition cache was also destroyed," he said.
In another operation on April 1 in Jawzjan, two ISIS militants were killed and seven others were wounded in a fierce battle with security forces, Rezayi said.
On Monday (April 9) coalition forces confirmed the death of top ISIS leader Qari Hikmatullah in an air strike in Faryab Province, close to the border with Jawzjan.
Such targeted killings have fractured the terrorist group, pitting rival factions against each other as they try to fill leadership vacancies, according to local Afghan officials.
Bereft ISIS militants surrender
"We were concerned about the expansion of ISIS activities in Jawzjan, especially in Qush Tepa and Darzab districts," said Ainuddin, 36, a resident of Qush Tepa District. "Our concerns have been diminished for the time being, however, since aerial operations have prevented the spread of [ISIS] activities."
"ISIS is in no way acceptable for the residents of Qush Tepa and Darzab districts," he told Salaam Times. "Recently a number of ISIS militants who had come to Qush Tepa were confronted by the district's residents and were forced to leave."
Public anti-ISIS movements are on the rise amid the increase in military air strikes, said Ghafoori, who confirmed reports of local civilians expelling ISIS fighters from Qush Tepa District.
Facing a lack of public support and intensified security operations, some ISIS militants are turning themselves in.
"Nematullah, also known as Abu Darda, a resident of Darzab District and the warden of an ISIS prison, along with three of his colleagues joined the peace process," said Abdul Hafiz Khashi, head of the intelligence unit at Jawzjan police headquarters.
The former militants surrendered March 31 in Darzab District and officially joined the peace process April 1.
"Upon the realisation of the government's legitimacy and following an increase in attacks on ISIS strongholds, the aforementioned four former ISIS militants left the battlefield and joined the peace process," Khashi told Salaam Times.
"I worked for one year in the ranks of this group as ISIS's prison warden," said Nematullah. "I have witnessed murder, looting, torture and all types of oppression that it carried out."
"That was why I joined the peace process," he told Salaam Times.
"The ISIS militants have been destroying graves, seizing food from Darzab residents and committing murder in areas under their control," he said.
"They claimed to be Muslims, while their actions were un-Islamic," said Mohammad, another former ISIS militant who joined the peace process.