WASHINGTON, DC -- US Special Representative for Afghanistan Reconciliation Zalmay Khalilzad is headed back to Afghanistan and Qatar to resume efforts to facilitate the peace process between the Taliban and the Afghan government.
"I'm arriving in Kabul today, focused on achieving an enduring peace that ends the war, ensures terrorists do not use Afghanistan to threaten the US, honors the sacrifices that US, our allies & Afghans made, and cements an enduring relationship w/ Afghanistan," Khalilzad tweeted Tuesday (July 23).
He is scheduled to be in the region through August 1, the US State Department announced Monday (July 22) in a statement.
In Kabul, "Khalilzad will consult closely with the Afghan government on next steps in the peace process, including identifying a national negotiating team that can participate in intra-Afghan negotiations", the statement said.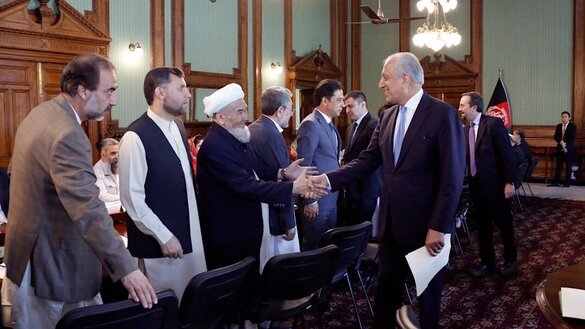 He "will also engage representatives of civil society, including peace advocates and women's rights groups, to further encourage broad participation in the peace process".
In Doha, Khalilzad will "resume talks with the Taliban", it added.
Khalilzad has had several meetings with the Taliban in the past year, the most recent being on July 9 in Doha.
Pledging a 'road map'
Earlier, the Taliban and senior Afghan officials held intra-Afghan talks in the Qatari capital, pledging to deliver a "road map for peace" in Afghanistan.
"Assuring women's rights in political, social, economic, educational, cultural affairs as per (and) within the Islamic framework of Islamic values," also featured in the joint text.
The Taliban agreed to take actions in order to ensure the security of "public institutions, such as schools, religious madrassas, hospitals, markets, water dams and other workplaces".
"The Doha peace conference participants strongly support the current peace talks in Doha and believe that an effective and positive outcome from the negotiations will be fruitful for Afghanistan," the statement said.
"Peace has never been more urgent and is the only path to ending terror and violence," Khalilzad tweeted July 7 after a Taliban suicide attack wounded 50 children in Ghazni. The blast took 12 lives.
A week earlier, on July 1, a Taliban attack in Kabul damaged five schools, a mosque and a TV station.
At least six people were killed, including one child and two special forces soldiers, the Interior Ministry said.
The attack wounded almost 100 people, more than half of them children, according to Afghan officials.