KUNDUZ -- More than 100 locals, mostly women, marched from Sar Dawra Town to downtown Kunduz City on November 8, calling for immediate peace talks and a ceasefire in the country.
Carrying signs and shouting peace slogans, the participants emphasised the role that neighbouring countries can play in encouraging the Taliban to join an intra-Afghan peace dialogue.
Salima Haidari, a civil society activist and organiser of the rally, called on the Taliban to put down their weapons and renounce their violent activities.
"Our campaign's goal is to demand a ceasefire and peace, and the ceasefire needs to happen before an agreement is reached on peace," she said.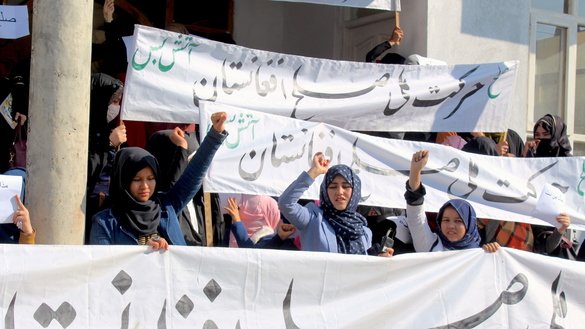 "Today, our sisters have gathered here, and with one voice we want an end to the war in the country," Haidari added.
"We don't want any more war -- Afghans are thirsty for peace, so the war must end," she said. "We want the [next] round of peace talks to be an intra-Afghan one in which an agreement could be reached on a permanent ceasefire."
Sahar Ibrahimi, a law and political science student at Kunduz University and one of the participants of the rally, also appealed to the militants to seek peace.
"We ask our disgruntled brothers to put their weapons on the ground and embrace peace," she said. "If the Taliban are Afghans, they should sit with their brothers inside Afghanistan and seek a solution that can help end the war and bloodshed."
"Through this national campaign, we want to send a clear message to the parties of the conflict that we want peace. We want the government and the Taliban to agree on a ceasefire. We can no longer tolerate the killing of innocent people and civilians," Ibrahimi added.
"More than three decades of war in Afghanistan haven't achieved anything other than destroying the country's entire infrastructure and pushing Afghanistan toward a whole lot of miseries," said Fatema Ahmadzai, a women's rights activist in Kunduz Province.
Tired of war and violence
Nasiba Holkar, director of the Kunduz Department of Women's Affairs, said that neighbouring countries can play an important part in encouraging the Taliban to enter intra-Afghan peace talks.
She also insisted these talks should start immediately, along with a ceasefire.
"Women in Kunduz are concerned and we're fed up with war as we can no longer tolerate losing our loved ones and relatives to the armed conflict," she said.
"War and violence have ruined the foundation of this country," Holkar added. "We call on the international community to support a permanent peace in the country."
"Efforts to help us reach peace have increased, and this has made the Afghan people hopeful for a true peace in the country," Kunduz Governor Abdul Jabbar Naimi said on November 9 at a ceremony observing the birthday of the Prophet at Sharwali (Municipality) Mosque.
"The Taliban are responsible for the war and incidents of violence in Afghanistan, and they must know that if they continue to fight, it will add to people's hatred of them," he said.