KUNDUZ -- About 400 tribal elders, religious scholars, women, and local residents who either lost relatives to the war or were themselves badly injured in it gathered Sunday (October 4) in Kunduz city to call on the Taliban to stop bloodshed and violence so that peace negotiations can progress.
They condemned recent attacks that have killed civilians in a number of provinces and called on the international community to help pressure the Taliban to agree to a ceasefire.
Family members of war victims who participated in the gathering said that although the war has taken the lives of their parents and relatives, they can forgive the Taliban if the militants show they are ready to embrace peace.
"I am one of the victims of war as I lost one of my legs when I was just five, and my mother was martyred five years ago in a rocket attack," said Shafiqullah Ibrahimkhil, a representative of war victims in Kunduz.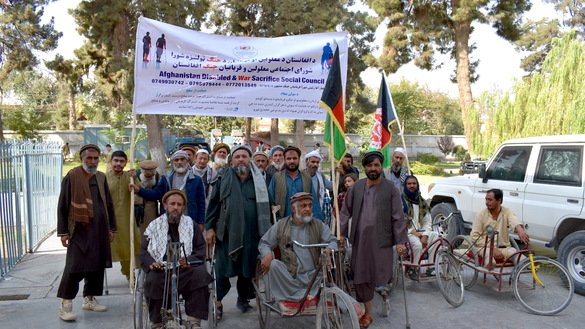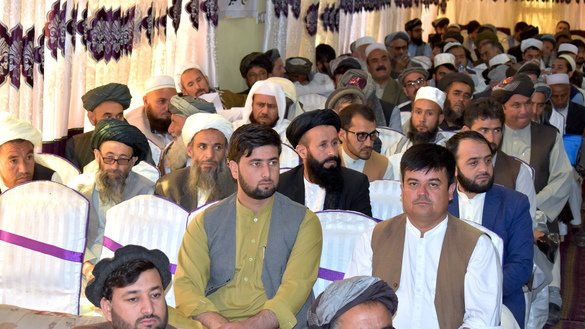 "We have gathered here today to ask the Taliban and the government to respect the heirs of martyrs and the blood of war victims, to put an end to the war and bloodshed, and to seek a solution for the problems at the negotiating table," he said.
"As a victim of war, I ask the Taliban to reach an agreement as soon as possible and declare peace because the people have been ruined," he said.
"A ceasefire is the people's priority," Ibrahimkhil said. "A ceasefire needs to be declared until the negotiations achieve an outcome."
"The neighbouring countries stand by and watch idly as we continue fighting each other, and if we continue fighting, God and his Prophet will be upset with us," said Muhammad Ismail Jabarkhil, a tribal elder who lost two family members when Kunduz city fell to the Taliban in September 2016.
"If I get the assurance that peace and a ceasefire will be achieved tomorrow, I will observe 365 days of fasting for an end to war and bloodshed," he said.
Ceasefire is precondition to peace
"The war has continued in Afghanistan for more than 43 years," said Nasir Ahmad Ehsanmand, a tribal elder in Kunduz Province. "Those who were born at that time now have white beards, and those who were toddlers then are now old."
"When you speak with any citizen of this country, his [or her] first demand is peace," he said.
"All parties to the conflict should seek a true political solution based on honesty and truthfulness so that we can achieve peace," he said.
"There are other destructive groups in Afghanistan as well who want to disrupt the peace process," Ehsanmand said. "Therefore, both parties should embrace each other and prevent those who push the country and people toward bloodshed and destruction."
The Afghan government and the Taliban have been engaged in peace talks in Doha, Qatar, since September 12. This issue of ongoing violence has marred discussions.
"All the people are waiting for peace," said Marzia Rustami, director of the Afghan Women's Network in Kunduz.
A ceasefire is the first step to lasting peace, she said.
"We know that a 20-year-long war cannot be resolved in just a few days or a few months. But in order for both parties to show their good intentions, they have to stop violence," Rustami said.
"Afghans could be flexible in disregarding the Taliban's other crimes, but they will never forgive the recent incidents of violence that inflicted casualties on civilians," she said.
"Declaring a ceasefire and ceasing violence can improve the situation and accelerate the negotiation process," she said.
When Afghans' expectations and concerns are shared with both negotiating teams, it can help improve the security situation and put an end to the war and violence, she said.
'Peace is the right of every Afghan'
"Our message to the Taliban is to stop fighting and destroying this country," Mohammad Yusuf Ayubi, chairman of the Kunduz Provincial Council, said at the gathering. "The youth and children of the country are our capital. If we lose them, who will build our country?"
Both parties need to show flexibility, said Maulawi Muhammad Aqeel Sirat, chairman of the Kunduz Ulema Council.
"We want peace, and our Taliban brothers also look for peace," he said at the gathering. "Peace is the right of every Afghan, and they should be given this right."
Nasiba Holkar, director of the Kunduz Department of Women's Affairs, asked a series of rhetorical questions.
"What do we get from fighting? Who has won the war, and what have they achieved other than the blood of martyrs, graveyards of young martyrs, and orphans and widows?
"What have we achieved from the decades-long war, how long will it last and who is happy with this evil war?" she said. "Why can't we have peace, security, comfort and development so that our people can have a peaceful life?"
Kunduz Governor Abdul Sattar Mirzakwal called on the Taliban to show flexibility during the negotiations and accept the legitimate demands of Afghans.
"I call on the Taliban once again to agree to a ceasefire because our people can no longer tolerate explosions, suicide attacks or bloodshed," he said at the gathering.