HERAT -- With the start of peace talks between the Afghan government and the Taliban earlier this week, Afghan women are again raising their voices to demand preservation of their rights and achievements.
An opening ceremony in Doha, Qatar, on Saturday (September 12) kicked off the negotiations.
Over the past month, the Provincial Women's Network, with the support of the Equality for Peace and Democracy Organisation, has been collecting the signatures of Afghan women for a letter to be sent to the United Nations.
The letter urges the international community to support Afghan women's achievements over the past two decades and prevent the Taliban from placing restrictions on women if they return to power.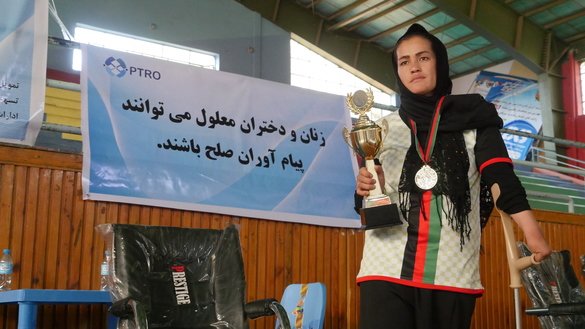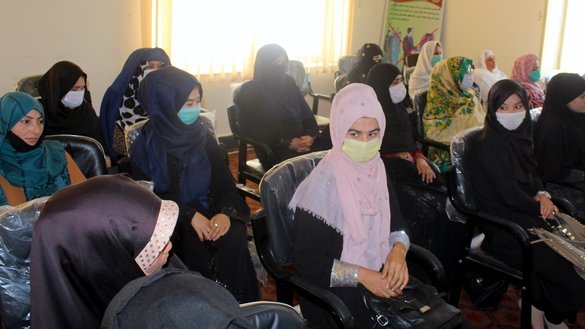 The two non-governmental organisations have been arranging women's gatherings to collect signatures in a number of cities -- including Kabul, Mazar-e-Sharif, Kandahar and Kunduz -- with the most recent one on September 9 at the Tejarat auditorium in Herat city.
So far, 15,000 Afghan women in 15 provinces have signed the letter.
The signatories include the relatives of war victims, students, teachers, professors and doctors, said Fatima Farahi, director of the Provincial Women's Network in Herat Province.
"Afghan women support the peace process as they don't want the war to continue any longer," she said. "But they don't want a peace that simply ends the war; [they] look forward to a comprehensive peace that preserves women's rights and achievements."
"The kind of peace that confines women to their homes and destroys their achievements won't be a sustainable one and isn't acceptable to any Afghan woman," said Farahi.
"Women must not be deprived of their right to get an education, work or engage in political, economic and social activities," she said.
'No woman can trust the Taliban'
The militant group's history of harsh conduct has made every Afghan, especially women, concerned that the Taliban will disregard all their promises in order to reach their goals, said Jamila Azimi, a women's rights activist in Herat city.
"The grave concern is that we may lose the achievements of the past 20 years and that the Taliban may impose their wishes on Afghan women," she said. "Women want to be part of the peace process and defend their rights."
"The international community, especially the United States, needs to monitor the intra-Afghan peace process to ensure the Taliban don't overlook women's achievements," Azimi said.
Women are highly concerned about the peace process, said Elnaz Azimi, a representative of Herat in Afghanistan's Youth Parliament.
"We are worried that Afghan women will be removed from political and social activities," she said. "Since we are concerned that the Taliban may wish to exclude women, we need the support of the international community, especially NATO and the United States."
"The Taliban must realise that Afghan women are not in the same position of 20 years ago and that they will fight for their rights," Azimi said. "Women's achievements should be preserved in peace talks, and no one has the right to compromise them."
Afghan women are worried that they may once again fall prey to politicking and lose all their achievements and opportunities, said Sakina Hussaini, a member of the Herat Provincial Council.
"No woman can trust the Taliban because most of us experienced the dark era [of their rule]," she said. "Women will never allow that dark era to repeat itself, and if needed, women are ready to make more sacrifices."
An inclusive peace
Dozens of women gathered at the Kunduz Department of Women's Affairs on September 9 to call for a permanent ceasefire and the protection of women's achievements and rights.
Women are urging the Taliban to declare a permanent ceasefire as they begin the negotiations, Salima Haidari, a women's rights activist in Kunduz Province, said at the gathering.
"We want a peace in which women and men... from every walk of life can participate," she said. "It needs to be a humane peace -- not a political one."
One of the key expectations that women have for the negotiations is that both parties commit to protecting women's rights and their achievements of the past two decades, Haidari said.
"The peace process doesn't have any meaning or logic if the fighting doesn't stop," said Shaima Hussaini, a women's rights activist in Kunduz. "If fighting continues and there are suicide attacks and explosions in our country, the start of negotiations doesn't make any sense."
"We call on the international community to support the peace process led by the Afghan government so that we can achieve a comprehensive peace," she said.
"As the Taliban define their red line to the Afghan government, the Afghan government negotiators need to show... that they want them to accept a permanent ceasefire and uphold women's rights and achievements," Aziza Amini, a Kunduz University student, said at the gathering.
"The war in Afghanistan is imposed on us," she said. "We want a dignified peace, and the Taliban should no longer destroy their own country."
"All negotiators need to reach a consensus so that they can achieve a solution that's acceptable for Afghans," Amini said.
"Despite much suffering, Afghan women have had great achievements in the past two decades, and they don't want their achievements to be compromised," said Nasiba Holkar, director of the Kunduz Department of Women's Affairs.
"Women are never ready to lose their achievements, and they want to serve more strongly in the government after the peace settlement," she said.
Sportswomen for peace
Even amid anxiety over women's rights in the country, young Afghan women are continuing to exercise their rights and make new achievements.
On September 10, for example, 25 women with disabilities took part in a series of chess, darts and badminton competitions held in Mirwais Sadiq Gymnasium in Herat city.
The contests were held to honour peace and call for an end to the conflict.
"We're optimistic for peace, and we're hopeful that the war will end in our country and that no one else ever becomes disabled," said Susan Ahmadi, a member of the wheelchair basketball team in Herat.
"We expect [the Taliban] to put an end to the violence and mobilise efforts to bring peace," she said. "When they return to Afghan society and government, we hope they don't restrict women, especially athletes like us, and allow us to bring pride to Afghanistan at the global level."
All people with disabilities who are victims of war expect peace and prosperity, said Shukria Amiri, a disabled athlete in Herat city.
"We call on the Taliban and the government to provide us an opportunity to participate in international competitions so that we can show our capabilities to the world and bring pride to our country," she said.
Peace will encourage women and girls to participate in sports so that they can raise Afghanistan's flag to the world, she said.
People with disabilities are in far more need of peace because they have been the main victims of war, said Nader Shah Haidari, head of the Herat Paralympics Federation.
"Disabled women and girls in sports in Herat Province have brought pride to Afghanistan for many years," he said.
"Recently, our sportspeople even won medals in Iran in a number of competitions," he said. "These sportswomen with disabilities were able to raise Afghanistan's name on international grounds."
[Hedayatullah from Kunduz contributed to this report.]