NANGARHAR -- Women who have lost family members in the two-decade-long war between the Afghan government and the Taliban are demanding that the militant group commit to a lasting peace and that women's rights are preserved in upcoming talks.
The Nangarhar provincial government invited about 100 women from seven districts who have lost loved ones to the war to a conference in Jalalabad to discuss the peace process. The conference started on August 26 and lasted three days.
The purpose of gathering was to hear the voices of these women ahead of the peace process, said Abdul Moeed Hashmi, co-ordinator of the conference.
"This initiative has been launched by the Citizen Support programme of the Independent Directorate of Local Governance (IDLG), starting from Nangarhar," he said.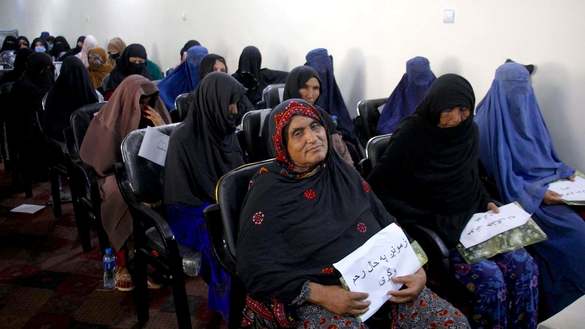 "This programme will be held in 10 provinces to collect the views of women who are victims of the war so that their demands can be addressed at the government level," Hashmi added.
"The demands of these women must be considered in the intra-Afghan talks."
Demanding peace
Peace talks with the Taliban must succeed, said the women invited to the conference.
Samira, 75, a resident of Kot District whose four sons served in the army and were killed in the war along with her husband, said that she is ready to forgive the Taliban for the sake of peace.
"My husband and four sons have been martyred. They were martyred for their land. I have forgiven [the Taliban], but the Taliban should make peace," she said.
"The Taliban as well as soldiers are my sons. I do not want war anymore; I want peace."
"My grief is so intense that I even make mistakes while praying since all my grandchildren are orphans. I have no one to look after us, except for the help of God. I want peace," she said.
Niaz Bibi, who lost six sons in the war, also demanded peace at the conference.
"The 'Islamic State of Iraq and Syria' (ISIS) killed six members of my family, beheading three of them. I have dozens of orphans with no one else to look after them," said Bibi. "I want peace so that at least the remaining children can live in peace."
Maintaining women's rights
Maintaining the gains that women have achieved in the past two decades is imperative, Lailoma, 32, a resident of Achin District, emphasised.
"I studied in very tough circumstances. I am working now and want to continue working after the peace process. I do not want to be locked up at home despite my education. I want to work and earn a living for my family," Lailoma said.
"If the peace talks take place, women should be given a part so that they can defend their rights and so that we are not deprived of education, work, freedom of speech, and other rights," she added.
"Since the intra-Afghan talks are expected to start after the negotiations in Qatar, we demand that women's rights not be sacrificed but rather receive their due respect as women have sacrificed so much," Mawlawi Habibullah Jalalabadi, a member of the Nangarhar Ulema Council, told the conference.
Women have come too far to surrender their achievements, said provincial Deputy Governor Habika Kakar at the conference.
"We defend women's rights, and we fight for them," Kakar told participants. "I am a woman and deputy governor of a province. I want peace so that I can help continue this progress, not sit at home."