KANDAHAR -- Dozens of women rallied in Kandahar city on June 4 to urge the Taliban to renounce violence and agree to a ceasefire following a deadly bombing in the area that killed several civilians.
A roadside bomb tore through a small bus in Kandahar on June 3, killing nine civilians, including women and children, according to officials who blamed the Taliban.
Among the protesters at the gathering were women who had lost members of their family in prior attacks by militants.
Rubina Khaksar, 42, who lost her husband a year ago to a roadside bomb in Arghandab District of Kandahar Province, called on the Taliban to stop defaming Islam and to choose peace.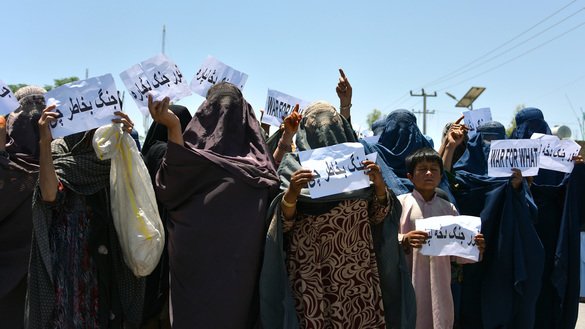 "He was a shopkeeper, and since his death I am the sole breadwinner for my family," she said.
"The Taliban have committed a major crime against me for which I will never forgive them, but as a widow, I call on them: for God's sake please do not kill Afghans anymore," Khaksar said. "Do not defame Islam anymore. We are ashamed by your brutality."
"The war is a disaster. Afghans are the losers in this war, while neighbouring countries and foreign agents are profiting from it," she added. "The Taliban should have pity upon civilians and stop fighting for the interests of foreigners.
"The Taliban should stop killing their brothers and sisters and agree to a permanent ceasefire," she said.
'We've had enough'
Nanai Bibi, a 54-year-old resident of Kandahar city, lost her son in a Taliban ambush on May 11.
"My son was out shopping for the family when the ruthless Taliban killed him in Chawk-e-Madad area of Kandahar city. My son was not working; he had just completed his degree," she said. "His orphaned children are now my responsibility. Whom should I blame for this brutality and barbarism?'
"We've had enough; do not kill us anymore. Come and abandon violence," she pleaded to the Taliban.
The Taliban's war is not "jihad", she added.
"This war is neither jihad nor permissible. It is totally forbidden," she added. "Innocent Afghans like my family are sacrificed, while the leaders of the Taliban enjoy themselves in Qatar and kill Afghans by one name or another."
"I pray to God to destroy them as they have destroyed us," Bibi said.
Shaista Gula, 38, resident of Kandahar city, lost her two children to a motorcycle bombing on May 20 in the Pir Kalacha area of Kandahar city.
"My children were playing in front of the house on the fifth day of Eid ul Fitr when a Taliban bomb placed on a motorcycle exploded," she recalled. "I ran and saw my two children and other children lying in front of the house, covered in blood."
"That was a day of mourning for me. The Taliban and their supporters are the killers of my children. I will never forgive them," Gula added.
"The oppression that the Taliban are committing is unprecedented. No Afghan mother can tolerate this anymore, and that is why we have come here today to call on the Taliban to stop making your mothers, sisters and sisters-in-law cry," she said.
Call for peace talks
Fawzia Younisi Kakar, a 55-year-old civil society activist in Kandahar Province, demanded that the Taliban start talks with the Afghan government immediately so that the war in Afghanistan can end.
The killing of Afghans is not acceptable, said Kakar.
"Women are the biggest victims of the war in the country, which is against all Islamic and human values," she said.
"I am one of the victims of the war. The Taliban are responsible for the civilian casualties as they take positions in houses .... which then results in the death of innocent civilians," Kakar added. "We call on the Taliban either to agree to a permanent ceasefire or reduce violence."
"Every family in my area is affected by the war. Thousands of families in the south have lost their heads of household to Taliban brutality and violence and now live in dire poverty since they do not have any breadwinner," she said. "These families have no one -- their heads of household were killed in Taliban bombings or were accused of being spies. Then the Taliban killed them."
"I ask the Taliban: what have we done wrong that their children and families have the right to live and study in the Pakistani cities of Peshawar, Islamabad, Karachi, and Quetta or in the Iranian cities of Mashhad and Tehran or even in the beautiful and advanced country of Qatar, but we don't?" Kakar lamented.
Zarmina Sulaimankhail, another civil society activist and a resident of Helmand Province, denounced the Taliban for committing violence for the sake of neighbouring countries.
"It is clear that your fight is for your personal interests... Afghans now understand your hypocrisy and evil," the 39-year-old said.
"Taliban, come. The Afghan government and the people have opened up the path to peace. Stop this violence and make peace," Sulaimankhail said. "Do not destroy bridges, do not kill children and innocent Afghans. Serve this nation as the Afghan security forces do."
"Afghans will one day start a national uprising against you if you do not make peace," she warned. "They have had enough."