KANDAHAR -- Afghans who have lost members of their families to conflict say they are ready to forgive the Taliban if they choose to make peace.
Taliban and Afghan government negotiators earlier this month began meeting in Doha, Qatar, where they are trying to find a way to end decades of war.
However, the Taliban have refused to agree to a ceasefire.
"Four years ago, two of my brothers were martyred by the Taliban, one in a battle and another by a land mine, leaving two widows and six orphans behind," said Mohammad Saber Tokhi, 36, an internally displaced person (IDP) from Naw Bahar District, Zabul Province, who now lives in Qalat, the provincial capital.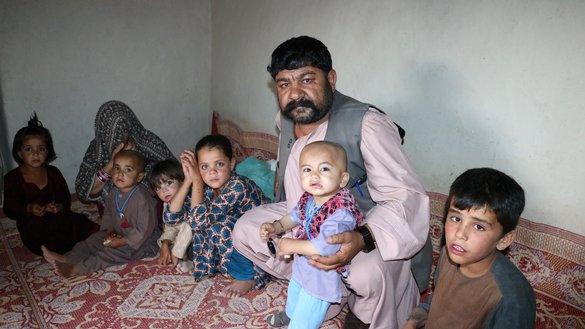 "They are so poor that they do not even have anything to eat. Their children have nobody to look after them, and they can't afford to attend school," he said on September 16.
"As a member of this family, I am saying that every Afghan is tired of the war in this country. Everyone is waiting for peace, and no one wants to lose family members to the violence," he added.
"If the fighting stopped today and if a ceasefire or peace is ensured, we are ready to forgive the crimes of the Taliban, who have killed our family members, for the sake of peace and improvement of security in the country," said Tokhi.
"We will refrain from revenge and exercise restraint."
Karima Bakorzai, 67, a resident of Khakrez District, lost her son in a Taliban attack last year.
"My son was a soldier, and the Taliban martyred him one year ago from today while in an armoured vehicle," she said on September 17. "I am still grieving over his death and can't relax. His widow and seven children are left with me without anyone to look after them.".
'I will forgive you for killing my son'
"The bodies of soldiers and the Taliban are received every day in villages, districts, and cities. Mothers lose their sons, sisters lose their brothers and wives lose their husbands," Bakorzai said.
"I don't want soldiers or Taliban members to be killed in this war anymore. We must use common sense and not kill our brothers," she added.
"My message to the Taliban is to stop fighting. Only innocent people die in the war. If you accept my plea for peace and a ceasefire, I will forgive you for killing my son," she said.
The calls for a ceasefire comes as violence in Afghanistan has worsened in recent weeks.
On September 23, officials said the Taliban killed 28 paramilitary policemen in fighting in Uruzgan Province. One local official said the insurgent group executed the police after they had surrendered on the evening of September 22.
The incident occurred in Gezab District, where intense fighting raged for days as the Taliban besieged outmanned and outgunned Afghan police and army outposts.
The Interior Affairs Ministry declined to comment on the circumstances of the deaths. In a statement, the Taliban denied they had slaughtered the policemen after they surrendered.
The 28 deaths came after at least 14 Afghan police and soldiers were killed during the same battle overnight on September 20-21.
Demand for a ceasefire
An agreement on a ceasefire during talks between the Taliban and the Afghan government in Doha should come before anything else, say victims of the war.
"My husband was martyred three months ago, leaving nine orphans behind. We do not have anything to eat. We live in dire conditions," said Bibi Shafia, 38, who goes by only one name.
Her husband, a member of the police, was killed in a firefight with the Taliban.
"My plea to the Taliban brothers is to forget about past suffering on both sides for the sake of these widows and orphans and [for us to] forgive each other for our pasts so that prosperity can come here," said Shafia, a resident of Shorbar village, Shah Joy District, Zabul Province.
"I was so happy to hear on the radio that face-to-face intra-Afghan peace talks had begun in Qatar," she said.
"My request to the Taliban brothers and the government as a helpless and poor widow is to agree on ending violence and to declare a ceasefire so that we can experience peace," she added.
"Our blood should no longer be spilled, and our children should be able to attend school without any worries."
Mohammadullah Ahmadzai, 84, has lost 18 family members in the war.
He urged the Afghan government and the Taliban to end the war out of respect for their sacrifices.
"My four sons serving in the army and police were martyred. Two of my daughters and six grandchildren were martyred by a roadside bomb while on their way to a wedding in Charchino District," Ahmadzai, an IDP from Uruzgan Province now residing in Shahr-e-Safa District, Zabul Province, said on September 16.
Another three women and three children were killed in a firefight between soldiers and the Taliban on the Uruzgan–Kandahar road, he added.
"I am devastated... I call on the Taliban, for the sake of our sacrifices and this country, to end the war," he said.
"As a suffering Afghan, I will forgive all the oppression of the Taliban if they accept our rightful demand for peace, stop the war, and agree to a ceasefire and choose a peaceful life over war," Ahmadzai added.
"We will protect this country and live in harmony with each other," he said.