KUNDUZ -- More than 150 women who have lost family members in the war in Afghanistan gathered Wednesday (November 18) in Taloqan, Takhar Province, to express their concerns and demands concerning the intra-Afghan peace talks.
Afghan government and Taliban negotiators have been meeting in Qatar since September 12 and are attempting to draw up a blueprint for peace in the country.
If the Taliban choose peace and stop the violence, the public is ready to forgive them, said those in Takhar.
Women in Takhar want the Taliban to stop the war, said Nargis Farahmand, a resident of Taloqan city who attended the gathering.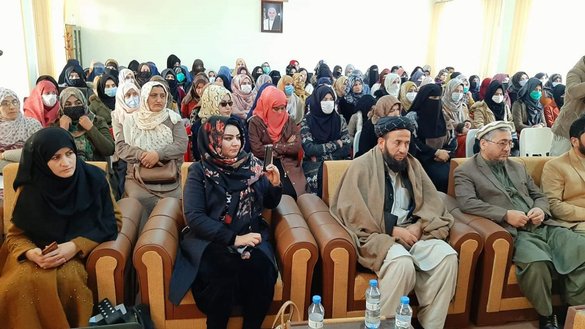 Her brother, a police officer, was killed by the Taliban in Khwaja Bahauddin District in 2016.
"Our family's decision is that if the Taliban reach a settlement through which peace comes to our country, we are ready to forgive our brother's blood," she said.
"War took everything from us. We do not want war from now on, and we hate war," Farahmand said.
Samea Khairandish, a resident of Baharak District, said her husband, a Local Police officer, was killed five years ago in the war with the Taliban in Darqad District.
"In the absence of my husband, I am faced with many economic problems," said the mother of four. "There is no one to look after my children, and I can't afford to send them to school."
"If the Taliban are willing to accept peace, I am ready to forgive them the blood of my husband," Khairandish said.
"My plea to the Taliban is for the sake of God to stop the war."
"War has taken our economy and politics to the brink of collapse. We have gained nothing from war; it must stop as soon as possible," Atifa Safa, a women's rights activist, said at the gathering.
"My message to the Taliban is to stop the war; it kills only the innocent," she said.
Local authorities have collected the women's opinions and demands and will share them with the Independent Directorate of Local Governance (IDLG), said Abdul Sattar Dehzad, a monitoring and evaluation adviser for popular support in the IDLG.
"Women in this gathering had different demands for the Taliban, the Afghan government and the international community that they shared in group work," he said. "Their views will be further analysed in Kabul."
Success in achieving lasting peace will be possible only when women are involved in this process, Takhar Governor Abdullah Qarloq told participants at the gathering.
"It is critical that women are aware of their fundamental rights in the framework of Islam and the laws of the country," he said. "We work hard to achieve this."
Qarloq called on the Taliban to agree to a ceasefire and accept the legitimate demands of the Afghan people.