KANDAHAR -- More than 1,500 Afghans, including women, tribal elders and religious scholars, gathered in Kandahar to call on the Taliban to hold direct talks with the Afghan government and renounce violence.
Residents of Helmand, Kandahar, Uruzgan and Zabul provinces rallied in Kandahar city on July 8. Women from Kandahar held a separate rally on July 9 in the city.
"All Afghans want peace, and we want a dignified peace," said Atta Jan Haqbayan, a participant at the gathering on July 8 and chairman of the Zabul Provincial Council. "We look forward to a peace that does not involve deals made over the bodies of Afghans. This is our red line."
A call for end to fratricide
"I say to the Taliban that they should no longer kill their brothers to please foreigners," Haqbayan said. "Please don't make your sisters and mothers shed tears any longer. Lay your weapons on the ground, and serve your people alongside the Afghan security and defence forces."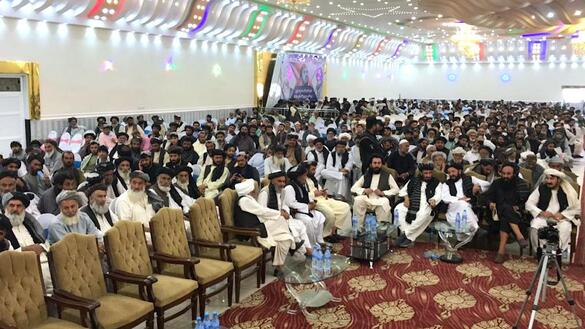 The militants also must agree to a ceasefire as part of the peace process, emphasised Hajji Nematullah Sherdali, a member of the Kandahar Provincial Council.
"Peace can come only when a real ceasefire is implemented, political prisoners are released, Islamic values of Afghanistan are taken into consideration, defence forces remain intact and drugs are banned," he said.
President Ashraf Ghani's special representative for the southwestern region, Massoud Akhundzada, called on the Taliban to stop the killing of innocent Afghans.
"I say to Taliban leader Mullah Haibatullah [Akhundzada] that we've had enough war, and we have to gather in a brotherly environment," he told participants at the gathering. "Please make peace through intra-Afghan negotiations. Meetings in foreign countries can't heal this country. We have to sit in our own country and decide on peace."
"There is a widow on every street; there are orphans in every village," he said. "We want peace."
"Every mountain, every valley, every village and every city of Afghanistan are tired of war," Ali Muhammad, a tribal elder from Farah, said at the gathering. "We're fed up with war as our graveyards are full. The war has crippled our country and robbed our wealth."
Women's contribution to peace
Meanwhile, more than 100 women in Kandahar gathered on July 9 to insist on women's participation in the peace process.
Zarghona Baloch, a civil society activist in Kandahar, expressed her gratitude for the participation of women in talks with the Taliban. At least six women were among the Afghans meeting with the Taliban delegation in Doha, Qatar, on July 7-8.
"As women participate in important peace conferences at home and abroad, it signifies that parties to the conflict are interested in their role in political spheres," Baloch said.
"We will use our position to convey the message of peace to parties in the conflict, and we will continue our efforts until the process becomes successful and a ceasefire is achieved," said Jamila Yousufi, a women's rights advocate in Kandahar.
Women's rights, especially access to education, must be included in the peace talks, said Kandahar resident Basmina, who declined to give her last name.
"In the peace talks, women's access to education should be guaranteed; otherwise, these peace talks will be worthless," she said.