ZABUL -- Hundreds of Zabul residents, including religious scholars and tribal elders, gathered on February 16 in Qalat to show their support for the peace process and to urge the Taliban to accept a long-term ceasefire.
"I call on you to stop killing Afghans, which is a major crime," Mawlawi Mohammad Hashim Arghandiwal, a religious scholar in Zabul, told the gathering in the provincial capital of Zabul. "Come and work beside your people toward building your country. Do not allow yourself to be used for the interests of Iran ... and Russia."
"If you dream of Afghans accepting your oppressive government like in 1996, it is not possible at all. This is madness," he said.
Another participant at the gathering, Mawlawi Mohammad Asghar Afghan, called on the Taliban to participate in the government through elections.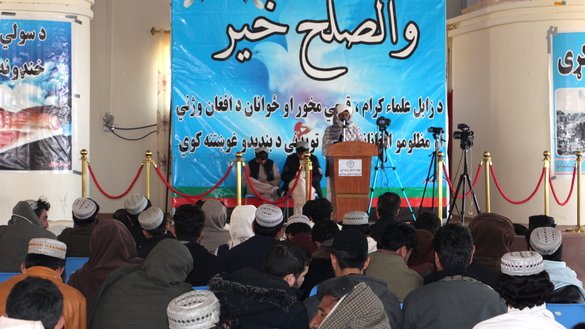 "Come, make peace and participate in the government through elections. You cannot rule by force anymore," he said.
The Taliban should reconcile with the Afghan security forces and join their ranks, said Niaz Mohammad Zabuli, 27, of Zabul.
"If the Taliban are really sons of this country, they should come join the National Police, National Army and National Directorate of Security and serve with their compatriots," he said.
Omar Khan Omari, a member of the Zabul provincial council, also expressed support for peace talks between the Afghan government and Taliban.
He demanded that the militant group cut its ties with al-Qaeda and other terrorist groups to help pave the way for peace.
"The entire world supports the Afghan government," Omari added. "I am confident that the sacrifices and rights of the Afghans will never be undermined in the peace process, and this is a red line for us."
Women's rights
Women and youth representatives at the gathering called on the government and the international community to preserve the progress they have achieved over the past two decades.
"We support the peace process provided that rights and freedom given to women are not undermined," said Gulalai Karimi, a civil society activist in Zabul.
"Women have sacrificed more than anyone else for the prosperity of the country and supported the state for the last 18 years," she said.
"Thank God that thousands of women have now graduated from high schools and universities... they work in professional organisations and live the life of their choice," she added. "We want to fight to protect these rights."
"The Afghan government, the United States and the United Nations should demand that the Taliban in the peace talks allow women in the country to study and work," Karimi said.