KABUL -- Afghans are anxious to see progress as peace talks between the government and the Taliban continue in Doha, and they say both sides need to be flexible on their red lines to ensure a permanent end to the conflict.
"I swear to God that our people are fed up with war and bloodshed," said Sadruddin, 45, a fruit vendor in the Taimani neighbourhood of Kabul.
"The Taliban are also Afghans and children of this country. They also may be tired of war and killing their brothers," he said. "Peace is the hope of every Afghan -- from a fruit seller like me to the president."
"As both parties have gathered for peace, it is the Taliban's and the government's national and Islamic responsibility to soon agree on peace and an end to the war," Sadruddin said.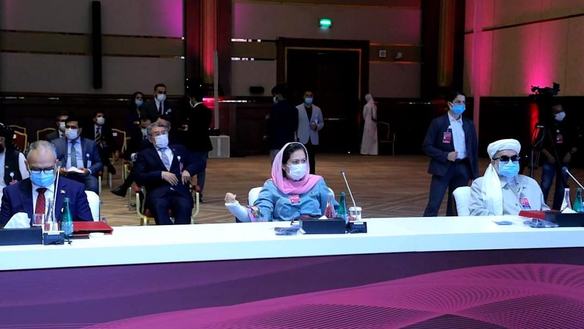 The two sides are in the early stages of meetings in Doha, Qatar, in an effort to hammer out a deal that would bring to a close 19 years of bloodshed in Afghanistan.
An opening ceremony on September 12 saw the Afghan government and allies, including the United States -- which negotiated an initial peace agreement with the Taliban in late February -- call for a ceasefire.
Taliban must demonstrate 'good intentions'
"After years of conflict and misery, a historic opportunity is in front of Afghans that every one of us welcome with one voice," said Ahmad Ramesh, 27, a university student in Kabul. "We call on the parties to the talks to engage in honest efforts and in talks for a comprehensive peace and for an end to the war."
"Twenty years of war didn't bring us anything other than the killing of Afghans and the destruction of Afghanistan," he said. "Every Afghan, including Taliban fighters, is thirsty for peace."
"The negotiators on both sides need to positively respond to the Afghan people's demands and show flexibility with their tough conditions and demands so that they can agree on a sustainable peace," he added.
"Since the government and the people of Afghanistan have a strong desire for an end to the war, Afghans at the loya jirga disregarded the Taliban's crimes and problems in hopes of peace," said Mohammad Asif Sediqi, a member of the Meshrano Jirga from Logar Province.
He was referring to the release of 400 Taliban prisoners, a condition of the Taliban for intra-Afghan peace talks to begin, that a loya jirga approved on August 9.
"A mother who lost her four children in the war forgave the Taliban and agreed to the release of their prisoners in order to end the war and ensure a sustainable peace," he said.
"Now, the Taliban should show their good intentions and some flexibility with their red lines, stop killing Afghans and their brothers, and reach an agreement on an inclusive government," he said.
"In order to build trust, parties to the talks should first agree on a ceasefire so that the negotiations don't break off," Sediqi said.
"This historic opportunity shouldn't be missed, because if the intra-Afghan talks fail, Afghanistan will experience conflict and destruction for another half a century."
Resolving differences with faith
"The start of the intra-Afghan peace talks was warmly received by all Afghans throughout the country," said Dr. Yarbaz Khan Hamidi, a member of the Wolesi Jirga from Paktia Province.
"Afghans affected by war expect both sides to first declare a comprehensive ceasefire, and then engage in a discussion to end the 40-year-long war that has taken the lives of hundreds of thousands of Afghans and forced millions to leave their country."
"There aren't a lot of differences between the Taliban and the Afghan government because we share the same God, book [Koran], religion ... and country," Hamidi said. "Therefore, Afghans expect both parties to exercise patience and agree on a political system that can include all Afghans."
The differences between the two parties to the talks can be overcome, said Mustafa Murtazawi, a religious scholar in Kabul.
"The Taliban always insist on an Islamic system," he said. "The government and Afghan security forces and the Taliban are all Muslims, and they don't have any problems with an Islamic system."
"The main problem is a radical and erroneous interpretation of Islam," Murtazawi said. "Islam embodies women's rights, freedom within the framework of Islam, elections, shared decision-making, voting, education and freedom of speech."
"Parties to the talks should not insist on unjustifiable demands and create hurdles to peace and ending the war," he said.
"Peace is a valid demand of the Afghan people, and according to God's clear words, there are good, brotherhood, dignity, prosperity and friendship in peace," Murtazawi said.
"Therefore, parties to the talks should positively respond to this message from God, and grant peace to Afghanistan and Afghans."
Women's message to the Taliban
Four Afghan women make up part of the government's negotiating team in Doha, and one issue they refuse to negotiate on is the preservation of women's rights and achievements.
"The Taliban have to understand that they are facing a new Afghanistan with which they have to learn to live," negotiator Fawzia Koofi told AFP ahead of the talks.
The Taliban have made only vague comments about women's rights, saying they will be protected through Islamic values.
That caginess makes women apprehensive about negotiations with the Taliban, Islamic law scholar and negotiator Fatima Gailani told AFP.
"Every woman in Afghanistan has a fear... we always have a fear that whenever there are changes in Afghanistan and whenever there is a political change, always women are hurt," said Gailani, 66, a spokeswoman for the mujahideen against the Soviets in the 1980s and former president of the Afghan Red Crescent.
Still, she said she has the support of the men on her team who "believe in exactly what I believe in".
First, though, the talks should focus on "common values" such as Islam and on achieving a ceasefire.
"I'd very much like to see an Afghanistan where you don't see yourself in danger... If we don't achieve it now it will never happen," Gailani said.
Another negotiator, Habiba Sarabi, 62, whom the Taliban barred from working during their rule (1996-2001) and who was forced to flee to Pakistan so she could continue to teach, wants to ensure Afghanistan remains a republic and not a Taliban-run "emirate" where religious law trumps constitutional rights.
Sarabi, on her return to Afghanistan, became the country's first female provincial governor and has served as a minister twice.
She remains unconvinced that Taliban militants on the front lines have changed their mindset, despite the group's political leaders moving to peace talks with the government.
"The fighters here in Afghanistan have the same ideology; they have the same behaviour," she told AFP.
Still, the start of negotiations had been "very positive", said Sarabi.