KUNDUZ -- Children in Kunduz Province who have lost family members in Taliban attacks are calling on both the Afghan government and the militants to declare an immediate ceasefire.
More than 100 orphaned and impoverished children at a gathering on Tuesday (September 15) at a Kunduz orphanage welcomed the start of intra-Afghan peace talks in Doha, Qatar.
The government and the Taliban are in the early stages of meetings in an effort to hammer out a deal that would end the war in Afghanistan.
An opening ceremony on September 12 saw the Afghan government and allies, including the United States -- which negotiated an initial peace agreement with the Taliban in late February -- call for a ceasefire.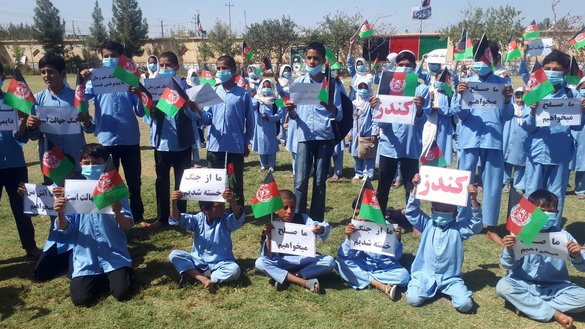 The Taliban did not mention a truce as they came to the negotiating table.
The children at the gathering stressed that they are ready to forgive the loss of their fathers and loved ones in order to achieve peace.
"My father was martyred five years ago at Khwaja Pesta village in Kunduz city in a clash with the Taliban," said 13-year-old Abdul Shabir Hakimi. "He was a policeman."
"Now, our family is living a very bad life," he said.
"If the Taliban agree to peace and a ceasefire, those of us who have lost loved ones are ready to forgive the Taliban, but if they reject our demand, we will never forgive them," he added.
"War is just destruction and disaster," said Matiullah Hakimi, a 15-year-old boy. "We never want other children to lose their fathers as we did."
"We want to live in peace," said Matiullah, whose father served with the Afghan National Army in Kunduz Province before he was killed.
"If the Taliban make peace, we're ready to forgive them and refrain from taking revenge."
"We cannot accept war and peace at the same time," said Kauser, a 13-year-old girl. "The war has to stop so that the delegations of both parties can proceed with talks."
"We no longer want to see dead bodies on the streets," she added. "They [the Taliban] should let us pursue our education so that we can serve our country and people."
"About 140 boys and girls study at this orphanage, and with one voice we ask the Taliban to declare a ceasefire and make peace with the government," said Hadia, an 11-year-old girl.
If Afghanistan attains security, children will achieve their dreams, said Hadia.
The children's call for a ceasefire comes amid intensified attacks by the Taliban on security forces' outposts in the province.
In one incident the evening of September 15, a Taliban attack on a checkpoint in Dasht-i-Archi District, Kunduz Province, left eight security personnel dead and three injured.
An opportunity for peace
Kunduz residents and officials urged both sides to reach a ceasefire and a peace agreement.
Both parties to the talks should be careful not to waste the opportunity to ensure lasting peace, said Jamaluddin Bahmanesh, a resident of Kunduz.
"Now is the time for parties to the peace talks to utilise this historic opportunity and arrive at an agreement," Bahmanesh said.
"This is a great opportunity for both sides to realise the needs of their country, discuss and analyse the current challenges and reach an outcome that is acceptable to all," Bahmanesh added.
The Afghans do not want to lose their achievements of the past two decades or live under the Taliban's rule, said Bahmanesh.
While the peace talks are still in progress and there have been some positive moves, the Taliban need to accept the ceasefire, which is a demand of all Afghans, said Mariam Eidizada, a resident of Kunduz city.
"On the one hand, the Taliban have begun peace talks with the Afghan government, but on the other hand, they have escalated fighting in some provinces including Kunduz, which will have negative consequences for the peace talks," she said.
The Afghan people have suffered through much pain and many difficulties, and achieving a positive result from the peace talks "has remained their only hope", said Najibullah Omarkhail, assistant governor of Kunduz for economic and social affairs.
"The people of Kunduz strongly support intra-Afghan peace talks," said Omarkhail. "We're hoping for a sustainable peace to come so that we can deliver important projects to rebuild and develop our country and strengthen the education system."
The negotiations have spurred optimism for peace, agreed Zabihullah Majidi, deputy chairman of the Kunduz Municipality advisory council.
"We consider the talks in Doha a positive step, and this is a great opportunity for both sides," he said.
"The Afghan people expect much from this process, and they have hopes that [these talks will end] the violence that is going on in many parts of Afghanistan," said Majidi.
Afghans expect a ceasefire because even if talks are prolonged, they will not create any problems as they will bring peace to Afghanistan, said Majidi.
"Both parties need to fulfil their responsibility toward the Afghan people; otherwise, they will have to respond to God," he added.