KHOST -- The Afghan government is "seriously investigating" a recent suicide bombing of a mosque inside an Afghan National Army base in Khost Province and its potential links and parallels to similar terrorist attacks on other military bases.
The "Islamic State of Iraq and Syria" (ISIS) terrorist group claimed responsibility for the attack, which occurred during Friday prayers (November 23) inside a packed mosque on the base.
At least 79 military personnel were wounded in the explosion that hit the First Brigade of the 203 Army Corps, according to casualty figures from public and private hospitals in the provincial capital.
In a statement posted by its Amaq propaganda agency Saturday, ISIS's Afghan branch claimed the attack killed 50 and wounded 110.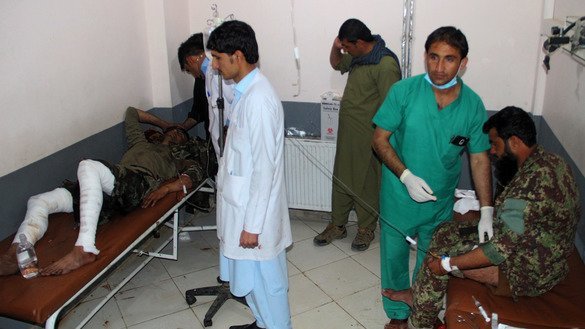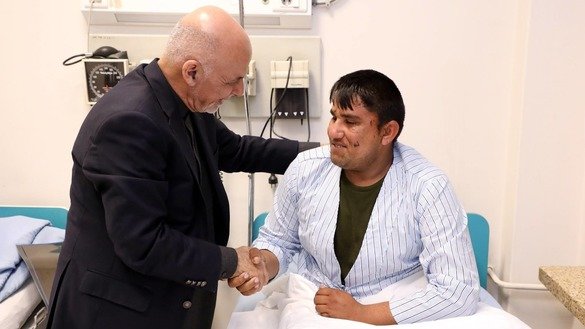 But a government official told AFP Friday on the condition of anonymity that 27 soldiers had lost their lives and 44 had been wounded.
Calls for an investigation
President Ashraf Ghani called the Khost mosque bombing a "shocking incident" and ordered a thorough investigation, his office said in a statement November 25.
Although ISIS claimed responsibility, Ghani put part of the blame on the Taliban and on sanctuaries of suicide bombers in neighbouring countries.
"Those who brought the culture of suicide [attacks] are responsible for the crime committed in Khost Province," said the statement, quoting Ghani. "If the Taliban really want to emerge as real Afghans, they should join peace."
Afghan lawmakers in the Wolesi Jirga (lower house of parliament) stressed the need for an investigation into both the Khost incident and last week's attack that targeted a ceremony of religious leaders who were commemorating the birthday of the Prophet Mohammad in Kabul.
At least 55 Afghans were killed and 94 wounded after a bomber blew himself up in the middle of the banquet hall at the Uranus Wedding Palace November 20.
No militant group has claimed responsibility for that assault.
"I want the internal security and defence commission to hold a special session with the intelligence organisations and find out why we are repeatedly witnessing such tragedies in the capital of Afghanistan and in provinces," said speaker of the Wolesi Jirga Abdul Rauf Ibrahimi, according to TOLOnews.
"Who are we recruiting, what are the criteria and who guarantees them? How did [the bomber] enter a military base? These all should be investigated," said Kabul-based military analyst Gen. (ret.) Atiqullah Amarkhil.
Presidential spokesman Haroon Chakhansuri Saturday told reporters that the Khost attack was similar to a Taliban-claimed assault on a mosque and dining hall inside a military base in Mazar-e-Sharif in April 2017, which killed at least 144 troops.
"We are seriously investigating," he said.
"The relevant organisations have been directed to run a thorough investigation into the incident so that they will find out how a similar attack was repeated and so that those who neglected their jobs will face legal action," Chakhansuri said.