MAZAR-E-SHARIF -- Afghans are furious in the wake of a Taliban attack on an Afghan National Army base in Balkh Province, condemning the militants for killing soldiers during prayer and calling for ministers and army chiefs to resign.
On Monday (April 24), Defence Minister Abdullah Habibi and Army Chief of Staff Qadam Shah Shahim tendered their resignations with immediate effect, the presidential palace confirmed.
Deputy Minister of Interior for Security Maj. Gen. Tariq Shah Bahrami has been appointed acting minister of defence and Gen. Mohammad Sharif Yaftali, commander of the 203rd Thunder Military Corps, will serve as army chief of staff, according to TOLO News.
Carnage on base
In the nearly five-hour-long raid Friday (April 21), the Taliban killed at least 150 soldiers at the 209th Shaheen Corps Headquarters in Dehdadi District, TOLO News reported.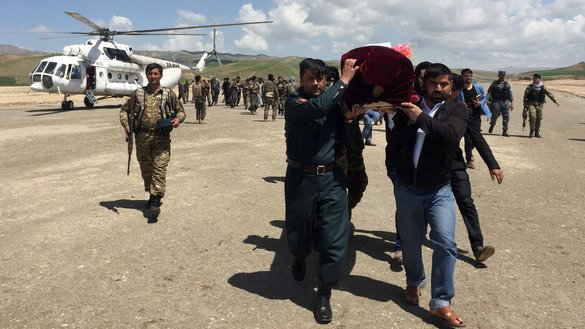 The exact breakdown of casualties remains unknown.
The Defence Ministry gave a figure of at least 100 soldiers killed or wounded. But local officials including Mohammad Ibrahim Khairandish, chairman of the provincial council, put the death toll as high as 130 and said about 60 were wounded.
Afghan families buried their dead and the country observed a national day of mourning Sunday (April 23), as anger mounted and citizens and lawmakers called for someone to take responsibility for the security breach.
Habibi Monday in Kabul said his resignation was voluntary, comparing himself to "a soldier who sacrifices in battle".
An investigation is ongoing, he said, describing the casualties only as "high".
'Aim for their heads'
During Friday's attack, ten gunmen wearing army uniforms and suicide vests shot unarmed troops at close range.
Survivors described leaping from windows to escape gunmen who opened fire in the dining hall and the mosque.
The militants were insiders, "young recruits who had come for training", said a military source at the base.
"They entered the compound using two army trucks with machine guns on top of them," Mohammad Hussain, an army officer hospitalised for injuries, told AFP. "They opened fire on everyone. Then they entered the mosque and dining room, killing everyone indiscriminately."
"Their leader came in and shouted 'aim for their heads,'" one injured 19-year-old soldier, Mohammad Qurban, told AFP from the hospital. "I jumped out the window."
Two of the attackers blew themselves up in the raid, which the Taliban claimed late Friday.
Prayers for the dead
Afghan President Ashraf Ghani flew to Mazar-e-Sharif Saturday (April 22) to pay a "courtesy visit" to wounded soldiers, as grieving families reached the base to collect flag-draped coffins bearing their loved ones.
In Omra Kot village, Balkh Province, the coffin of soldier Shir Mohammad, 25, was brought home to a house full of weeping relatives.
"My brother just got married four months ago, and now he is dead," said Qari Ahmadullah, Shir's brother, who also served as the imam of the 209th Corps. "The Taliban are the enemy of Islam and Muslims."
"How could this have happened?" asked local resident Faiz Mohammad after the burial. "I can't believe we lost all these young men."
"Three months ago I sent my son to join the army... today they are giving me his dead body," the tearful father of one slain soldier told AFP, declining to be named.
Growing anger, demands for justice
Anger grew online, with many criticising the government for its inability to prevent a series of brazen Taliban assaults, including one on the country's largest military hospital in Kabul in March that left dozens dead.
Twelve army officers, including two generals, were sacked for negligence over that attack.
The attack on the Sardar Daud Khan Hospital came a week after 16 people were killed in simultaneous Taliban suicide assaults on two security compounds in the capital.
"Mothers lost their sons, sisters lost their brothers and wives lost their husbands ... I am so tired, I can't do anything but cry," a Facebook user called Zabiullah posted about the latest tragedy.
"The best way to honour them is to fire and punish those who failed to do their jobs and/or co-operated with the enemy," tweeted a Twitter user. "Some leaders must go!"
Ghani has ordered a thorough investigation, Shah Hussain Murtazawi, a spokesman for Ghani, told reporters.
"The people of Afghanistan need to unite like a strong fist," he said.
Taliban act 'against Islamic principles'
Afghan lawmakers and citizens strongly condemned the attack.
"This was an unacceptable action, and it is totally against Islamic principles to kill people during prayer," MP Mohammad Akbari of Bamiyan Province told Salaam Times.
He asked the government to identify any officials who showed negligence in securing the base.
"This was not the Taliban's first attack on people during prayer," MP Muhammad Arif Rahmani of Ghazni Province told Salaam Times. "They have killed people in mosques before this and even planted explosives in the Holy Koran to kill people."
"If the Taliban believe that jihad is killing Muslims in the mosque, they are mistaken in their beliefs and they are not Muslim," he said.
"We have heard from Muslim scholars that in Islam it is forbidden to kill people without reason, but the Taliban are always doing this," Rishad Rasoli, 35, a Kabul resident and private university student, told Salaam Times.
"All Muslim communities condemn this kind of action -- to kill a Muslim during prayer in a mosque," he said. "And then [for the Taliban] to say 'we are doing jihad for Islam', it is ridiculous."
The Afghan National Defence and Security Forces are conducting operations against the Taliban throughout the country, said Ministry of Defence spokesman Gen. Dawlat Waziri.
"The enemies have had heavy casualties in the north, and operations will continue until their complete destruction," he told Salaam Times.
"With the help of God, we will avenge every drop of blood of our martyrs," said Balkh Governor Atta Mohammad Noor in a statement Sunday.
[Najibullah from Kabul contributed to this report.]