KABUL -- The death toll from four bombs that ripped through minibuses and a mosque on Wednesday evening has risen to at least 16, officials said Thursday (May 26), with some of the attacks claimed by the "Islamic State of Iraq and Syria" (ISIS).
At least 10 people were killed when three bombs placed on separate minibuses exploded in the northern city of Mazar-e-Sharif, police and a health official said.
"The bombs were placed on three minibuses in different districts of the city," Balkh provincial police spokesman Asif Waziri told AFP, adding that 15 other people were wounded.
Three women were among those killed in the blasts, said Najibullah Tawana, director of the Balkh health department.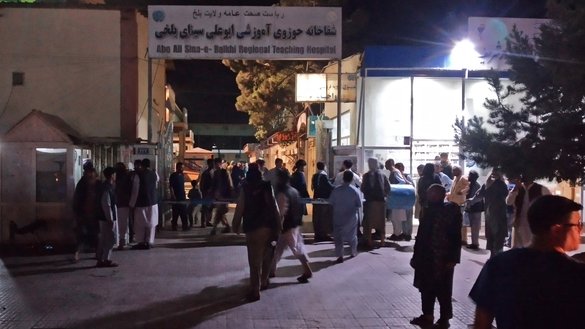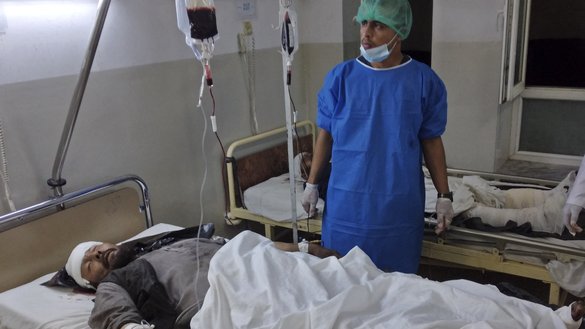 Hours after the explosions, ISIS claimed responsibility for the minibus attacks on social media.
It said on Telegram its "soldiers" targeted three minibuses with improvised explosive devices.
Later on Wednesday, another bomb exploded inside Hazrat-e Zakaria mosque in Kabul.
"We hadn't finished the prayer when a loud sound was heard," Mohammad Luqman, a witness, told TOLOnews. "I received a call to ask if I was ok. When we went to the mosque, we saw dead bodies lying on the ground and the wounded also."
Early Thursday, Kabul police spokesman Khalid Zadran tweeted that six people had been killed in that blast and another 18 wounded.
The bomb was placed inside a fan in the mosque, said authorities.
Senesless violence
"The United States condemns the cowardly terrorist attacks in Mazar-i-Sharif and Kabul that claimed innocent Afghan lives," US Special Representative for Afghanistan Thomas West tweeted on Thursday.
"This violence serves no purpose," he said, expressing condolences to the victims' families.
Rina Amiri, US special envoy for Afghan Women, Girls and Human Rights, also reacted to the blasts.
"The heinous attacks in Mazar & Kabul serve no purpose but to inflict further devastation on innocent Afghans who have suffered enough," she tweeted.
The priority for Afghanistan must be "preventing these horrid attacks & addressing the security & needs of all Afghans", she said.
'Crimes against humanity'
All the victims in the Mazar-e-Sharif blasts were Shia Hazaras, according to reports.
It was still unclear whether the Kabul bombing targeted any specific community, although it also bears the hallmarks of ISIS's local Khorasan branch (ISIS-K).
ISIS-K has repeatedly targeted Shia and minorities such as Sufis, who follow a mystical branch of Islam.
Such attacks "reflect elements of an organisational policy" and so bear the "hallmarks of crimes against humanity", Richard Bennett, United Nations special rapporteur on Human Rights in Afghanistan, told reporters on Thursday.
Bennett called for an investigation as he wrapped up his visit to Afghanistan, where he met with officials and visited some of the sites targeted by recent attacks.
Dozens of civilians were killed in Kabul and other cities in primarily sectarian attacks during the holy month of Ramadan, which ended on April 30 in Afghanistan. Some attacks were claimed by ISIS.
On April 29, at least 10 people were killed in a Sunni mosque in Kabul in an attack that appeared to have targeted members of the minority Sufi community who were performing rituals.
ISIS claimed responsibility for two bombings of minibuses that killed at least nine people on April 28 in Mazar-e-Sharif.
On April 21, a bomb at a Shia mosque in Mazar-e-Sharif killed at least 12 worshippers and wounded many more.
The deadliest attack during Ramadan came in the northern city of Kunduz, where another bomb targeting Sufi worshippers tore through a mosque on April 22.
At least 33 people were killed in that blast and scores more were wounded.