KABUL -- Afghan farmer Jahantaab Ahmadi sits on the ground, her baby resting in her lap, as she focuses on the university entrance exam she hopes will fulfill her dreams.
A photo of Ahmadi, among several taken by a lecturer at Nasir Khusraw private university earlier this month, has gone viral after striking a chord in a country where most women are illiterate.
"I don't want to be deprived of my studies," said Ahmadi, a 25-year-old mother of three who comes from a remote farming village in Daikundi Province.
"I want to work outside the house. I want to become a doctor, someone who serves women in my community or society," she told AFP in Kabul.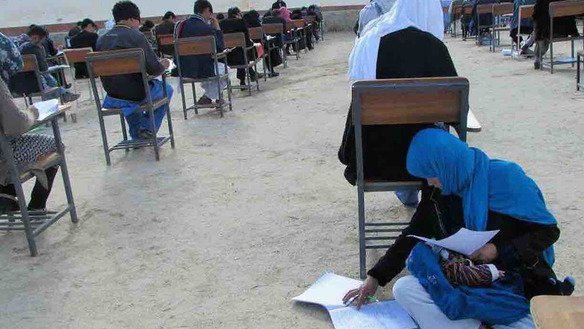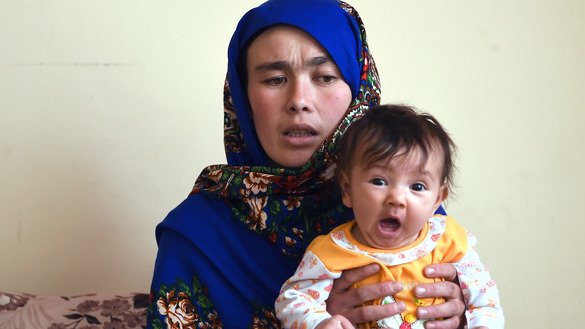 Ahmadi passed the exam after an arduous journey to reach the provincial capital Nili -- two hours on foot through mountains and nine hours in public transport on a bumpy road.
At the beginning of the test, which took place outdoors, Ahmadi sat at a desk with baby Khizran in her lap.
But the infant had an earache and would not stop crying. To keep her quiet and not disturb others, Ahmadi sat on the ground, shaded by someone else -- and kept writing.
University a 'life goal'
The picture sparked an outpouring of admiration and offers of financial help.
"You are a true world champion; you have shown that a Hazara girl can do anything in any conditions or circumstances," Nazar Hussein Akbari wrote on Facebook.
Another user posted: "I hope this hard-working woman reaches her goals."
An online GoFundMe campaign launched by the Afghan Youth Association to help pay for her university fees has so far raised more than 1 million AFN ($15,500).
Impressed by the young mother's determination, Afghan women's rights activist Zahra Yagana contacted Ahmadi and persuaded her to come to Kabul to study.
"If she had to study in Daikundi, it would be difficult for her," Yagana told AFP at her apartment. "The standard of education is low. There is no student hostel in Daikundi, and she would have to live in a rented house."
"We will give her a house [in Kabul]," she said. "There are many friends who have promised to help her. We are trying to find a job for her husband and also raise money for her children to go to school."
For Ahmadi, this would be the fulfilment of her dreams.
"My life goal was to get admitted into university," said Ahmadi, who finished high school after marrying at the age of 18.