KUNDUZ -- Primary education opportunities have opened up for more than 5,000 children who have been left behind because of manmade or natural disasters in Kunduz city and other more remote areas of the province.
With financial support from the United Nations Children's Fund (UNICEF), centres have been set up in areas that did not have access to educational services, said Kunduz Department of Work and Social Affairs director Ahmad Shah Haqqani.
"This programme provides free primary education to 5,260 girls and boys in the provincial capital and nine districts of Kunduz province to encourage and prepare them to join formal schools," he said.
Based on the agreement with UNICEF, he said, the programme -- which kicked off in late August -- will provide educational services to the children in these areas for six months, in two shifts.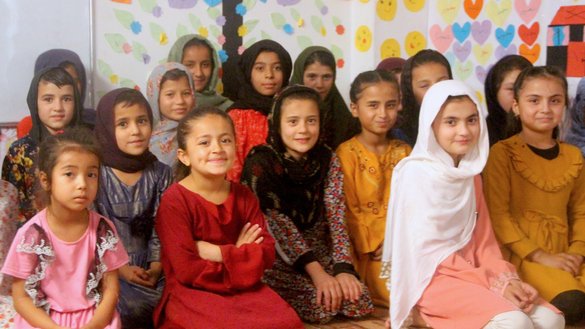 "These kids are between the ages of 7 and 13," Haqqani said, and include orphaned and unaccompanied children and those suffering from extreme poverty.
Children will be able to join throughout the six-month period, he said.
"Classes established by UNICEF in remote areas enable children in those areas to attend school, since very few schools have been built in remote and war-torn areas in previous years because of security issues," he said.
More than 500 primary, middle and high schools operate in Kunduz province, providing education to approximately 380,000 girls and boys.
Higher aspirations
Many of the children in the programme said they had been prevented from attending school by war, a shortage of school facilities or economic barriers.
"I am very happy that this centre has been established, so that we can continue our education and make new friends," said Zainab Muhseni, 9, who studies at one of the new centres.
"Every child has higher aspirations, and every day we go to these education centres with a lot of enthusiasm," she said. "We want this programme for a longer period, so that we can achieve our dreams."
"I have learned many new things since joining the centre," said Hadia Rahmani, 11, another student from the Kunduz city centre, whose father was killed in March 2021 during fighting in Kunduz city.
"We study English here and learn the alphabet," she said. "I hope all kids can study so that in the future they can serve their people and society."
"Every man and woman have the right to education, and it should not be taken from them," Hadia said.
A supportive environment
"We have a special education programme for children with lower learning abilities," said Kunduz city teacher Shekeba Amiri, who was hired by UNICEF.
"We teach them the Holy Koran, Dari, English, Arabic and math for six months," she said, noting that classrooms have been decorated to create a soothing and supportive environment for children who have experienced war and trauma.
"War and violence have left negative imprints on children's brains," Amiri said. "These children were very nervous in the first days, but their souls and minds are calming down, day by day."
"I am very happy that this centre has been established for the war-affected, orphaned and impoverished children, and I am proud to be their teacher," she said.
Children who live in the province's villages and rural areas were not able to receive educational services previously, as the only schools were in the district centres.
Bolak-e-Awal resident Abdul Khaliq, 53, said he was happy to see the children of his village, which is in the vicinity of Kunduz city, going to the local school.
The nearest school used to be a long way from his home, and his own children and those of dozens of other villagers were not able to attend, he said.
"Our children could not go that far," he said. "I am very happy now that the local school has been established close to us."