KUNDUZ -- When Zahra Siddiqui, an activist from Dehdadi district, Balkh province, saw young children in her neighbourhood forced to work to help their families, she knew something had to be done.
Siddiqui, a resident of Sheikh Abad neighbourhood, joined hands with other woman activists to establish an education centre at their own expense to provide free education to more than 150 of the province's children.
Their goal is to fight illiteracy and to provide an educational environment for the children of families who have been affected by the country's conflict, drought and poverty.
Students learn Dari and English as well as religion, math and history.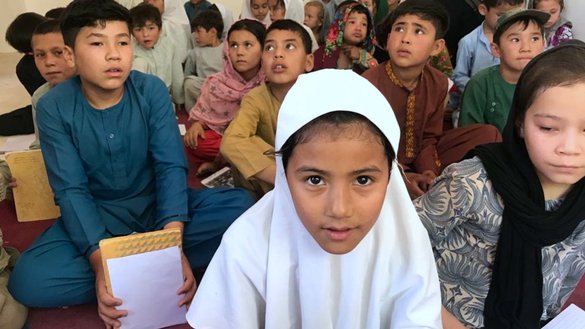 "When I saw children doing hard labour, I felt very uncomfortable," Siddiqui said. "When I looked at the young children, I felt very sorry for them and wished that the area had a school for them."
"I repeatedly raised the issue with the provincial education department, but it never responded. Finally, I thought I should take the initiative and establish an education centre," she said.
"I am so happy that I have been able to provide a learning opportunity for the children in this neighbourhood."
She and the other woman activists who have joined her will spare no effort to eradicate illiteracy in the province, said Siddiqui, who holds a journalism degree from Balkh University.
The group is prepared to expand its operations if it receives additional support, so that the education centre can provide learning opportunities for all the area's school-deprived children, she said.
The centre opened in the last week of April in co-ordination with the provincial departments of education, economy, and information and culture, Asal Sulehshur, a teacher at Siddiqui's education centre, said.
"The centre provides accelerated education for pre-school-aged children to prepare them to go to school next year," she said.
"Most of the children enrolled at the centre are not literate, and some others are deprived of going to school for various reasons," she said. "The centre helps them learn about various subjects."
"I call for additional support so we can expand the service and provide free education for more children," she said.
"There are four teachers, two female and two male," she said.
Hope for a better future
Amanullah Ghaznawi, 9, a resident of Sheikh Abad village, said he had been deprived of pursuing his education by conflict and insecurity.
"We lost hope when we were displaced because we were uncertain about the future," he said. "But I am thrilled that I can now continue with my studies."
"I call on all my peers to study so that they become engineers or doctors," he said. "It is not the time to work and make money but rather to study and build their future."
Zareena, 10, a resident of Ramazani village in Dehdadi district, Balkh province, said she used to be illiterate, but now she is very happy that she can read and write.
"We were displaced by the conflict, and when we returned to our home, there was no news about resuming education," she said.
"I was not able to read. Now I can read and write," she said. "The centre has provided an excellent learning opportunity for us."
Families and residents of Balkh province have welcomed the new opportunity for children's education and say that organising such a programme for impoverished and deprived children is extremely important.
Hundreds of families were forced to leave their homes by conflict and difficult conditions, and their children were deprived of education as a result, Mohammad Omar, 58 a resident of Dehdadi district, said.
"Displaced families were scattered across different parts of Balkh province, where they took temporary shelter for three to six months," he said. "Some families have returned home as of two to three months ago."
"Our children have been deprived of going to school and acquiring literacy in the district's remote villages for various reasons, but now we are happy that this education centre has been established and provides education for our children," he said.