KUNDUZ -- As Afghan women find themselves more and more restricted in their movement and personal freedoms, one woman, a teacher who is now unemployed, has turned her house into an education centre for children.
A graduate of Balkh University's faculty of journalism in 2020 and former teacher at a private school in Mazar-e-Sharif, Malika Azizi now teaches English, Dari, writing and mathematics to a group of 60 young girls and boys for free.
Her purpose is to prevent girls from becoming illiterate and to promote a culture of education, she said.
It also fills a gap for students whose learning has been interrupted by the fall of the Afghan government in August and the three-month winter break when schools are closed.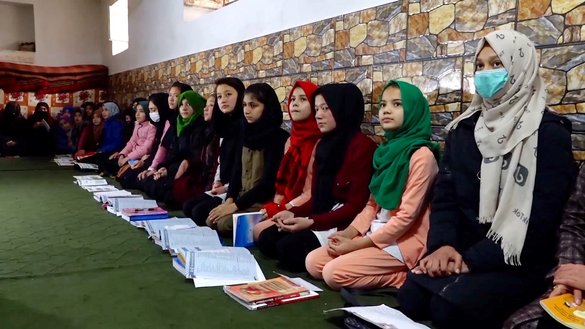 "When I saw my Afghan sisters barred from working outside their homes and pursuing their education, I decided to establish a girls' education centre in my basement," she said.
"The centre opened its doors on January 17 and has 60 school-aged students, 65% of whom are girls," she said.
"In addition to English, I am teaching them writing skills, Dari and mathematics so that students are prepared to resume their education when schools restart," she said.
Azizi's students have to sit on the floor as she could not afford to buy desks, chairs, computers and a projector, which she said she "desperately" needs.
Overcoming obstacles
"Even if our school is closed, now there is someone who teaches us not only lessons but also how we can progress in life," said Tahira Mubariz, a 10th grade student at Khorasan High School in Mazar-e-Sharif.
Her studies have been affected over the past two years by political changes and the coronavirus pandemic, she said. However, programmes like the one she attends at Azizi's will help her prepare for the next school year.
"Unfortunately, restrictions have recently been imposed on girls' and women's education," Tahira said. "However, we will never give up and are determined to continue our education and build our country."
"We shall not bow to any pressure," she said. "We will overcome any obstacles on the path to our education. Seeking education is our legitimate right."
"Since I came here, I feel a lot has changed," said Zohal Akrami, another 10th grader at Khorasan high school. "In the beginning, I knew only a few English words, but now I have learned many more and my pronunciation skills have improved."
"The winter education programme has proved to be very useful because schools are closed and we can better prepare ourselves for the future," she said.
"I want to be a doctor in the future and serve vulnerable women for free," she added. "Nobody should create obstacles to our progress because our purpose is good."
Women must learn
Despite the restrictions women and girls face, a number of Balkh residents said education is very important for women and girls and they should be allowed to study.
It is important for women to study so that they can serve their fellow women in the future, said Safatullah Haqiq, a resident of Mazar-e-Sharif.
"Society needs female doctors, teachers, police officers, judges and prosecutors," he said. "Because [Afghan] society is very conservative, a man may not search a woman and a male doctor may not treat a female patient."