HERAT -- Afghan girls, now in their second year of being barred from education after sixth grade, are struggling to keep learning nonetheless.
More than one million teenage girls have been deprived of education across the country over the past year, says the United Nations Assistance Mission in Afghanistan (UNAMA).
"It is profoundly damaging to a generation of girls and to the future of Afghanistan itself," Markus Potzel, the acting chief of UNAMA, said in a statement September 18, calling it "tragic" and "shameful".
One Afghan woman has vowed to make a change in the lives of girls and women in her homeland after she completes her doctorate in Turkey.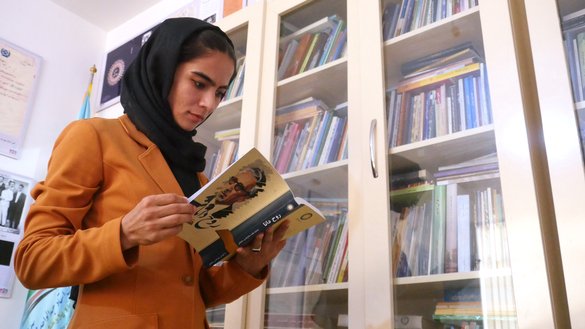 In 2017, Manizha Bahra, 27, received a master's degree in social sciences from a Turkish university. She is now pursuing a Ph.D.
Afghan girls will not progress or be empowered unless they unite and enhance the skills to take on the very difficult journey ahead, she said, adding that she is determined to work towards providing learning opportunities for Afghan women and girls.
"After finishing my studies, I will return [to Afghanistan] and teach girls at a high level of education," she said. "If I stay in Turkey, I may have a decent life, but I am determined to return to my country and devote myself to half of Afghanistan's population [women and girls]."
Every Afghan girl has talents and capabilities, and given the opportunity, all girls could pursue higher education, said Bahra.
"Every Afghan girl can become a successful physician, engineer, economist, anthropologist or lawyer, but unfortunately, they have not been given the opportunity," she said.
The current gender restriction has inspired girls to study harder. The prevailing challenges have made them more determined to try harder and build a better future for themselves, she said.
Home schooling
All educated Afghan women should aim to support girls who have been deprived of schooling and should organise home-based classes for a group of girls in their neighborhood, said Bahra.
If every educated and literate woman teaches a girl, no girl will be left behind in her endeavour to acquire an education, she added.
Siddiqa Ghulami, a teacher in Herat city, said she is teaching some 50 girls at a private learning centre.
"Girls, who have been prohibited from going to school, learn school subjects, computer literacy and English at the learning centre. They are very motivated and work very hard," she said.
"We urge literate parents to teach their daughters and support them. In the current situation, girls need family support more than ever," she said.
All educated men and women have a duty in the current situation, which is to educate and support girls at home and help them enhance their knowledge and capabilities, said Ghulami.
A graduate of Herat University's faculty of science, Fawzia Ahmadi, who has yet to find a job, teaches her two sisters at home these days.
Her sisters are in the eighth and 11th grades, and she has organised a home-based school to teach them different topics, including English, she said.
Soon after girls' schools were closed, she decided to start teaching her sisters, she said, adding that they gained hope after she started teaching them.
"I call on other educated girls and women to allocate time and resources toward teaching their neighbours' daughters. Girls need their support now more than ever, and literate women can be their supporters," Ahmadi added.
Girls should continue to pursue their studies and parents must provide home-schooling opportunities for their daughters, she said.
Empowering girls
Afghan women and girls made historic strides in education over the past two decades and became an educated and empowered generation, say women's rights activists.
Women and girls have demonstrated their abilities in all fields, said Mariam Azizi of Herat, a women's rights activist.
"Although girls have always been restricted by Afghan traditions and they have faced obstacles and challenges, they have fought against these restrictions and reached their goals," she added.
"Girls scored the highest in the university entrance examination (Kankor) for many years and entered the best faculties. They also gained the highest scores at university," she said.
Corruption plummeted and the government ably served the public when women still worked in government offices, said Azizi.
Afghan girls are talented, and provided with the opportunity, they will make progress on all fronts, said Mohammad Nasir Fitrat, a civil society activist in Herat city.
"A girl held the first place in our class for four consecutive years. Girls used to gain the highest scores in our classes," said Fitrat, a graduate of Dari language from Herat University.
Referring to women and girls' achievements over the past decade, he mentioned the Afghan girls' robotics team as an example of talent and ability.
"The environment was favourable for them, and they have achieved recognition at the world level and received awards," he added.
"Afghan girls are talented and capable. All they need is the support to flourish," he said.
Countries around the world spend most of their resources on the education of their children and youth, so Afghanistan must also invest in the education of children, especially girls, said Fitrat.