HERAT -- A small group of young women in Herat city are tirelessly working on their laptops, learning about animation and the software used to produce it, creating a relatively new obsession in Afghanistan.
Five months ago, Sara Barakzai, a 24-year-old who learned animation in Turkey, founded the course, which she has dubbed Nasl-e Musbat (Generation Positive).
Although her family first opposed her pursuit of education outside Afghanistan, Barakzai said she was able to persuade it to allow her to achieve her dreams abroad.
"In Afghanistan, nobody pays any attention to animation, and so I wanted to be among the pioneers," she told Salaam Times.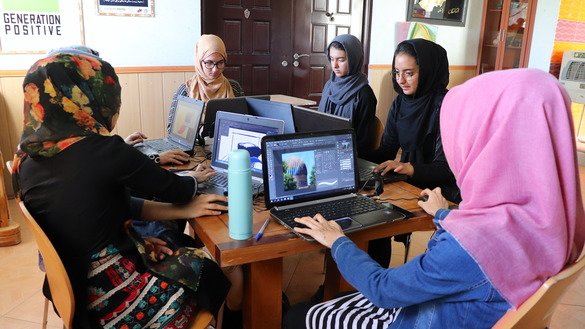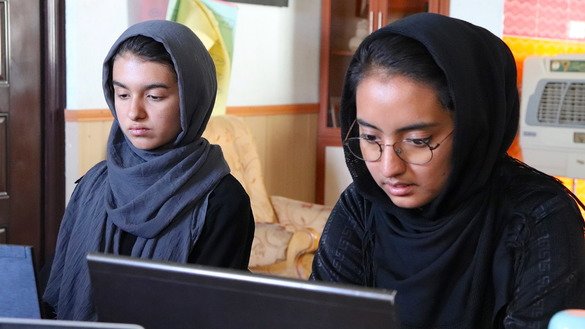 "Once I arrived in Herat, I found many who are interested [in animation]," she said. "I wanted to share my art and knowledge with my fellow Afghans, especially with the girls."
"Therefore, I established a class called 'Generation Positive,' where dozens of girls come every day to learn about animation," she said.
Almost 100 girls have already learned the basics of animation in the two-month training courses.
"We want to introduce the culture of Afghanistan to the world through animation," Barakzai said. "Art has the greatest impact on people, and so we use this tool to introduce native Afghan traditions and cultures. We can also explain and describe Afghanistan's problems through animation."
"Animation is a universal language that every human being understands," she said, adding, "We will try to make animated works that are compatible with Afghan culture and traditions in order to make Afghan children more familiar with their country's native culture."
"We want to show the world the good aspects of Afghanistan that have gone unnoticed."
A positive image of Afghan culture
The young women and girls attending Generation Positive classes include both grade school and university students.
Afghan girls should have the conditions to advance and grow, said Farmila Salahi, 24, who holds a degree in graphic design from Herat University.
"Afghan women and girls possess good talents," she told Salaam Times.
"[These girls and young women] have never had opportunities to nurture and develop their talents and to present them to the world," Salahi said. "Much like their male compatriots, Afghan women can make achievements in their communities."
Marwa, a 14-year-old 7th-grade student in Herat and the youngest member of her Generation Positive class, said she has learned a great deal about graphic arts through the class.
"I first started with drawing followed by graphic design, and now we are learning about 3D programmes," she told Salaam Times. "Through animation, I want to portray the situation of the Afghan community and women."
"My objective is to create a positive change in the mentality of Afghan society through animation," said Yalda Amini, a 19-year-old student at Herat University.
"Through animation, I want to display and showcase my culture to others," she told Salaam Times. "I want to make a positive change in the mindsets of children in this war-torn society."
"We create our animated works in a way that children and adolescents are encouraged to think about peace and harmony, instead of about fighting and killing," she said.
Encouraging girls' potential
Since the fall of the Taliban regime, millions of Afghan girls and women have attended schools and universities.
"Girls have always been prevented by their own families from going to schools and universities, mainly because of the traditional nature of our society," said Aziza Khayrandish, a women's rights activist in Herat.
"If Afghan girls receive suitable opportunities, they will play important roles in the development of their country just like their male compatriots," she told Salaam Times.
"In recent years, Afghan girls have proved that they possess tremendous capabilities," she said. "The Afghan girls' robotics team, for example, is internationally recognised and has had great achievements."
"The Afghan government should provide further educational opportunities overseas for such talented Afghan girls," Khayrandish said.
Government support for girls
Afghan officials welcome the work done by Generation Positive and other efforts to educate and empower Afghan girls and women.
"The fact that Afghan culture is going to be depicted through animation is an extremely significant measure in the development and revitalisation of our culture," said Javed Zargham, chief of the Culture and Art Directorate in Herat.
"We welcome this measure, and if the need arises, we will support the girls' animation-making team," he told Salaam Times.
"Afghanistan has a rich culture with a history of thousands of years," Zargham said. "Unfortunately, different superstitions found their way into the community through wars and disasters, and now Afghans think those [unfounded beliefs] are part of their culture, while that is not the case."
"We have to do fundamental work to raise the level of public awareness of Afghan culture and genuine Afghan traditions," he argued.
The Herat provincial government will support any activities that lead to positive changes and to the cultural development of the community, said Munesa Hasanzada, Herat deputy governor in charge of cultural and social affairs.
"The government will use its facilities and capabilities to support girls' talents in Herat," she told Salaam Times. "If these girls need any financial support and capacity building, we will support them."
"The Afghan government has always been hard at work to empower Afghan women," she continued. "In co-operation with other countries, we have been able to transform the situation of women in Herat."
"Thousands of young girls are acquiring knowledge and science in Herat schools and universities," she said. "Each of these girls plays an important role in building and developing Afghanistan."