HERAT -- A painting class in Herat city is giving new hope to girls who had been suffering from depression and other mental health problems following the closure of their schools.
Unable to attend school for almost a year, more than 20 secondary students attend the class daily and enjoy the company of their peers while painting for a couple of hours.
Rubina Timori, 17, a sophomore in Herat city, signed up for the painting class two months ago and has been attending it every day.
In the company of other girls in the class, she said she has forgotten the pain and suffering of missing school and has found new hope in life.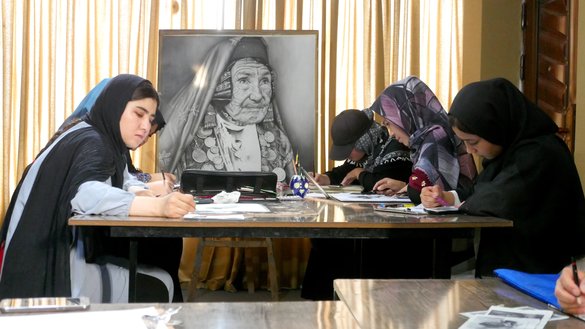 "I was crying all the time and had lost hope when the schools were closed, but I did not confine myself to my house and joined the painting class," she said. "I want to progress via this art and fight deprivation."
"If they close one door to us, we open many others," she said. "No one can stop our progress. We girls will not remain silent in the face of injustices and deprivations."
Rubina said that she and other high school and secondary school students are waiting for their schools to reopen so that they can resume their studies like before.
Laila Arman, 18, a high school student in Herat city, said the painting class saved her from the mental and emotional pressures caused by the closure of schools.
"I stayed home for several months after the closure of schools and suffered from severe depression," she said. "I had to see a doctor many times without much help. But it got better since joining the painting class three months ago, and I enjoy life."
"Girls learning painting is a form of struggle and standing up to restrictions and deprivations," she said. "As the deprivations increase, the stronger we become and more resolutely we pursue our goals."
Despite severe restrictions in society, she and other girls will not give in, Arman vowed.
Rahela Jafari, 19, a high school student in Herat city, said she has learned much about painting since joining the class more than a month ago, and now paints portraits and nature scenes.
"I found hope in life again by learning painting," she said. "I felt like there was no hope and my life was over after the closure of schools."
Now Jafari has other goals she wants to achieve.
"I want to complete my school and become a doctor," she said. "Besides that, I will be an artist too, which is a great feeling."
Staying at home is not the solution
While millions of Afghan girls are forced to stay home and face an uncertain future, many are taking advantage of social activities and other learning opportunities offered in private.
Asma Timori, 15, a sophomore in Herat city, said she had joined a local music group and was very sorry when it closed at the same time that the schools were closed.
Instead, she started attending the painting classes.
"I never want to give up social activities and sit at home," she said. "I will do whatever I want to and will not let others stop me."
"I want to be a role model for other girls and convey to them the message that they should remain active in society as they used to and as a woman serve their country and people."
Asma vowed never to stop studying, learning to paint and working in society.
"I am sure that the path that we girls have chosen in this difficult situation will lead Afghanistan to progress and prosperity," she said. "We want to study and build our country."
Habiba Haidari, 15, another sophomore in Herat city, said she did not stay home after the closure of schools.
"Sitting at home and giving in to restrictions will destroy us," she said. "We will never accept that."
"It is true that schools are closed to us girls, but we are creative and we will not allow it to stop our progress."
Girls should turn to other activities and should not isolate themselves until the reopening of schools, Habiba said.
Opportunities for progress
Ali Farhang, 35, a painter in Herat, opened the painting class for girls in Herat city.
After the closure of the schools, the girls made painting a means for progress and used the opportunity very well, he said.
"The girls come to the class every day with great interest and learn painting in a professional manner," he said. "These girls have a real talent for art and will become good artists in the future."
"The painting class is free," Farhang added. "The number of students in the drawing class is growing day by day, all of whom are school pupils."
Families are very supportive of their daughters progressing through learning art, he said.
Afghan girls have turned these challenging circumstances in their favour and have continued learning and progressing, said Manizha Sultani, 27, an alumna of Herat University's Faculty of Fine Arts.
"Many of the students have learnt painting within a month," she said. "Due to the mental pressure caused by the closure of schools, these girls are very motivated and work hard to fill the void."
"Afghan women and girls have shown the world that they are progressing even in unusual and fragile situations," she said. "Girls did not bow down to the limitations and are moving very strongly towards a bright future."
Women and girls have overcome despair and are working with great motivation to enhance their academic capacity and learn art, Sultani said.