HERAT -- The Herat Online School is providing thousands of Afghan girls a chance to learn even as girls' schools remain shuttered in Afghanistan.
Anjela Ghayour, 37, an Afghan-born educator who now lives in London, launched the school last November to provide educational opportunities for Afghan girls who were unable to return to school.
Although girls may attend school up to sixth grade, secondary schools for girls were ordered to shut in March, just hours after being reopened for the first time since August.
More than 3,000 Afghan girls, including hundreds of refugees in Iran, are registered for the online school and are studying various subjects every day.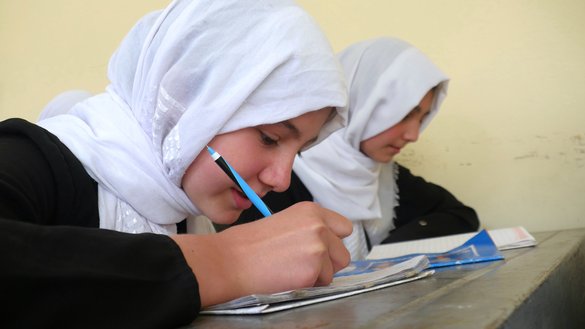 The school's name is a reference to Ghayour's hometown of Herat, but the courses are available in Afghanistan or anywhere with access to the internet.
Almost 700 teachers have volunteered with the school, and 250 have been teaching free classes to girls for the past seven months, she said.
Teachers use pre-recorded video clips, slides, readings and live lectures for their classes. Students download the materials and study them at home.
The Herat Online School offers classes on 85 different subjects, Ghayour said.
"One section includes writing, civic journalism, creativity and innovation, and life skills," she said. "In the second section, girls learn 17 languages, psychology, self-awareness, painting and health education."
"The third section of Herat Online School includes coding, programming and computer lessons," she said. "Girls also study politics, literature, music, history, designing, singing and miniature art."
"The Herat Online School has many applicants," she added. "We are working on a system through which we can accept more girls."
Rescue from uncertainty
The opportunities offered by the Herat Online School have brought hope to girls banned from going to school.
Fazila Farhat, 21, a senior high school student in Herat city, said the online classes saved her from despair.
"While the closure of schools has left girls hopeless, the Herat Online School has managed to revitalise the spirit and desire for learning among girls," she said.
"I attend classes three days a week at the Herat Online School but study on my own every day for three to four hours to cover all subjects," Farhat said.
She said she has been learning English and several other subjects over the past seven months.
"The Herat Online School saved me from uncertainty and deprivation," she said.
Afghan girls are calling on the international community to work towards opening girls' schools and to stop those who want to deprive girls of their right to education and progress, she said.
For Fatima Rahimi, a 16-year-old student in Herat city, the Herat Online School has had other benefits.
The psychology class in particular has invigorated her will to fight and stand up against restrictions, she said.
"I would have been really depressed after the closure of schools if Herat Online School was not there," she said. "Herat Online School has helped me and other girls mentally and psychologically."
"From a knowledge point of view, I am not the person I was a few months ago," she added. "I know about different issues now."
Online alternatives
Online educational programmes give deprived and disappointed girls new hope and a sense of purpose, said Latifa Hamdard, a teacher in Heat city.
In this age of communications and technology, online schools can be an alternative to public schools to an extent, she said.
"It is very difficult to deprive girls of education in the current age," she added. "If schools are closed to them, with the help of technology and the internet, they will find other ways of acquiring knowledge."
"Online teaching programmes help girls stay connected with books and education and maintain the will to study," Hamdard said.
Even if public schools are reopened, online schools will be still needed so that in addition to the regular curriculum, girls can learn foreign languages and modern science, she said.
The more restrictions are imposed on girls' education, the more ways they will find to gain access to modern education, said Fakhria Kawesh, a civil society activist in Herat city.
"No one can close these online schools for girls," she said.
It is impossible to deprive girls and women of education in this age, Kawesh said. If Afghan girls have access to the internet, they can benefit from online education.