HERAT -- Taking a stand against restrictions against Afghan women, three female artists late last month held an exhibition in Herat city in support of women's rights.
The women, who graduated from Herat University's Fine Arts, put 70 pieces of artwork made over the past five months on display February 20–28.
The objective of the exhibition was to speak out against restrictions on women and to inspire them, the artists said.
Rozita Mohammadi, one of the three artists, said she intends to encourage women to return to society and continue their activities.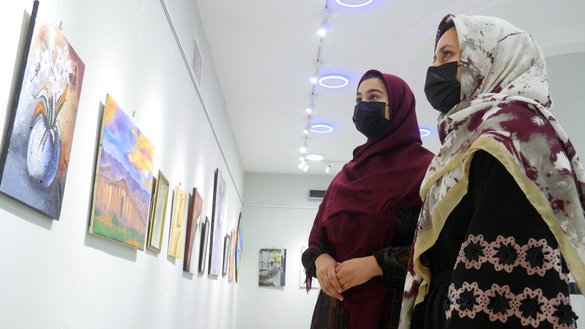 "Since we are forced to remain silent and can't speak up, we have expressed our words through our work," she said.
"I urge all girls to leave their houses without fear. They will definitely succeed in achieving their goals," she added.
In the short term, girls and women may not be entirely successful in overcoming all the restrictions, but they will eventually succeed, Mohammadi said.
Mozhda Khademi, another artist, said she expressed what she wanted to say through her work.
"This is not the time to be afraid," she added. "All girls must come out of their houses and claim their rights."
"Like men, women and girls should work and have a role in rebuilding Afghanistan," she said.
No one can suffocate women and girls. If one door is closed on them, they will open dozens of others, Khademi said.
Educated women
Since August, enforced segregation has taken hold in most workplaces, leading many employers to fire female staff. Women are barred from key public sector jobs.
Many girls' secondary schools have closed, and university curricula are being revised to reflect a hardline interpretation of Islam.
Nazanin Mohammadi, an engineer who used to work for the Herat Department of Urban Development and Land, is now unemployed.
She has a master's degree in land management from India, while the man who has replaced her has only an elementary school education, she said.
"It is impossible to serve the public without the presence of educated and expert women in the government," she said.
"Appointments should be merit based. If thousands of educated women who are forced to stay at home are allowed [to work], they will quickly improve the current dire situation in the country," Mohammadi added.
Depriving educated women of work -- in the public or private sector -- will not last long, she said.
Forozan Hussaini, who worked for the Herat Department of Education for four years under the previous government, was fired and is now staying at home.
Hussaini said she holds a bachelor's degree in economics from Herat University but is prohibited from government work.
"I have given up the hope of working in the public sector. I am now looking for a job in the private sector or an NGO. After 16 years of schooling, I want to utilise what I learned to rebuild Afghanistan and help my people," she added.
"No one can stop women from working because both public and private sectors need educated women to work for them," said Hussaini. "They cannot function without women."
Defiance
While visiting the exhibition, Adela Khademi, who studies Dari literature at Herat University, said women and girls should come out and speak their mind instead of staying at home in silence.
"Amid so many challenges in recent years, we girls worked hard and made progress," she said. "We will not allow anyone to stop us from working and studying."
"Girls must fight and should not give up," she said. "We must prove to the world that we can face the challenges and restrictions imposed on us and fight them."
Girls should not allow anyone to abuse their country, said Khademi.
Afghan women will become more resilient as restrictions on them tighten, said Firoza Haidari, a civil activist in Herat city.
Women and girls only want their human and Islamic rights. No one can violate these rights through intimidation and use of force, she said.
"We won't let the achievements we made in the past 20 years vanish. Despite all the odds, we will fight back and safeguard them," she vowed.
"It is impossible to contain all active and educated women to their houses," she said. "There is no army in the world that can stand up to the women of a country through force and threats."