HERAT -- Barred from education and work following the collapse of the previous Afghan government in August, a group of women in Herat city have started gathering to read books together.
The new Afghan government has allowed only a portion of female civil servants -- those working in education and health -- to return to work, and has been vague on what the rules will be in the future.
Public universities have been closed since August. In addition, Afghanistan's new rulers do not allow girls to attend school past sixth grade.
The women participating in the book reading programme include high school and university students as well as former civil servants.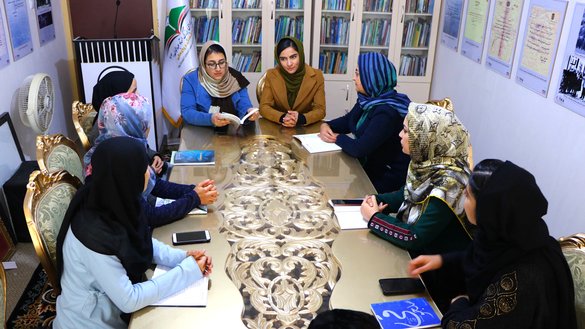 The programme started in early November, and about 40 women have joined so far.
They meet twice a week in Herat city's Ustad Abdul Wahid Bahra Learning, Cultural and Research Centre.
Manizha Bahra, 27, said she started the programme to safeguard the achievements of women made over the past two decades and to help counter desolation, deprivation and depression.
"We initiated the book reading sessions at the time when everybody felt hopeless and so desperate," she said.
"We thought by organising these ... sessions, we could fight despair and help women."
The number of women participating in the programme has been increasing every day, Bahra said, and those who do say they are interested in reading and feel more hopeful about their future.
Wahida Saroush, who lost her job as an accountant at Herat's Department of Taxation, is among those who have joined the reading programme.
"Like other women, I am going through difficult times," she said. "These past few months have been very hard for me."
"The programme has given us new hope and an opportunity to be able to stand again, expand our knowledge and build our capacity," she said.
The programme has been reassuring, Saroush said, adding that she feels more secure and comforted being among other women.
Reading for a better future
For women, the restrictions imposed on them since August have led to feelings of helplessness, but gathering together to read -- and to mingle with other women -- has alleviated some of those feelings, participants say.
At a time when everyone has feelings of despair and failure, reading can be a way to escape psychological turmoil, said Nilofar Naik Seyar, a teacher at the Kahkashan-e-Sharq Higher Education Institute, a private university in Herat city, and a member of the programme.
Reading gives one a sense of hope that everything has not fallen apart and that life will continue, she said.
"We do not want to stay in the dark but to raise our voices each time we open a book," Seyar said. "We are the generation that loves reading."
"We used to go out and work over the past 20 years. We shall not stay idle but rather continue our struggle for the cause," she said.
With schools and universities still closed for girls, the programme offers a platform for reading books, expressing ideas and learning how not to lose hope, Seyar said.
Such programmes are more essential now than ever before, she said, adding that reading can eliminate feelings of helplessness and empower men and women to become optimistic about creating a brighter future.
"Movements that start with books and reading might take time to nurture and produce an outcome, but they will definitely have a strong impact in the long run," she said.
"These reading sessions may not be effective today or tomorrow, but they will be impactful in coming days."
Women can use various approaches to avoid the current restrictions, said Sara Arabzada, a civil society activist in Herat city.
"Women have bravely stood up against restrictions and injustice [to have] a better future," she said.
"If women decide to go out and resume their social activities, nobody can prevent them from doing so," she added.
Silent voices
Women participating in the reading programme in Herat city say that it also aims to raise the voices of millions of Afghan women who cannot speak up because of restrictions.
Hayeda Haidarzada, a third-year student at Herat University's department of Dari language and literature, said that when she gathers with fellow women, she feels motivated and encouraged about her future.
"When the university was closed, I felt exhausted and lost hope," she said. "But after attending these sessions, I sense those clouds of depression are passing by."
"We are determined to continue attending the programme and working in the society ... By gathering here, we want to bring hope and aspiration for all Afghan women who have been silenced and kept in darkness," Haidarzada said.
Shutting down universities for women means jeopardising the gains women and girls have struggled to reap during the past 20 years, said Marjan Wafa, a third-year student in Herat University's faculty of journalism and mass media.
"After I was prevented from going to the university, I felt so disappointed and thought we again have become the silent majority and moved backward," she said.
"I cannot go to the university, but I can gather with my fellow women to read and build a better future," she said.
"If we are left with no other option, we will continue to hold our reading sessions in our homes to build our knowledge and capacity," Wafa added.