HERAT -- Two booksellers have started selling thousands of books at low prices on a sidewalk in Herat city to promote reading among youth and encourage hope amid the closure of schools and public universities to women and girls.
The booksellers also donate books to needy students and let students borrow books.
Middle schools and high schools have been closed for girls following the fall of the previous government in August, leaving millions of young Afghans out of school.
The objective of the book sale is to raise awareness and fight ignorance in society, said Sharafuddin Niazi, one of the two Herat booksellers.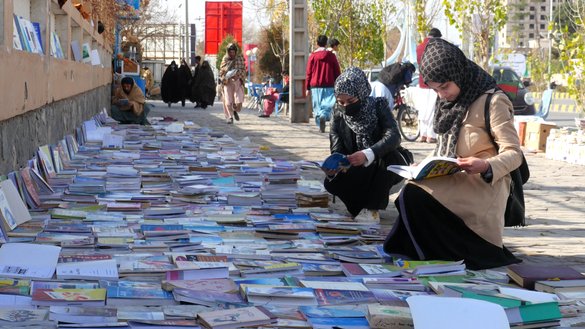 A large number of young Afghans have stopped reading amid the economic hardship and disappointment they are facing. So the booksellers offer books at reduced prices to encourage youth to read, Niazi said.
Wase Ahmadi, the other bookseller, said he offers his books to the youth at half price or even for free, so that they can become agents of change in Afghanistan.
Many of the young customers are students and cannot afford to buy books, so the booksellers lend them books, he said.
The two booksellers have some 3,000 books for sale, mostly about technology and modern sciences.
Helping Afghanistan develop
More than 200 customers buy books every day, some 70% of whom are women and girls, say the two booksellers.
Girls and women deprived of going to school and university should buy affordable books so they do not forget what they have learned, Mariam Sarshar, a sophomore dentistry student at Herat University, said.
"I have had a lot of free time since the university is closed. The only option I have is to read more books and enhance my academic capabilities," she added.
"The only way we can help Afghanistan develop and transform into a prosperous country is through education and knowledge," she said.
Women make up half of society. They should be able to learn and progress as much as men are able to do so, Sarshar said.
"There is no difference between men and women. Through their knowledge, they can build the country together."
"Progress and development are impossible in a country without the participation of women," she added.
Although schools and universities are closed to female students, they should continue to read by buying affordable books and studying at home for a brighter future, said Parwana Azimi, a freshman psychology student at Herat University.
"Men and women can build a society together," Azimi said.
All Afghan women should take advantage of the situation and should not allow restrictions to hold them back, she said.
"The only way we can build our country is to use modern science and enhance our level of knowledge by reading books," she added.
Girls should also be allowed to continue their education. Women can significantly contribute to the development of society, Azimi emphasised.
Combatting ignorance
Mir Ahmad Ahmadi, 60, who is barely literate, is also a customer.
The only way out of the crisis in the country is to read books and enhance awareness and knowledge to combat ignorance, he said.
"I am very saddened to see that schools and universities are closed to our teenagers and youth," he added.
"The closure of schools and universities to the youth is unfortunate and concerning," Ahmadi said. "It will destroy the country's young generation and bring extremism and darkness."
"Our only hope is our educated youth," he said. "Those who closed the universities and schools want to destroy the future of Afghanistan."
Afghanistan cannot progress through guns and terror, said Ahmadi, adding that only books can eliminate ignorance and bring reconstruction, security and prosperity.
Ramin Sorosh, a 12th grader in Herat, said he is continuing to read books and vowed to apply his knowledge to fight extremist ideologies.
"We know that efforts are being made to deprive Afghanistan's new generation of knowledge, and to pave the way for extremism and barbarism," he said. "But we will not allow this darkness to take over our country once again."
"Our fight with ignorance through knowledge is progressing slowly, but the day of our triumph will arrive when we determine the fate of our country through knowledge," said Ramin.