HERAT -- Amid increased challenges and restrictions facing Afghan women, a group of female artists have come together in Herat to illustrate their thoughts and emotions in paintings.
Members of the group, known as Shamama, gather around a table at a painting workshop in Herat city and paint portraits of women that depict their beauty and achievements but also the restrictions that they face.
Shamama is trying to capture Afghan women's voices and grievances in the paintings, Zahra Najafi, 22, said.
"Afghan women are suffering from harsh restrictions, helplessness and despair, and we want to use our art to raise their voices," she added.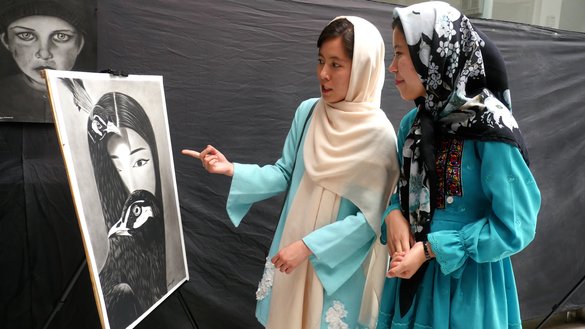 "Nobody can deprive women of pursuing their education and acquiring artistic skills. Afghan women want to make progress, and their demands should be respected. We are determined to depict their achievements with our artwork," she said.
If one door closes, another will definitely open for women and girls, and they will make a unified decision to move forward and make progress, said Najafi.
The group wants to put the spotlight on Afghan women, Frishta Noori, another member of Shamama, said.
"We want to illustrate their beauty and capabilities through our paintings. We want to show to the world that Afghan girls and women... have made significant strides in various sectors over the past two decades. They are fully empowered to utilise their abilities to build a prosperous Afghanistan," she noted.
Struggle for progress
Women across Herat have continued to be active and to contribute to various sectors despite the restrictions imposed on their role in society in recent months.
Despite the limitations, women create new initiatives every day, and with these initiatives, they lead society toward prosperity and empowerment, Shamama member Arzu Mohammadi said.
"Through our artwork, we want to encourage our countrywomen to continue their struggle for progress and to never give up. Confronting these challenges and fighting restrictions are the only way out of the darkness."
"The current battle is for survival, and we will never give up," Mohammadi said, adding that Afghan women will seize every opportunity to build a bright future for themselves.
Enforcing restrictions and confining women and girls to their homes have not been successful and will never produce a positive outcome, she said.
On June 2, Shamama organised an exhibition to showcase its paintings in Herat city.
Its artwork reflected its protest against mandatory coverage (hijab), the ban on girls' education, and the restrictions working women face.
It will be impossible to sideline women and girls, who are well aware of their rights, said Zamarot Hussaini, a second-year student at Herat University who visited the exhibition.
"We will stand determined to fight the current restrictions. We shall not let anyone stifle our voices. The time has passed when Afghan women and girls would bow, give up their fight and confine themselves to their homes," she said.
"Undoubtedly our ongoing protest and struggle against restrictions are shaping our future. We will not allow others to decide for us and paint us a dark future," she added.
'Restrictions won't last long'
The societal role of Afghan women is well established and has taken root over the past two decades, said several women's rights activists in Herat.
Restrictions have not had much impact on women's activities in society, said activist Tolo Adel.
"The closure of girls' schools and the closure of government offices and parks to educated and capable women, as well as other restrictions, shall not last that long and have proven to be ineffective," she said.
"Imposing such restrictions on women and girls in the 21st century is ridiculous and doomed to fail," she added.
"There are as many as 15 million women in Afghanistan -- nearly half of the population. What force can stand against 15 million people? No one can dare to deprive this number of people of their rights," Adel said.
If anything, restrictions have motivated women to make more progress, some say.
Society needs women and it will fail without their contributions in various sectors, said Wazhma Parastash, a women's rights activist in Ghor province.
"Thousands of educated and experienced women will not stay home forever and witness the violation of their rights. This silence has now been broken," she said.
Without women's contributions and active participation, Parastash said, it is impossible to get through the current turmoil, and it is impossible for Afghanistan to progress and prosper.