HERAT -- An art exhibition in Herat earlier this month showcased the artwork of 15 female artists who have continued painting despite being banned from attending school since last year.
The exhibition, held October 3-6 in Herat's Salahuddin Saljuqi Hall, put on display 150 of their paintings.
Much of the artwork portrayed the dreams of Afghan girls -- unrealised amid the challenges and restrictions they currently face in the country.
"We wanted to display our paintings and show that Afghan girls can thrive under any circumstances," said Alnaaz Ferotan, 19, one of the featured painters.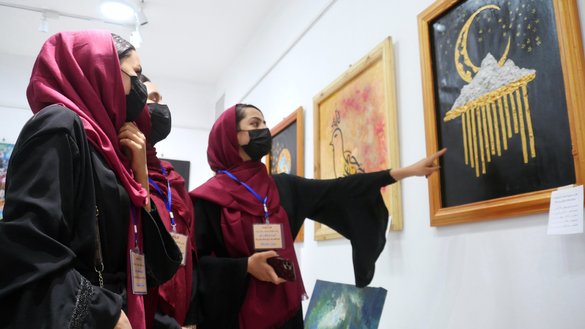 Ferotan was in the 12th grade when girls were banned from attending secondary school.
"We just started the journey and want to expand our professional activities," she said. "We are determined to walk the path and try even harder."
Kosar Omar, 17, an 11th grader in Herat city who also took part in the exhibition, said she and the other artists wanted to portray their desires in their paintings.
"The current gender restrictions have forced girls to be more determined and spare no effort to achieve their goals," she said. "Nobody can create obstacles to undermine our progress."
Omar said the group intends to organise more exhibitions and continue to show the world that Afghan girls will never stop pursuing their endeavours.
"We want to nurture Afghanistan's art sector -- girls are talented and have made great achievements so far," she said.
Motivating other girls
The exhibition also aimed at encouraging other girls to not give up on their dreams, say the artists.
Afghan girls will remain strong under any circumstance, will never lose hope and will continue to try to achieve their dreams, said Sayeqa Jamshidi, 16, an 11th-grader.
"We intended to create a sense of motivation among girls by organising this exhibition," she said. "Girls have talent, and they should express it and not let their talents be trampled."
"We are trying to develop our country's art sector and introduce it to the world," she added. "We want to show the world that Afghan girls are talented and won't let their ambitions be compromised."
Soraya Qaderi, 16, a ninth-grader in Herat city, said learning to paint has helped her forget the disappointment from being deprived of school.
"I want to motivate other girls and give them hope by showcasing my paintings," she said. "They should not lose hope and give up on progress."
"I was very disappointed initially, but over time I found painting as a profession that can change my life for the better," she added.
Afghan women and girls are able to change the course of their lives, but they need to become an active part of society, despite the ongoing restrictions, Qaderi said.
"Fortunately, many girls have returned to work and resumed education and social activities in recent months," she said. "This is all very promising."
Fighting restrictions
Visitors to the exhibition saw it as a meaningful way to fight the ongoing restrictions imposed on women.
Fatema Karimi, 24, said it brought her happiness to see the girls' talents and abilities showcased.
"These girls, who have started painting over the past year, have improved a lot and created very interesting work," she said. "This shows that Afghan girls are very talented and if they are given the opportunity, they can thrive and progress."
Girls have long proved that restrictions cannot hinder their progress, Karimi said.
"Organising an exhibition of paintings by girls shows that women can still play an active role in Afghanistan's traditional society despite the imposition of strict restrictions," said Shaheera Elhami, 26, another visitor.
"The active participation of women and girls in society empowers them and paves the way for other girls' progress," she said. "When dozens of girls resume work, education and other activities in society, others will definitely follow suit and dare to leave their homes."
"The new generation of Afghan girls, who have grown up in the past 20 years, are knowledgeable, empowered and have learned how to build on their successes," she said.
"Any restrictions against the progress of girls will be unproductive."