HERAT -- Interventions supported by the United Nations (UN) and other international organisations have helped boost the activities of female entrepreneurs in Herat province.
Financial and capacity-building support from international organisations has encouraged many women to establish business activities in Herat, according to the Afghanistan Women's Chamber of Commerce and Industry (AWCCI) in the western region.
Many female entrepreneurs who lost their jobs after August 2021 have opened new businesses with support from international organisations, said Behnaz Saljuqi, deputy chairperson of the AWCCI in the western region.
"The support provided by the relief organisations has been very effective in advancing women's work," she said.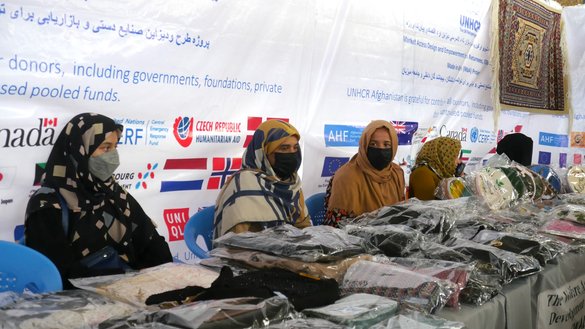 "For example, the United Nations Development Programme (UNDP) has provided extensive support to some 3,000 female entrepreneurs in Herat province. In addition to supporting capacity-building activities, UNDP granted $1,000 [87,800 AFN] in cash assistance for each woman to launch a small business."
The Food and Agriculture Organisation also has provided financial support to hundreds of women in the agricultural sector, she said.
And the International Organisation for Migration has provided financial assistance to displaced women and offered training sessions about business activities.
About 500 women and girls have opened a business over the past two years in Herat province, according to Saljuqi.
Showcasing progress
Many of the businesswomen showcased their handicrafts and other products at an exhibition in Herat city from May 24 to 28.
Rebaba Sarwari, 26, owns a handicraft, embroidery and decorative item workshop in Herat.
She said the assistance she received from the UN High Commissioner for Refugees (UNHCR) has enabled her to expand her business as well as offer employment opportunities for women and girls.
"I used to own a small business at home and could not sell my products in the market," she said. "However, I was later able to expand my business and open a big workshop thanks to the support provided by UNHCR."
Currently, as many as 20 women and girls are working in the workshop, she added.
"UNHCR has provided support towards improving our sales. With that support, our sales have increased in local markets, and we can now export," Sarwari said.
Such support is critical to help women contribute to their families' livelihoods on the one hand and to the country's economy on the other, she said.
Khairia Nasrat, 28, established a local garment workshop about a year and a half ago.
She was a teacher in a private school in Herat city but lost her job following the closure of girls' schools.
Nasrat said she had learned tailoring skills in the past and decided to open a sewing workshop after she became jobless so that she could create an employment opportunity for herself and other women.
"Eight girls are working with me in the workshop," she said. "They are school and university students who have been denied further education. Following the closure of schools and universities, I decided to establish the workshop to open a door of hope for them."
"I devoted my life to pursuing my studies and working," Nasrat added. "I do not want to confine myself at home and forget my dreams. I have to come out and strive to achieve my goals."
Malika Hedayat, 34, also established a sewing shop in Herat city last year.
She had been working at Herat's provincial Urban Development and Land Directorate until she was prohibited from continuing to work and forced to stay at home.
Now dozens of women and girls, who are the sole breadwinners of their families, are working in Hedayat's shop.
"I waited a long time to return to my job in the government, but I have not been allowed so far," she said. "I got tired of confining myself at home and losing my passion, so I decided to open a sewing workshop."
"My business has flourished over the past year," she said.
Restrictions on women's work "cannot stop us from achieving our ambitions and progress", Hedayat said. "If they do not allow us to work in [the public sector], we have the courage and motivation to establish our own businesses."
Working outside the home saves women from mental and emotional pressure, and helps them achieve financial independence, she added.
Seizing opportunities
Many Afghan girls who have been prohibited from continuing their education started to learn art and how to establish a business as an alternative to staying at home.
Suraya Naimi, 17, an eighth-grade student, said that even though she initially lost hope when her education was interrupted, her life has changed for the better since she started to learn painting and can now earn a living by selling her artwork.
Some of her paintings were for sale at the women's handicraft exhibition in Herat city on May 27.
"Art has become like a light in my life, and I want to make the future of Afghanistan bright with my art," Suraya said. "Since they closed schools on us, we have seized another opportunity to reach our dreams."
She said that to improve their businesses and create a better future, women need the co-operation of the international community.
"In such a difficult situation, if there is no support from the world community, the life of Afghan women and girls will be devastated."
"The opportunities that are available for women and girls are the result of [this] support," she added.
Sayeda Qaderi, 18, a 10th-grade student, displayed and sold seven of her paintings and miniatures during the exhibition.
"I did not want to become depressed and stay at home after being prohibited from going to school," she said. "I wanted to fight restrictions by learning art, and I have not failed so far."
Qaderi said she will not accept social restrictions and will continue to work outside her home without any fear to achieve her goals and aspirations.
"It is the result of pressure from the international community that women and girls can work outside their homes despite the current difficult situation," she said. "The United Nations and the international community have continued to support Afghan women over the past two years, as they did for 20 years [before that]."