HERAT -- Amid the deepening economic crisis and Afghans' weakening purchasing power, there is no market for vegetables in Herat province, farmers say.
Ghulam Hazrat Hasanzada, 43, a farmer in Guzara district, Herat province, cultivated vegetables on his 2.9 acres (6 jeribs) of land in 2022.
The harvest was good, he said, but there are fewer customers in the market than there were last year.
"I worked very hard and spent a lot of money this [solar] year but lost more instead of benefiting," he said. "Most of the farmers have suffered losses from the lack of sales in the market this year."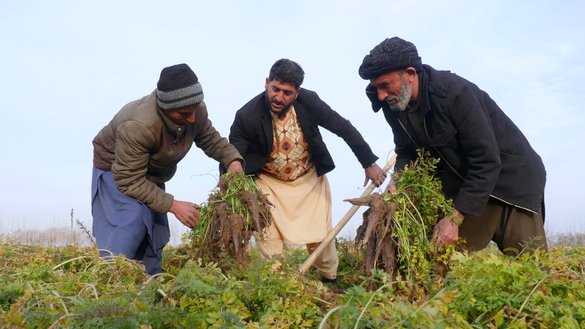 "We used to buy two bags of chemical fertiliser, each a different kind -- one black and one white -- for 4,000 AFN [$46]. But the price has increased to 10,000 AFN [$114]," he said.
"I used to take a cart full of vegetables to the market to sell and would make 8,000 AFN [$91], but I make only 3,000 AFN [$34] for selling the same amount of vegetables now."
If the authorities facilitate the export of vegetables or build standard cold storage facilities, farmers will earn an income instead of suffering losses, he said.
Abdul Razaq Omari, 35, cultivated carrots and cabbage on his 2.9 acres (6 jeribs) of farmland in Guzara district in 2022.
While his yields were much better this solar year than they were last year, he said the market has no demand for produce.
"Businesses have stopped, and people have become very poor," he said. "People prefer to buy a loaf of bread instead of carrots, vegetables or fruits."
He lost money in 2022 rather than making any profit, he said.
"I bought a bag of black fertiliser for 6,000 AFN [$68] and a bag of white fertiliser for 3,000 AFN [$34]," he said. "However, I sell a kilogramme of carrots for 20 AFN [$0.23] and cabbage for 12 AFN [$0.14] in today's market."
With lower demand driving market prices even lower, he said, he cannot possibly break even this harvest.
Lack of support for exports
While vegetable yields increased in 2022, farmers say they have no way to export their products.
Without support for exports, farmers are forced to sell their products for less than market value, said Sayed Mohammad Akhtarzada, 47, a farmer in Guzara district.
"As the harvest of vegetables is high at this time of the season, it is crucial to facilitate the export of these products," he said. "Domestic market capacity cannot absorb all our products because the supply is greater than the demand."
"Vegetable products are available in the country, and vegetables are also imported .. at this time of year," he said.
"In order to support the sales of domestic produce, the import of vegetables ... should be prevented," he said. "However, unfortunately, they are being imported in excessive amounts."
Akhtarzada said he is considering not growing vegetables in 2023 because of his financial losses and low demand.
Shah Mohammad Karimi, 36, who grew vegetables on his 4.9 acres (10 jeribs) of land in Guzara district, said if domestic products were supported, he would have made profits instead of suffering losses in 2022.
"If I take a truckload of vegetables to the market, I cannot earn more than 5,000 AFN [$57]," he said. "I have already spent over 700,000 AFN [$7,980] on growing my harvest this year. I am not sure how I can recover the money I spent as prices remain very low at the market."
"No support has been provided for agricultural products in Herat whatsoever," he said. "Authorities let vegetables and fruits be imported ... but do not support domestic products."
Karimi said the agriculture sector, like other sectors, sustained great losses over the past year, and if the situation continues, no farmer will be willing to grow vegetables and grains in the coming solar year.
Vegetables -- including carrots, cabbages, onions, potatoes, tomatoes, eggplants, cauliflower, okras and turnips -- were cultivated on more than 6,600 hectares in this solar year in Herat, according to the Provincial Agriculture Directorate.
While vegetable yields are expected to reach almost 85,000 tonnes, this year's harvest far exceeds the needs of the market in Herat, the Directorate said.
Rising unemployment, poverty
Abdul Nasir Qadiri, 34, runs a vegetable stall in Herat city.
The sole breadwinner of his seven-member family, he said he earns 100-200 AFN ($1.14-$2.28) daily from selling vegetables.
He previously worked at Herat's Land Authority Directorate but was dismissed in 2021.
"I spend my entire day standing outdoors, but there are no customers," Qadri said. "Only a few people come and buy vegetables. I encourage some people who pass by my stall to buy vegetables, but they say that they do not have money."
"When I had a job, I used to take home several types of vegetables every night, but now that I am a vegetable seller, I cannot take vegetables anymore," he said. "Instead, now I can take home only half-rotten vegetables that people have not bought."
Qadiri said poverty and unemployment have reached a level that the priority of families is to look for a loaf of bread, not vegetables and fruits.
Nizamuddin Poya, 31, a labourer in Herat city, said he has not bought vegetables over the past two months.
"I have forgotten when I last bought vegetables," he said.
"My only concern is to find a loaf of bread for my family. There are five of us in the house, and I am the only breadwinner for the family," he said. "I do not have a job or income, so how can I afford to buy vegetables and fruits?"
Poya said he hopes that the situation improves so that businesses resume and he can find a job and provide for his family.
"My children need to eat vegetables and fruits to be healthy and to grow, but I cannot buy them," he said. "When the job market was better, I used to buy vegetables and fruits at least twice a week, but we have become so poor this year."