HERAT -- Engraving, an ancient art inherited from the Timurid period about 600 years ago, is now offering dozens of women in Herat city the chance to earn a living.
Norwegian Church Aid on August 15 inaugurated eight engraving workshops in Herat province for more than 50 women who now have permanent and profitable jobs.
After taking part in a six-month training course, the women now can produce various types of decorative items by carving and engraving wood and stone.
"I feel happy because I come to work every day," said Mariam Ahmadi, 23, one of the engravers. "I was fed up with being unemployed and confined at home. Fortunately, now I have a job and an income and serve my community."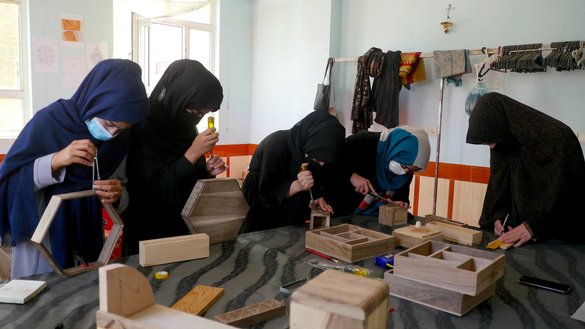 "I have felt motivated and hopeful about my life ever since I started engraving ... I have become independent and stood on my feet."
The women produce various engraved items and are able to sell them for a good price in the Herat market every day, she said.
Rehana Mohammadi, 25, who also works at one of the engraving workshops in Herat city, said engraving skills have enabled her to work outside her home.
"Engraving is very valuable in my life because it has helped me escape home confinement and become an active member of society," she said.
"Now that I can engrave, I have an income and hope to run an engraving business in the future," she said. "I earn 500 to 1,000 AFN [$5.65 to $11.30] a day, and this is a good income in the current situation."
Mohammadi expressed confidence about her future and hopes that similar opportunities will be created for other women.
Supporting households
Most of the women studying engraving are the sole breadwinners of their families.
Amid Afghanistan's unprecedented economic crisis, women are playing a crucial role in supporting their households, especially when male members become jobless.
Madina Motahari, 23, has become the breadwinner of her four-member family.
Her father was a public servant who was dismissed from his job over a year ago and has been unemployed since.
"We spent whatever savings we had over the past year," Motahari said. "My father could not find another job. Now that I have a job, I can earn a living for my family."
"The prevailing economic challenges and restrictions have forced us to work with even greater commitment and determination," she said. "I want to work more so that I make more money in the future."
Mohtahari, a third-year economics student at a private university in Herat city, said she can now earn enough to pay for her education as well as her family's expenses.
"The more they impose gender restrictions, the stronger our determination will grow to come out of our homes and continue working," she added.
Freshta Rezaie, 21, also uses her income from engraving to help pay for her family's expenses.
"My father is ill and cannot work. My brother is a labourer but has not earned anything for the past several months," she said.
"By selling engraved products, I make more than 500 AFN daily [$5.50]. This amount meets the needs of my family to some extent," she said.
"If I do not work, we will not have an income and be able to pay for our expenses."
Women's important role in society
Many women have resumed their work in recent months, according to the Herat Women's Chamber of Commerce and Industry.
"More than 220 women are involved in various entrepreneurship sectors in Herat," said Nargis Hashemi, the chairperson of the chamber. "Moreover, some 1,500 women are engaged in informal business activities in the city and districts of Herat."
Many of these women have obtained their business licences in recent months, she noted.
"Women work with great commitment and motivation and have proved to be successful," Hashemi said. "While the economic crisis has affected women's work and activities, they spare no effort to make a living."
Gender restrictions and challenges have reinforced women's determination to work in society, said Naima Karimi, a women's rights activist in Herat city.
"Women play an important role in household economies," she said. "Despite the current crisis, women have been saving their families from poverty."
"The achievements of women in Herat in the last few months show that if Afghan women and girls are given a chance, they can improve the economic situation for their families as well as the economy of Afghanistan," Karimi added.