HERAT -- The silk industry is providing a valuable opportunity for hundreds of women in Zindajan district, Herat province, to continue working amid major restrictions in Afghanistan.
By raising silkworms and processing silk, these women are earning an income and supporting their families.
Silk production is an ancient Afghan industry that is common in the western part of the country, especially in Zindajan.
Herat Women's Silk Production Co., a private entity in Herat that purchases silk cocoons from female cultivators to be processed and woven into fabric, has been the reason for the silk industry's growth in Herat.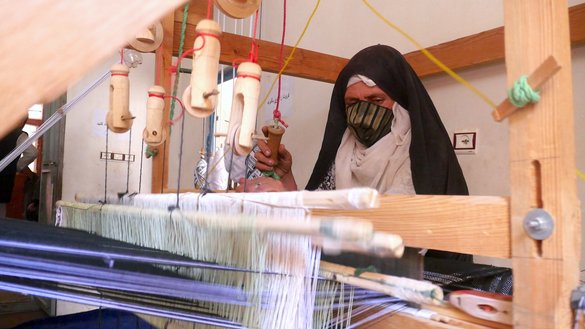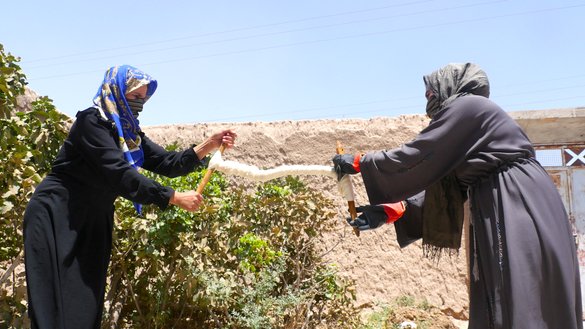 Some 750 women work in the silk industry in Zindajan district, said CEO Mariam Sheikh.
"Hundreds of other women also are employed during the silkworm raising season. Women in the silk industry have great skills and are behind its growth," she said.
"All phases of silk production in Herat are done by women ... from raising silkworms and processing cocoons to turning them into silk thread, dyeing [thread], and weaving silk fabric and clothes," she added.
The women raise silkworms in villages, feeding them mulberry leaves until they cocoon. The cocoons are then boiled in hot water for silk thread.
Women weave the thread in the silk production shops in Zindajan district to produce clothes, scarves and fabric.
Supporting household economy
Seema Saee, 23, has been producing silk clothes and scarves for almost six years now.
She makes 150 AFN ($1.69) for weaving each silk scarf. Her daily income is 300 ($3.38) AFN, she said.
"I support my family with the money I make here," Saee said. "My father had little income this year because of unemployment and drought. I covered nearly all the expenses of a seven-member family with my income."
"I am happy that we have created employment for ourselves in a remote district. By standing on our own feet, we are not a burden on our families," she added.
The silk business was very good in the past, she said, but her income has declined in the last year from falling silk sales and a halt in silk exports, Saee noted.
Mariam Osmani, 50, who has also been weaving silk for the last six years in Zindajan district, says she earns more than 200 AFN ($2.26) each day from weaving silk.
She said she is happy about the work opportunity during such difficult times.
"I am the breadwinner of a family of five," Osmani said. "My husband is old and can't work, and my oldest son is disabled. I cover my family's expenses with the money I make by weaving silk."
Efforts are under way to resume the export of silk, said Nargis Hashemi, director of the Herat Women's Chamber of Commerce and Industry.
Silk exports from Herat have largely stopped since last August.
"Many countries are interested in Afghan silk, and we are trying to find ways to export it," she said.
"Silk clothes used to be exported via international commercial flights. But with the halt and reduction in international flights, the export of silk has stopped."
"Once exports resume, the silk industry will flourish again and will help improve women's businesses in the silk industry."
Escape from home
Women in the silk industry work up to eight hours a day outside their homes.
Zheela Qaderi, 25, a resident of Zindajan district who dyes silk threads, said that she is happy to be able to work outside her house.
"I got a bachelor's degree in science from Herat University, but despite all my efforts, I could not get a job in the government or the private sector," she said. "Now I work in the silk industry and support my family who supported me for years while I was a student."
"It is a tragedy when women are trapped in their homes and cannot go outside," she added. "Like men, women are talented and capable and can contribute to the development of society."
Poverty would be alleviated much faster in society if women were allowed to work outside their homes, Qaderi said.
Sultana Mohammadi, 48, a resident of Zindajan district who works at Herat Women's Silk Production Co. packing silk threads, is the only breadwinner of her family.
Without her work, her family would not have another source of income, she said.
"How would we live if I stay home and do not work? The economic problems of most poor families that are facing severe hunger would be addressed if female members of the family were allowed to work."
"In the current situation where men can't find work, women should not stay home and watch their children starve," Mohammadi said. "Women in rural areas can work by participating in areas such as agriculture, animal husbandry and chicken farming."
Locking women up at home and keeping them unemployed will only worsen the economic crisis and poverty in society, she said.