JALALABAD -- It may look like they're just planting and weeding, but for the women tending the public gardens of Jalalabad, the tasks represent far more --the rare chance to work outside the home.
A hood and scarf partially hiding their faces, the women working in the city's public gardens wear an ample fluorescent orange work blouse -- like their male colleagues -- which contrasts sharply with the deep green of the grass.
For six days a week the female gardeners -- all of them poor, and many of them widowed -- are busy between the rose hedges and the fruit trees.
Their salary, about $130 (9,486 AFN) per month, is for most of them the first they have ever earned.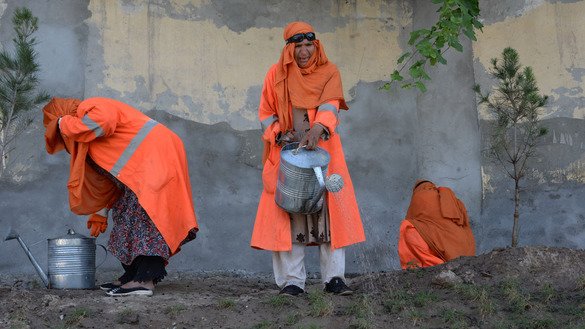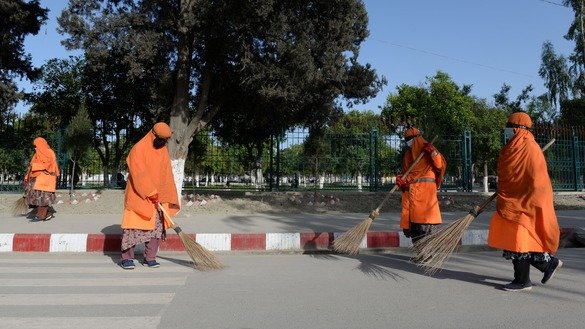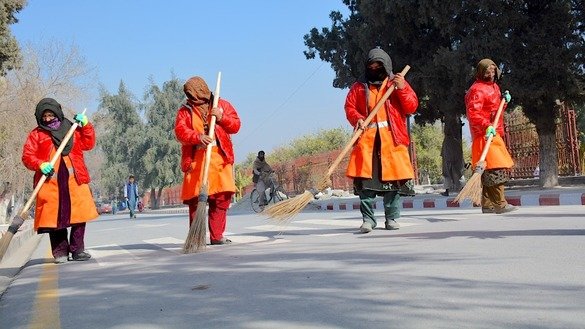 "Men think women can work only inside their home," said team leader Lailuma Shirzad, 26, so wrapped in hood and scarf that only her eyes show. "By doing this, we are showing to everybody the women can do much more."
Obstacles to women's work
Employing women was not an obvious choice in Nangarhar Province.
Nangarhar has been a stronghold of the "Islamic State of Iraq and Syria" (ISIS), where it competes with the Taliban, and the province's Tora Bora mountains served as a hideout for former al-Qaeda leader Osama bin Laden after the 9/11 attacks.
The United Nations agency UN-Habitat, which is behind the initiative, also had to negotiate hard with families.
"For most women, this is the first work experience out of the home," said Mohammad Nader Sargand, head of UN-Habitat's "Clean and Green City" programme in Jalalabad.
But the culture of Pashtuns, the dominant group in eastern Afghanistan, "imposes so many restrictions on women, far more than Islam", he said. "It's not allowed for women to go outside without a man of the family."
The programme, launched in 2016, aims to create, rehabilitate and maintain urban parks in Afghanistan's main cities by employing the most vulnerable: including women and those displaced by war.
Some 8,000 apprentice gardeners selected from among these populations have been hired in a dozen provinces, including Kabul.
Among them are 1,000 women. One hundred of them, aged 18 to 60, are active in Jalalabad.
According to the World Bank, 19% of Afghan women had official jobs in 2017.
"Jalalabad and Kandahar have been proved the most difficult areas to work in," Sargand said.
In an Asia Foundation study in May 2017, 66% of Pashtun Afghans surveyed accepted the idea of women working outside the home -- compared to 74%, the national average.
"The main concern was to make sure that women would not be in contact with men outside the family," Sargand said. "In the first week, brothers and husbands continually checked that their virtue and dignity were preserved."
Women 'happy' to work
Most of the women are untrained widows, their husbands' deaths leaving them destitute.
Najiba, in her 40s, advances with a billhook in hand in Bibi Saira, one of the five gardens of Jalalabad where the programme is run.
"People in [this] country say I shouldn't come and work with men, but I am very happy to do that work, and I am really happy to come here," she said. "I hope my daughters will be able to join me too."
Torpaikay, a delegate from the Ministry of Women who goes by one name, said most of these women were already attending social workshops organised by the UN.
"Afghan women are powerful; they can work if given the same opportunities [as men] and if they want it," she said.
"But this is the first time that they are given a chance to work," she said. "It's difficult but not impossible."
Zalmay Akhehar, a community leader in Jalalabad, is convinced that in this case, women do a better job.
"Here women are sweeping the paths. If we stop, we'll have garbage everywhere," she said.
In the absence of funding, the greening agenda for Afghan cities was set to end in June in Jalalabad and by December elsewhere.
But with the support of enthusiastic municipalities, UN-Habitat hopes to persuade donors to continue funding the programme.