NANGARHAR -- Defying militant threats and other barriers to economic independence, Afghan women are working hard to create job opportunities for themselves and others.
"Thousands of women are busy working in handicrafts in Nangarhar Province, and the level has increased remarkably as compared to the past," Sher Alam Amlawal, director of Nangarhar's Department of Trade and Industries, told Salaam Times.
The department is ready to provide assistance to women in business and industry, he said, adding, "We will leave no stone unturned in this area."
As many as 100 women in Nangarhar have registered as owners of small and large businesses, many of whom hired other women, Manizha Wafeq, chairwoman of the Afghanistan Women Chamber of Commerce and Industry, said February 20 at the opening of the chamber's provincial office in Jalalabad.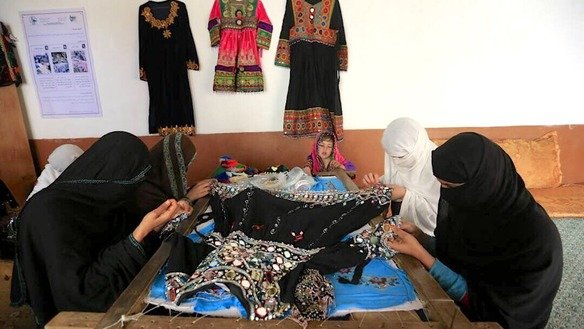 Entrepreneur pays it forward
While educational and work opportunities have improved for women in Afghanistan, few have created as many opportunities for others as has Nazia, a 28-year-old resident of Khewa District, Nangarhar Province.
Nazia holds a class on tailoring at her home twice a day, in the morning and afternoon, teaching 16 students in each class. She provides her students with jobs once they complete the course.
"Ten years ago, an organisation gave me a sewing machine," she told Salaam Times. "I learned how to sew cloth with that machine, and then I started to think about other girls too."
"I have trained 50 girls and women of my village in tailoring and embroidery over the past three years," she said. "I train them for a period of six months, and when they complete the programme, they work from their homes."
Shopkeepers give orders to Nazia and her students, who then sew items per customers' specifications.
"We give orders to Nazia and to many other women," Sayed Mohammad Rahim, a shopkeeper in Jalalabad who sells traditional cloth, told Salaam Times. "We receive orders from others, and then we buy material for them and they sew it for us, so it is lucrative for us and them."
Everybody benefits from the arrangement, according to Nazia.
Education first
Nazia requires her tailoring students to enroll in school.
"There are many misfortunes here, and the residents were not sending their daughters to school," she said, adding that in the seventh grade she hid her backpack from her brothers and went to school.
With great difficulty Nazia obtained her education, after which she studied to be a midwife for two years.
"I have experienced these difficulties, and now when someone comes to learn tailoring, I first tell their family that the girl should attend school too," Nazia said.
"Now [those parents] accept the condition that I set, and they send their daughters to school," she said, vowing, "I will continue my struggle."
Improving livelihoods
One of Nazia's students, Maria, 25, said she is grateful for the opportunity to learn sewing and tailoring.
Maria said her father was mentally ill and her mother baked bread for other villagers to support the family. Sometimes the villagers would give them food and money, she said.
"Then Nazia came to my mother and told her 'your daughter will learn to work with me and your life will improve'," Maria told Salaam Times while sewing a new dress. "Now I have learned how to sew. I work, and I make an honest living. I am very happy."
Maria, who previously stopped going to school, now wants to resume her studies.
"I have studied up to grade six, and I would like to enter grade seven now," she said. "My mother has also agreed with me, and I will attend school."