BAGHLAN -- A new technical and vocational training centre in Baghlan province will help hundreds of impoverished women and men acquire needed skills to become self-sufficient.
The World Food Programme (WFP), in collaboration with Aga Khan Development Network (AKDN), established the training centre, which opened October 17 in Pul-e-Khumri city.
"We have established a technical and vocational training centre where 427 women and 73 men have the opportunity to learn skills in areas such as tailoring, stitching, leather embroidery and motorcycle repair for six months," said Mohammad Tahir Sultani, director of AKDN's economic partnership division.
"The beneficiaries are poor women and men who have been identified from different districts in the centre of Baghlan province," he said.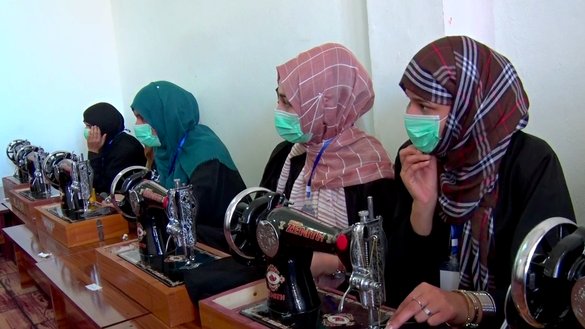 "They will receive 7,000 AFN ($80) per month, food aid and work tools for free during the training," he added.
"The purpose of establishing the technical and vocational centre is to teach women who have been facing economic hardship a profession that will help them achieve self-sufficiency in the future and earn a living," he said.
Sultani said AKDN is planning to launch the second phase of the project upon completion of the first phase so that other women, who have been marginalised, can also learn a profession and become self sufficient.
Fighting poverty
"We first surveyed these women, and after identification and biometrics, they started their practical and theoretical lessons," said Nasratullah Parsa, director of labour and social affairs in Baghlan province.
"Women have a crucial and important role to play in society, and it is incumbent on us to create employment opportunities for them so they can earn a living," he said.
Such training courses will help reduce poverty and empower women, he said.
"If women are given the opportunity in various fields, they can bring about change and overcome economic challenges," said Rohullah Qurbani, a civil society activist in Baghlan.
"Prohibiting women from working not only increases economic problems but also the poverty rate amongst Afghan households," Qurbani said.
"Women, like men, have studied and made progress over the past two decades. They must have the opportunity to go out and work in public and private sector organisations," he added.
'Not a liability'
A number of beneficiaries at the centre, most of whom are school-age students, see in the training centre a way for them to cope with psychological pressures, especially since they have been banned from going to school.
Nasira Mohammadi, 21, a 12th grader at Bibi Aysha Siddiqa high school in Baghlan, told Salaam Times that because of the lack of professional job opportunities, she decided to learn sewing and become a tailor.
"I was about to graduate this year, but since schools have remained closed, I have enrolled in a knitting course [at the centre] and am learning how to make different types of clothes," she said.
After finishing the course, Mohammadi said she will be able to economically support her family.
Roheena Sarwari, 22, an 11th-grade student at Pul-e-Khumri's Bibi Hawa girls' high school, said that because she may not go to school, she is learning embroidery, a skill she highly enjoys.
"We can learn and work under any circumstances as long as the right opportunities are provided to us," she said.
Zohra Haqjo, 24, who has been training at the vocational centre for six months, said that now that she has learned tailoring skills, she can utilise the acquired skills to economically support her family.
"Every day I leave my house and come here for one reason: to learn something so that I do not become a liability to society," she said.
"Learning to sew is the only viable option, especially for women, under the current circumstances, and we must go for it," she said.
"My father is ill, and my mother is jobless. I have to take up sewing and use my income to support my family," she added.
"This is a great opportunity for girls and women to become self sufficient so that they learn together and plan for a better future."