HERAT -- Ten women and girls, all dressed in light blue overcoats, make their way every day at dawn to the saffron fields in Gulmir village in Pashtun Zarghun district, Herat province, each carrying a basket to hold her harvest of newly blossomed saffron flowers.
With the arrival of the saffron harvesting season, which runs until early December, more than 20,000 women and girls in the province have been employed, according to the Herat Department of Agriculture, Irrigation and Livestock (DAIL).
Women carry out and manage more than 80% of the work in the saffron industry in Afghanistan, from planting, picking and processing it to its sale on world markets.
Most of the girls busy at work in Gulmir village, 45km east of Herat city, are in 7th to 12th grade but have been banned from going to school since last year.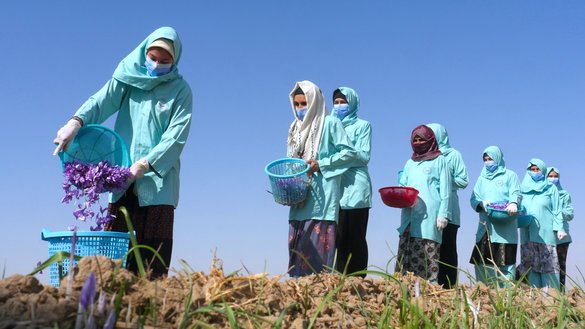 Fatima Karimi, 16, is picking saffron flowers for the first time this year.
Going out of the house and picking saffron together with other girls and women has helped ease some of the stress from being trapped at home, she said.
"It has been more than a year since I have been to school, and I am very grateful for the opportunity to work," she said.
Fatima makes 300 AFN ($3.50) per day, which she said is "a great financial support" for her.
Husna Naemi, 18, said she picks 5kg of saffron flowers every day from the fields.
"I am happy I'm able to leave my house in such a difficult situation," she said. "Picking saffron has helped me financially as well as mentally."
Increased production
This year's saffron output is up by almost 80% from last year, according to Herat's DAIL.
The department has projected this year's saffron output to be close to 18 metric tonnes, said Bashir Ahmad Ahmadi, director of DAIL's agricultural affairs.
Last year's saffron output stood at 10 metric tonnes, he said.
"Saffron bulbs were planted on 7,000 hectares of land in Herat this year," Ahmadi said. "Most of the saffron fields are in Pashtun Zarghun, Ghorian, Karukh and Guzara districts."
"Irrigation water from Salma dam reached saffron fields on time this year and has helped increase saffron output," he said, predicting that farmers will have a good yield this year.
Jalil Ahmad Mohammadi, 41, a farmer in Pashtun Zarghun, said that this year his saffron crocuses have more flowers.
"This year, our fields received irrigation water from Salma dam on time, which mitigated the impact of drought, and it looks like this year's yield is twice as bountiful as it was last year," he said.
Saffron prices have also gone up this year, he said, with 1kg of saffron flowers selling for up to 1,000 AFN ($11.32) compared to 200 AFN ($2.26).
One kilogramme of pure saffron is extracted from 100kg of saffron flowers, he added.
Rising saffron prices
The price of saffron in the province is four times higher this year, Bashir Ahmad Bahaduri, chair of the Herat Chamber of Agriculture, said.
"Saffron prices used to fall during the harvest season in the past, but on the contrary this year, the prices have gone up."
This will reflect positively on the farmers' income, he said.
Herat's saffron is the best in the world, and as a result, it is renowned internationally, Bahaduri said.
Noor Ahmad Tarakai, 56, a farmer in Pashtun Zarghun, cultivated saffron on 2 hectares of land.
"I am happy that my hard work paid off and my saffron yields are much higher this year than in previous years," he said.
"Ten women from my village, including my three daughters, pick 50kg of saffron flowers every day, which is then sold to saffron processing companies," he said.
Tarakai said he hopes the export process of saffron from Afghanistan will be facilitated so that they can be sold at a good price.
Bibi Hawa, 50, has been cultivating saffron in Herat for the past 12 years, and this year she did it on one hectare of land.
Hawa is the breadwinner for her family of six and her income from the sale of saffron flowers covers all of her household's expenditures, she said.
"I have employed 22 women to pick the flowers," she said. "All of these women were jobless but they now have an income."
"Saffron prices are very good this year," she added. "Last year, the price of each kilogramme of [pure] saffron did not exceed 30,000 AFN [$340], but this year it has reached more than 100,000 AFN [$1,130]."