HERAT -- Thousands of women are continuing to support themselves and their families with temporary jobs in Herat province's saffron fields.
As part of the saffron harvesting season, which started October 23 and ends December 6, the women work to pick saffron flowers, separate the red saffron fibers from the flowers and transfer them to the warehouses.
They then also work at various processing centres in Herat city.
Women carry out and manage 90% of the work in the saffron industry in Afghanistan, including from its planting and its sale on world markets.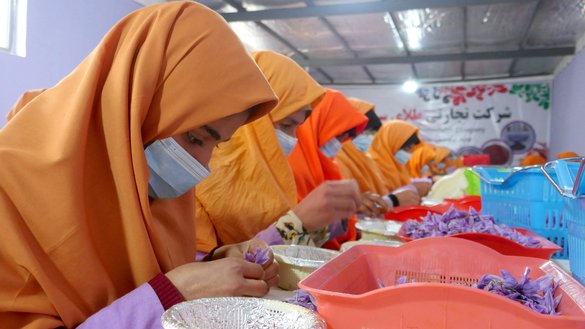 The work enables women and girls to earn a living and economically support their families.
Saleha Azizi earns 500 AFN ($5.20) each day from picking saffron flowers in Herat.
"I continue to work outside home like before. Nobody has so far stopped me from working," she said.
"I want to work like a man and be part of society," she added.
"I urge other women and girls to not feel threatened but rather come out and work in society," Azizi said.
Women and girls should not give up the tangible gains they have made over the past 20 years, she said.
Working alongside other women out in the field is a clear indication of women's fight against restrictions, said Yalda Mohammadi, who sees seasonal saffron harvesting as an opportunity to work outside her home.
"Nobody can prevent women from working. The religion of Islam has established a framework for women to play an active role in society, so nobody can confine us at home against Islamic principles," she said.
"Women should not lock themselves at home but rather should come out and continue to perform their business as they did in the past," she said.
Afghanistan's progress and prosperity can be achieved only if women work alongside men, Mohammadi said.
Supporting households
Women's work in saffron fields is especially critical amid rising poverty and starvation in Afghanistan.
Sahar Nazari's father was a civil servant who lost his job following the fall of the previous government.
Nazari, who works at Afghanistan Red Gold, a saffron processing factory in Herat, said she decided to work and support her family after her father became jobless and the family faced daunting economic challenges.
"The saffron cultivation and harvesting seasons provide a viable job for many women. Picking saffron flowers is a very easy task, and one will never feel bored," she said.
"I am so happy that I can work and support my family," she added.
Women should have more employment opportunities, said Nazari, adding, "Women can work like men and contribute to the development of their country."
The return of women to work enables them to confront the challenges of poverty and hunger, according to Parisa Afzali, another Afghanistan Red Gold worker.
If women and girls have jobs in different sectors as in the past, they can help improve their lives and reduce poverty at the household level, she said.
"My father used to work on the Pashdan dam project, but with the collapse of the previous government, the project was abandoned and my father became unemployed. We do not have an older brother to work, and my father has not been able to find a job yet," Afzali said.
She takes great pride in contributing to her family's income in difficult times so it does not have to depend on others, she added.
Preventing women from working will not only increase Afghanistan's economic challenges but also poverty among households across the country, she noted.
Making a difference
If women did not participate in saffron processing, Afghanistan's saffron never would have become known for its high quality around the world, said Nazira Hussani, a mother of five who works in a saffron processing centre in Herat city.
"If women receive opportunities in all areas, they can make a difference. In every workplace where women have played a prominent role, its activities have been exemplary," she said.
She urged authorities to remove all restrictions on women's outdoor activities and to allow women to participate in social activities like men.
Women have proven their potential in the past 20 years by participating in various fields, said Fatema Karimi, a women's rights activist in Herat.
"Women and girls account for half of society, and if they are deprived of work, half of society will be paralysed," he added.
"Women have progressed and studied like men in the past two decades. Therefore, these educated women and girls should have the opportunity to work in government offices."
"This will ensure the provision of better government services for the entire Afghan population," Karimi said.