MAZAR-E-SHARIF -- The saffron industry is continuing to provide lucrative job opportunities for women in Balkh province.
Nawras Saffron, a private company in Balkh province, has created employment opportunities for almost 200 women.
"Fortunately, we were able to provide employment for 190 women in various fields including cultivating, processing and packaging saffron products so that they can economically become self-sufficient," said Sayed Zainullah Usmani, CEO of the company.
"Most employed women are educated, and we have hired them because they were jobless. As our saffron business grows, we will create opportunities to hire more women," he said.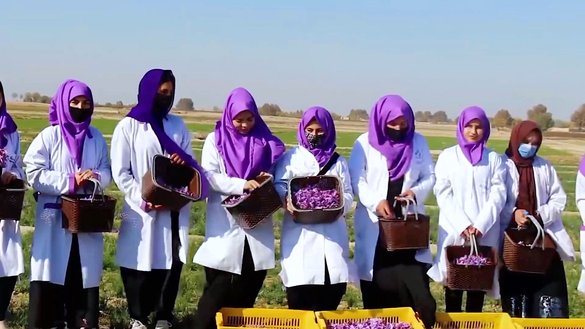 The women started working in October and will continue for six months, he said, adding that the company pays them a monthly salary of 12,000 AFN ($137).
"Nawras is one of the biggest saffron-producing companies in Balkh province," he said. "Our sales reached 700kg last year. If the demand rises in the market, we can produce and sell up to one tonne of saffron this year."
The climate in Balkh is very conducive for saffron, he said.
He called on business owners to invest not only in producing saffron but also in exporting saffron.
Supporting women-led households
Mina Ahmadzai, 32, a resident of Mazar-e-Sharif, who graduated from Balkh University's faculty of law and political science, works at Nawras Saffron.
"I managed to complete my studies despite many challenges, but there is no opportunity for me to serve my people and my country," she said. "I found no other choice but to work here as a labourer."
"Working in the saffron fields gives some hope for women to build a better future," she said. "I am very happy that I can serve my people and community while working in this field."
The creation of jobs on saffron farms is an opportunity for women's empowerment and self-sufficiency, said Kawsar Usmani, 24, another resident of Mazar-e-Sharif working at the company.
"I am happy that the saffron processing company has made it easy for us to work," she said. "Now that I work here, I can support myself and my family with the income I get."
"Working on saffron farms has allowed us to become a good financial supporter for our families," said Usmani, a high school graduate.
"We call on other organisations ... to help women and girls become self-sufficient so that they can support their families," she added.
If women are provided with opportunities, they can make a difference, Zarina Yaqoubi, 27, who also works at the Nawras Saffron processing centre in Balkh province, said.
"If women and girls work in various fields like in the past, they can improve their well-being and help reduce poverty at the household level," she said.
"Cultivating and harvesting saffron are appropriate employment for many women. Picking saffron flowers is a very easy task, and nobody feels exhausted," she added.
"I am very happy that I can work and support my family," she said.
Expanding saffron production
Almost 300 tonnes of saffron bulbs was distributed to farmers last year, and about 150kg of saffron was harvested from 80 hectares of land, according to officials at the Balkh Provincial Agriculture and Livestock Department.
"In order to promote saffron and increase its yield this year, saffron has been cultivated in an area of 120 hectares of land in Balkh province," said Mohammad Hossein Azimi, a spokesperson for the department. "We expect to see an increase of 250kg in saffron production this year."
"Saffron, in addition to Balkh province's centre, has been cultivated in Chamtal, Dawlatabad, Chahar Bolak, Nahr-e-Shahi and Balkh districts," he said. "Saffron needs little water and grows better in dry places."
Saffron is a very good alternative to poppy cultivation in Balkh, and farmers have been satisfied with its harvest every year, say provincial agriculture officials.
"Working outside the home reaffirms women's fight against restrictions," said Sadaf Khodayar, 46, an entrepreneur in Balkh province.
"No one can stop women from working," said Khodayar, who owns a handicraft business. "Work opportunities such as this give women the motivation to go out and work and become a financial partner in their household."
"Women should not confine themselves at home. They must come out and continue working as they did before," she added.