HERAT -- Salma Dam -- operating at full capacity for the first time -- is providing electricity to Herat city and irrigation water key to the survival of crops.
All three of the dam's turbines have been operational since May 5, according to Barakatullah Rahimi, the technical director of the dam.
With all three turbines operational, the dam is providing more than 40MW of electricity to the Herat city grid, he said.
This is the first time that all three of the dam's turbines are simultaneously operational, except for testing two years ago, Rahimi said, adding that agricultural lands will benefit greatly.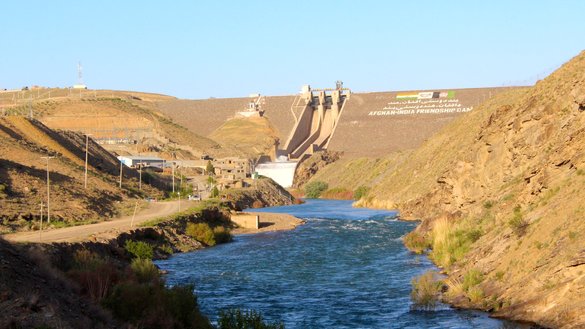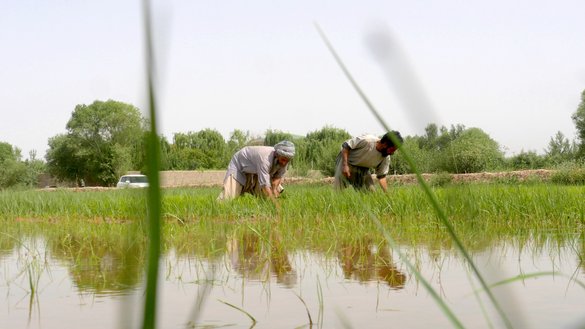 "Eighty cubic metres of water per second is discharged from Salma Dam's turbines and provided to Herat's agricultural lands," he said.
Abundant rainfall this year helped fill the dam's reservoir.
"There is more water in the Salma Dam reservoir this year than last year," Rahimi said. "There will be enough water for irrigation in the spring and summer."
The dam provides irrigation water to agricultural lands and orchards in eight of Herat's 19 districts -- Chesht, Obe, Pashtun Zarghun, Guzara, Injil, Zindajan, Ghorian and Kohsan.
"We will provide sufficient amounts of water to agricultural lands and orchards covered by the dam as long as they need it," said Sardar Wali Muzamil, director of the Herat River Basin.
"Water will be distributed to farmers based on a specific schedule," he said. "Not even a single drop of water goes out of the country."
India funded the construction of Salma Dam -- also known as the Afghanistan-India Friendship Dam -- and it became operational in 2016.
Prior to the dam's construction, water from the Harirud River flowed freely into Iran. Disgruntled by the loss of free water, the Iranian regime through its proxies has tried to block or sabotage the construction of several dams in Afghanistan's western region.
Now, Salma Dam has the capacity to generate 42MW of electricity, store 633 million cubic metres of water and irrigate 75,000 hectares of land.
Rescuing farms from drought
A number of farmers in Herat say their crops would have perished had it not been for Salma Dam.
"Salma Dam has been providing water to farms in the dry season for almost a month now and has saved our crops," said Mohammad Barekzai, 45, a farmer in Injil district.
"I have cultivated wheat and rice on one hectare of land this year," he said. "My entire crop would have died had it not been for water from Salma Dam."
Nazar Mohammad, 49, another wheat and rice farmer in Injil district, said his crops died last year from water shortages. This year there is sufficient water, and he expects to have good yields.
"Salma Dam has saved my crops and and all other farmers' crops in the district from dying," he said.
"Our crops would have died in a few days and our efforts would have been in vain if the water had not been provided."
"Wheat crops were close to harvest and needed one last round of irrigation," he said. "We all irrigated our wheat fields after water from Salma Dam arrived, and we will harvest wheat in a few days."
Gul Ahmad, 48, a rice farmer in Injil district, said he is happy the dam is providing sufficient water for farmers' crops.
"Paddies must be in water for 24 hours until they are grown," he said. "Paddy crops would die without enough water."
Increase in yields
Herat's Directorate of Agriculture, Irrigation and Livestock (DAIL) has projected grain and fruit yields to increase significantly this year compared with last year, thanks to available water.
"Wheat and other grain crops are ripe, and harvests have begun in some districts," said Pir Mohammad Halimi, director of the directorate. "Comparing this year's wheat yields with last year's, it is 50% higher this year."
"There are more than 3,000 fruit orchards in eight Herat districts covered by water from Salma Dam," he said.
Water from the dam has greatly helped Herat farmers' economic situation, and as a result poverty among farmers is expected to decline, Halimi said.
Over the past seven years, Salma Dam has transformed farmers' lives in most districts of Herat, said Bashir Ahmad Ahmadi, an agricultural specialist in the province.
Had it not been for this dam, Harirud River water would have flowed into Iran, while crops in Herat would have died this season, he said.
"The volume of snow and rainfall this year was higher, and there is a lot of water behind Salma Dam," he said. "Therefore, agricultural yields will be higher as well."
"In the western districts of Herat such as Zindajan, Ghorian and Kohsan, where much saffron is cultivated, water from Salma Dam plays a key role," he added.