HERAT -- Improved irrigation infrastructure in Herat province has bolstered agricultural production, contributing to a 31% increase in exports over last year, government officials said.
This economic success comes despite the Taliban's efforts to disrupt the water supply in the province. Those attempts include an attack on a security post at Pashdan Dam in March, which was meant to harm the dam's workers and engineers.
Between January 2020 and March 2021, producers in Herat exported 68,883 tonnes of merchandise, valued at about $80.3 million (6.25 billion AFN), to various countries, according to the Herat Chamber of Commerce and Industries.
In just a one-month period, "Herat exported 4,000 tonnes of agricultural products, which were valued around $485,000 (37.7 million AFN)", chamber director Mohammad Rafi Rahmani said last month.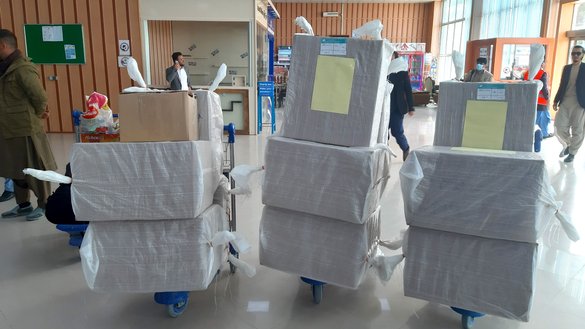 Of the 183 types of goods exported, 179 were agricultural, Rahmani said.
The main agricultural exports from Herat are saffron, raisins, green cumin, watermelon seeds, sesame, broom seeds, sorrel, asparagus, basil seeds and some medicinal plants, he said.
Lead and carpets also are among the top items for export, he said, while Herat's industrial exports include "boilers, energy drinks and medical supplies".
Most exports were destined for the United Arab Emirates, Iran, Europe, India, Turkey, Saudi Arabia and some African countries, said Mohammad Osman Ansari, who heads Herat's exporters' union.
"Most countries are interested in Afghan products because Herat's agricultural and industrial products are of very good quality," Ansari said, adding that he expects the export market to keep growing.
Transforming Herat's economy
The June 4, 2016, inauguration of Salma Dam helped bolster Herat's agricultural production, in turn improving the living conditions of farmers, local officials said.
After it began operations, thousands of orchards were planted in districts such as Chesht, Obe, Pashtun Zarghun, Injil and Zindajan, said Herat Department of Agriculture, Irrigation and Livestock acting director Bashir Ahmad Ahmadi.
Farmers now are cultivating more than 14,000 hectares of paddy fields, used to grow rice, throughout the province, he added, up from just 6,000 hectares before the inauguration of the dam.
"Salma Dam has helped create permanent jobs for thousands of individuals in 10 districts alongside the Harirud River," Ahmadi said.
If water from Salma Dam had not been not available, he noted, farmers would have lost their agricultural and horticultural produce altogether because of this year's drought.
"The Salma Dam water has saved our harvests this year," he said.
The flow of water through the dam has enabled modernisation of the agriculture sector, which has led to an increase in and standardisation of agricultural production in the province, said Herat governor Sayed Wahid Qatali.
"Herat's exports, especially in the agriculture sector... are in high demand in many countries in the region and around the globe," he said.
In addition to managing the flow of water, Salma Dam has helped expand agricultural and horticultural activities, Qatali added.
"Pashdan Dam is yet another fundamental project of the government of Afghanistan for the growth of agriculture and exports in Herat," he said.
With 90% of construction now completed, that dam is expected to open by the end of the year, he said, adding that the province seeks to further increase its exports in the future.
Water projects under way
The Afghanistan National Water Affairs Regulation Authority (NWARA) plans to start construction work on around 44 large, medium and small dams in 21 provinces this year.
The projects will cost more than $600 million and will ultimately provide a storage capacity of 1.2 billion cubic metres of water, NWARA spokesman Nizamuddin Khpulwak said April 5.
The new dams will provide water to irrigate more than 320,000 hectares of agricultural land and will generate about 100 megawatts of electricity, he said.
Construction work on 13 dams is under way, according to Khpulwak.
These dams include Bakhshabad in Farah, Pashdan in Herat, Kajaki in Helmand, Machalgho in Paktia, Sultan in Ghazni, Toory in Zabul, Paltoni in Paktika, Shah-wa-Arows in Kabul, Shorabak in Badakhshan and Sarab and Shafloq in Urzgan.
Even amid insecurity and economic challenges, the government has been successful in building dams and creating jobs, said economist Mohammad Yaqub Mashouf of Herat city.
Building hydropower dams across the country has created sustainable jobs for thousands, directly and indirectly, Mashouf said.
"Meanwhile, with the provision of reliable irrigation water through these dams, agricultural production has increased, and farmers' livelihoods have flourished," he added.
The construction of dams will enable the cultivation of thousands of hectares of agricultural and horticultural lands, Mashouf said, adding that "as a result of the agriculture sector growth, Afghanistan will become self-sufficient".
Afghanistan has productive agricultural lands, and by ensuring the supply of sustainable irrigation water, it has the potential to increase wheat yields and produce a variety of fresh fruits, he said.
Afghans can consume the fruits or export them, he added.