HERAT -- Herat's grape harvest is expected to increase by 20% this year thanks to good rainfall and the regular flow of irrigation water from Salma Dam to orchards.
"It is expected that as many as 150,000 tonnes of grapes will be harvested in Herat this year," compared to 130,000 tonnes last year, said Pir Mohammad Halimi, director of Herat province's Directorate of Agriculture, Irrigation and Livestock.
"While a few varieties of grapes have already been harvested, others will be reaped in the coming weeks," he said.
"Forty percent of the grape production meets the needs of local consumption in Herat and some neighbouring provinces," Halimi said. "The remaining 60% will be dried as raisins, and part of it will probably be exported to neighbouring countries."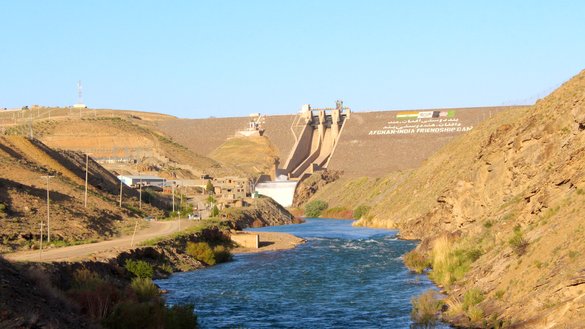 In addition to grapes, the harvest of other agricultural products has increased this year, he added.
Salma Dam has provided sufficient water to orchards and farms at a critical time this year, Halimi said, leading to an increase in grain and fruit production in Herat province.
In May, all three of the dam's turbines became simultaneously operational for the first time.
Hundreds of grape orchards with more than 100 types of grapes have been established across Herat during the past two decades.
The grape harvest is unprecedented this year, said Niaz Mohammad, a farmer in Guzara district, Herat province.
"Considering the rising economic problems, the increase in grape production will help us in many ways, and we will see more returns on our investment this year," he said, referring to Afghanistan's economic crisis.
Mohammad expects to harvest high quality grapes as no plant diseases or pests occurred this year.
"I am so happy that my efforts have produced a good outcome and that I see my orchard full of fruit," he said.
Lack of export markets
"However, the lack of a market is a major concern for all of us," said Mohammad.
The export of grapes and raisins from Herat has been halted over the past year.
Even though grape production is very high this year, there have been no efforts to explore export markets, said Bashir Ahmad Bahaduri, chair of Herat's Chamber of Agriculture.
"Air corridor services have remained closed for the past few months, and no cargo flights are happening," he said. "Furthermore, we cannot export grapes overland."
"Farmers dry up grapes into raisins because it is currently not possible to export [fresh grapes]," he said. "However, they hope they will be able to export them as soon as air corridor services resume."
The Chamber of Agriculture, in co-ordination with the private sector, is exploring options to export Herat's raisins, Bahaduri said.
More than 20,000 tonnes of grapes were exported last year, according to the Chamber of Agriculture. The bulk of these exports was carried out through the air corridor.
Ghulam Mahboob Zayartjahi, a farmer in Guzara district, said he was very happy about the increase in his grape yield, but the unavailability of an export market concerns him the most.
"Local markets are usually saturated during the grape harvest season, and we have a serious need to export," he said. "When there is no export, grapes remain in our hands."
"If our grapes are not sold, we have no cold storage," he said. "If the grapes are sold fresh, they are much more profitable than raisins. Now we have no option except to consider turning them into raisins."
Sixty to 70% of Herat's grapes are suitable for export, but because of the lack of export services, farmers suffer great financial losses every year, said Zayartjahi.
Raisin houses
More than 60% of grapes in the province are converted into raisins, according to Herat's Directorate of Agriculture, Irrigation and Livestock.
The construction of 1,500 raisin houses during the past two years has made it possible to dry grapes into raisins in Herat.
Since fresh grapes are not exported, the raisin houses have helped Herat farmers prevent their harvest from perishing, said Abdul Naser Haidari, a farmer in Guzara district.
"We used to dry raisins by adapting our traditional techniques; however, we currently have access to standard raisin houses," he said. "Herat's raisin production has increased substantially because of the existence of these houses."
"Herat farmers sell their raisins at a higher price because of their quality and taste," he said. "The market value of Herat raisins went up unprecedentedly ... because of their high quality, and this has brought great profit for farmers."
The raisin houses built earlier have played a vital role in producing high quality raisins in the province, said Bashir Ahmad Ahmadi, an agriculture specialist in Herat city.
"Farmers were drying raisins in a traditional way, which meant very low quality," he said. "This led to a situation where fewer Herat raisins were exported."
"Now that the quality of Herat raisins has improved, most countries are interested in importing them," he said. "The private sector has established contacts with several countries, and it is expected that Herat's raisin exports will increase soon."