KABUL -- Iranian border forces have again interfered with Afghan farmers working on an irrigation canal near Kamal Khan Dam.
The latest incursion occurred on March 8 in Kang district in Nimroz province, according to local authorities.
The Iranian forces, who crossed illegally into Afghanistan, fled the scene after clashing with local forces, they said. Two Iranian soldiers were killed.
The farmers had been working on a canal in Seikhsar locality of Kang district to direct water from Kamal Khan Dam to their fields when the Iranian border forces attacked them, said Habibullah Elham, spokesman for the Nimroz provincial government.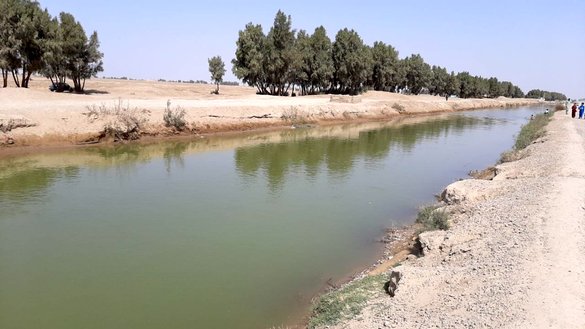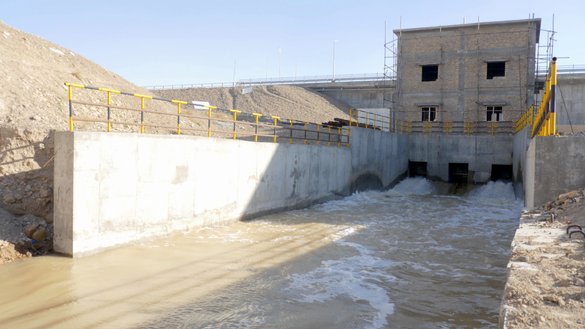 "Farmers were working inside Afghan territory, and it was about 1km away from the border point; however, they were shot at by Iranian soldiers," he said.
"Neither farmers nor local residents were harmed," he added.
An abandoned Iranian military vehicle remained at the scene of the clash on Afghan soil, local eyewitnesses said.
About a year ago, Iranian forces attacked Afghans working on Kamal Khan Dam's Godar Abdul Rahman canal with heavy and light weapons, but Afghan forces repelled the attack.
Harming farmers' livelihoods
The Iranian military's indiscriminate attacks on Afghan workers and farmers along the Kamal Khan Dam canal in recent years have hampered the growth of agricultural production in the border areas.
Farmers in Kang district say they cannot work on and irrigate their fields on time because of threats by Iranian troops. These threats have damaged the productivity of the agriculture sector in the region, they say.
Iranian troops cross the border and threaten Afghan farmers to stop agriculture activities, said Abdul Hameed, a farmer in Kang district.
"I have a piece of agricultural land near Seikhsar canal and cultivate it every year," he said. "However, the Iranian forces claim that we do not have the right to use water from the canal, and they attack us."
Iran has been very greedy towards Kamal Khan Dam and has always forced Afghan farmers to refrain from cultivating in a bid to hamper the growth of the agriculture sector, Hameed said.
"It is now the season that we should irrigate our lands, but because of opposition by Iranian soldiers... all our [cultivation] efforts over the past year will be ruined," he said.
Incursions by the Iranian military onto Afghan land must end and it should not be allowed to prevent Afghan farmers from cultivating their crops, said Ghulam Farooq, another farmer in Kang district.
"Every year, when we want to cultivate our farmland around Seikhsar canal, the Iranian border forces create obstacles and do not allow us to use water from the canal," he said.
The governments of Iran and Afghanistan must discuss the issues pertaining to access to water rights, Farooq said, adding that Iranians should not punish Afghan farmers.
"Poor Afghan farmers, who struggle greatly to make a living for their children, cannot resolve water issues between the two neighbouring countries," he said.
'Bad neighbour'
With Kamal Khan Dam recently filling up, enabling Afghanistan to better control the flow of water from the Helmand river -- and preventing the flow of free water to Iran -- the Iranian government has stepped up the mistreatment of Afghan refugees in the country.
In late January, hundreds of Iranian protesters attacked Afghan drivers and destroyed several of their vehicles carrying commercial goods in retaliation for ceasing the flow of water from Kamal Khan Dam.
It goes without question that Iran has always been a bad neighbour to the Afghan people, said Abdul Hamid Watandost, a civil society activist in Zaranj, capital of Nimroz.
"The Iranian regime does not tolerate Afghanistan's prosperity and development, and therefore it uses all means... to destroy our country," he said.
"Because Kamal Khan Dam plays an instrumental role in boosting agricultural products and provides job opportunities for the farmers, Iran has always been hostile towards it," he said.
Tehran's demands beyond its water rights are unjust, and its efforts to destroy Afghanistan are an inhuman act, Watandost said.
Iran, as a neighbour of Afghanistan, has done nothing positive toward Afghanistan in decades and has brought only destruction and misery to the Afghan people, said Abdul Zahir Omari, a resident of Zaranj.
The Iranian government has built several hydropower stations on its side of the border, which have hampered the flow of water to its neighbours, but at the same time it has opposed the construction of Kamal Khan Dam, which is the right of Afghans, he said.
"The Iranian regime continues to sabotage our efforts in building the dam," he said. "Iran has plotted several attempts to destroy it and other hydropower stations across the western region."
"I believe Iran will never give up its hostility towards Afghanistan," he added.
"The aggression of the Iranian military in Kang district must stop as soon as possible so that the farmers can easily carry out their agricultural activities," Omari said.