KUNDUZ -- More than 500 men and women in Baghlan province have received the training and tools they need to find employment or start small businesses, as part of a programme designed to strengthen vulnerable households.
On July 8, 350 women and 150 men graduated from a six-month vocational skill training course in the provincial capital of Pul-e-Khumri, implemented with support from the United Nations World Food Programme (WFP).
The women learned tailoring, embroidery and handicrafts, while the men were taught plumbing and vehicle repair.
"Over 500 female and male trainees were enrolled in WFP's vocational skill training, which was launched in January," said Wajehullah Nayel, who heads the Afghanistan Social Improvement Organisation in Baghlan province.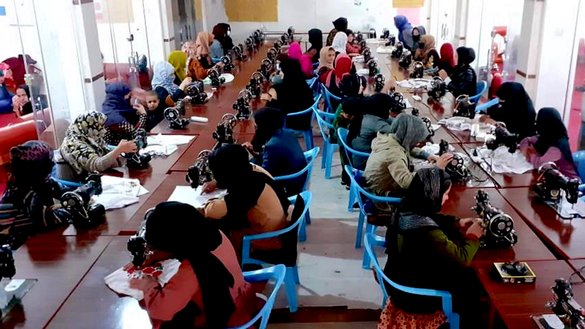 "The no-cost training was aimed at women and men who have not been able to complete their education and were facing unemployment and economic problems," Nayel said.
The project's total budget, 30 million AFN ($340,000), was provided by the WFP, he said, and trainees also received a food package worth 7,000 AFN ($78).
"At the graduation ceremony, work tools such as sewing machines, irons, scissors and other equipment needed for each field were distributed to all trainees to enable them to improve their startup business," he said.
The training programme sought to strengthen the economic situation of vulnerable households and improve their food security, Nayel said, adding that the next round of the programme is expected to start soon.
'I had no other choice'
Baghlan University political science student Zarghoona Ahmadzai, who took part in the WFP's vocational training programme, told Salaam Times her father had hoped she would become a judge -- a hope that is as yet unfulfilled.
"I have lost the aspiration and interest to continue with my university studies and started learning embroidery as a profession," she said.
Hundreds of women and girls taking part in the programme used to work in different sectors before being forced to learn handicraft skills, Ahmadzai said.
Shamila Subhani, an 11th grade student in Pul-e-Khumri and a graduate of the training course, said she decided to learn tailoring as a profession after being prevented from going to school.
"The tailoring profession was not my favourite, and I was not interested in learning it," she said. "I wanted to become an engineer in the future."
"In order to support my family, I had no other choice but to join the six-month sewing course so that I can stitch women's clothes and earn a living," she said.
"I am determined to complete 12th grade, even if there is a long delay of several years. I simply cannot give up my education at any cost," she added.
"It bothers me a lot that I have been deprived of serving my compatriots and country," said Najia Qayoumi, a former employee of the provincial education department in Baghlan.
"I wish I could use my experience to build and develop my country," she told Salaam Times. "I have been confined at home for several months by restrictions. I had no other choice but to find ways to go out and work."
"Now that I have graduated from the vocational skill course, alongside other women, and learned embroidery, I can make a living in the future," she said.
Making a living
"Car repair is an incoming-generating profession," said Ali Sina, 32, who is providing for a family of five. "I was interested in this field, and I am glad that I have learned it professionally."
Sina, a graduate of the programme, said he plans open a shop in Pul-e-Khumri.
"I am so happy that I can support my family's needs," he added.
Aseila Rahimi, who used to work in the private sector of Pul-e-Khumri, is now set on becoming an embroiderer.
"After I lost my job and income, my family faced severe poverty," she said. "I therefore had to learn embroidery, to be able to help them financially."
"The necessary tools for embroidery were provided at the end of the course by the training centre," she said. "I have learned professional embroidery skills."
"Going forward, I will be able to produce embroidery works at home and sell them in the market," Rahimi said.
Training programme graduates will be able to serve their communities and make a living for their families, said Abdul Matin Akhundzada, director of the Provincial Economic Directorate in Baghlan.
"We held several meetings with our partner organisations," he said. "They promised to launch new projects and create employment opportunities for women and men who are facing problems."
"We are exploring options to launch additional vocational training courses for women and men facing unemployment and poverty, so they can earn a living and become empowered and financially self-sufficient," Akhundzada said.