KUNDUZ -- The Zindagi (Life) Foundation is providing free training in tailoring, marketing and sales to 70 girls and women in Badakhshan province.
Zindagi has been training women and girls for free in various areas of the province since 2019, said Masihullah Mohammadi, director of the foundation.
The current five-month training course started in March with 70 participants in Faizabad, the capital city of Badakhshan.
The participants, most of whom are orphaned or left with no male guardian, face economic difficulties and will benefit from the course, Mohammadi said.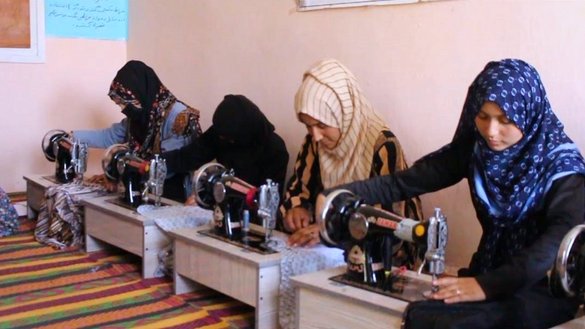 "We are giving a monthly stipend to the participants," he said. "We also try to help them find jobs and sell their handicrafts in local markets."
International donors such as UN Women, Oxfam, GIZ and others help fund Zindagi.
"Most of these girls have lost their fathers to two decades of war, and they face serious economic problems," he said. "This program helps them economically by enabling them to sew and sell their products."
In addition to learning the theory and practice of tailoring, they gain skills in sales and marketing.
Hope for the future
A number of the young women participating in the tailoring course in Badakhshan said they are feeling more hopeful and less uncertain about their future.
Rahima, 18, a high school sophomore in Faizabad city, said she and other girls study tailoring for half a day in the classes and have learned to sew all types of women's clothing.
"I lost my father in 2019 in an explosion in Faizabad city, and I look after my family now," she said.
"My mother is sick and cannot work, and my brothers are young," she explained. "I have to learn tailoring professionally to support my family in the future."
Manizha Ahmadi, another participant in the tailoring course, said she lives with her uncle's family along with her two sisters and her brother.
"I had lost hope in life after the death of my parents and was worried about our future," she said.
"I could not even hold a needle properly in the beginning, but in the last three months, I have learned cutting and sewing clothes."
"I am very happy to be part of this training because it has made me somewhat hopeful in my future," she said.
Class participants are divided into four teams and learn skills such as cutting, sewing and marketing, step by step, said Sharifa Akbari, who leads the training of a 15-person team.
"After completing the training, we can sew women's clothing with the tools that will be given to us, sell them in the city's shops and use the money to meet our families' daily needs," she said.
'Urgent need for education'
Under these circumstances, there is an urgent need for the education of girls, and more efforts should be made in this regard, Sayed Ahmad Bezhanpoor, a sociologist in Badakhshan, said.
The majority of Afghan women and girls are staying home right now, he said.
"In order for them to become self-reliant, training programmes in tailoring, embroidery, beadwork and carpet weaving should be held for them so that they can find work in the future."
Afghan women have been significantly active and achieved much in the past two decades, he said. Today, however, "they are the most deprived group."
Afghan women need education and empowerment, Bezhanpoor added. "NGOs and organisations should take action to help them stand on their own feet again."