JALALABAD -- Outrage rippled through Afghanistan Wednesday (March 3) as funerals were held for three female employees of the Enikass TV station who were gunned down in Jalalabad on Tuesday.
The three women were shot and killed in two separate attacks just 10 minutes apart after they left the private television station, in what one colleague described as an orchestrated hit.
The "Islamic State of Iraq and Syria"'s Khorasan branch (ISIS-K) later claimed responsibility for the attacks. It described the women as "journalists working for one of the media stations loyal to the apostate Afghan government".
The gunmen assassinated Mursal Wahidi, Sadia Sadat and Shahnaz Raofi as they were on their way home from work, Enikass director Zalmay Latifi confirmed in a telephone interview with the New York-based Committee to Protect Journalists (CPJ).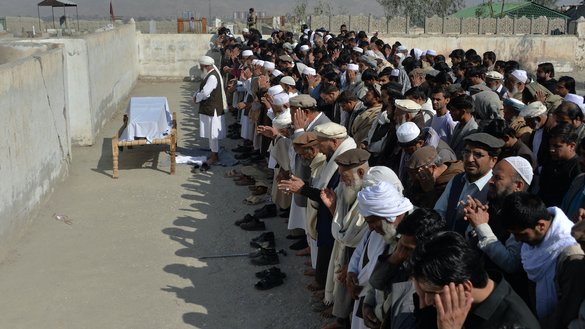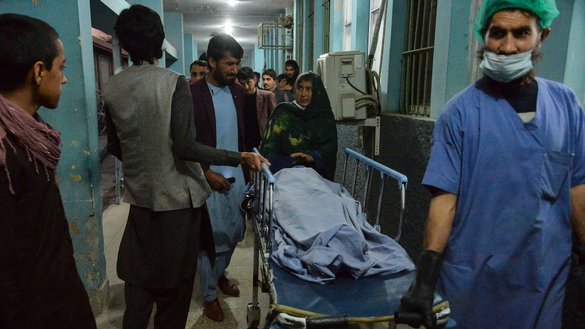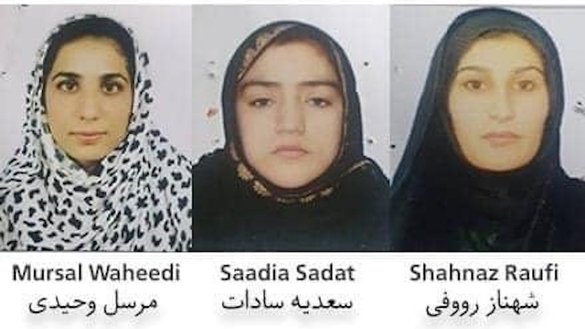 The women were aged between 20 and 26 years, according to relatives.
At about 4pm, attackers shot Sadat and Raofi while they were walking home from the station together, according to news reports. A few minutes later, gunmen in a different part of the city shot Wahidi.
One armed suspect was arrested and police are investigating the killings, Nangarhar police chief Jumagul Hemat said.
At least one passerby, an elderly woman, was wounded, said Nangarhar provincial Governor Ziaulhaq Amarkhail.
Enikass is an independent, privately owned media outlet that broadcasts news and entertainment programmes. The station often receives threats from extremist groups who take issue with its news coverage as well as the TV shows and films it broadcasts, Latifi told CPJ.
The women dubbed foreign entertainment TV programmes and films into local languages, he said.
The killers dragged one woman out of her vehicle before shooting her, Latifi told Voice of America.
The station called it a "sad day" and noted that it has "been targeted many times, but this is the second time we lost our dear colleagues".
Enikass reporter Malalai Maiwand and her driver were shot and killed in December. ISIS-K also claimed responsibility for that killing.
'Innocent girls shot dead'
Friends and family gathered at the women's funerals Wednesday in Jalalabad, where men took turns digging fresh graves with a shovel as others pleaded for an end to the deaths.
Rohan Sadat described his sister Sadia Sadat as "shy but active". She was passionate about fighting for women's rights and had planned to attend university and study law.
"We have buried her with all her hopes here," he told AFP.
The station was reeling from the murders and the three victims were like "family", said another colleague at Enikass TV who spoke on the condition of anonymity.
"Three innocent girls were shot dead in the daylight in the middle of the city. Nobody is safe anymore," said the colleague.
President Ashraf Ghani condemned the slayings, saying, "Attacks on innocent compatriots, especially women, are contrary to the teachings of Islam, Afghan culture and the spirit of peace."
"These attacks are meant to intimidate; they are intended to make reporters cower; the culprits hope to stifle freedom of speech in a nation where the media has flourished during the past 20 years," the US Embassy in Kabul tweeted on Tuesday. "This cannot be tolerated."
"The perpetrators must be held accountable," it said.
A war for power, not Islam
Anger simmered online with social media users lashing out over the latest killings.
"It seems this war is not for Islam; it is just for power through spreading fear and terrorism," wrote Ghani Khan.
"These girls were working to help their families. They were not [at] war with the Taliban. They were poor; they just worked to feed their family," said Rauf Afghan.
Afghanistan long has been ranked as one of the most dangerous countries in the world for journalists.
Targeted killings of journalists, activists and judges have escalated since peace talks between the Afghan government and the Taliban began last September.
At least nine media workers have been killed in the past five months, according to the Afghan Journalists Safety Committee.
US officials blame the Taliban for the wave of violence, while the Afghan government say the insurgents routinely hide behind ISIS claims to cover their tracks.
The Taliban have denied the charges.
The assassinations have been acutely felt by women, whose rights the Taliban crushed during their five-year rule. Taliban policies included prohibiting women's employment.
Intelligence officials have previously linked the renewed threat to female professionals to demands at the peace talks for protection of their rights.
Many of the targeted killings apparently take months of careful planning -- to catch officials off guard -- and are increasingly more sophisticated than the formerly favoured suicide bomb used by insurgents.
The killings come as US Special Representative for Afghanistan Reconciliation Zalmay Khalilzad returned to Kabul this week for meetings with Afghan leaders, in a bid to revive the flagging peace process.