KUNDUZ -- Farmers cultivating rainfed lands in Kunduz and Sar-e-Pul have been unable to harvest crops this year due to drought, say provincial officials.
Rainfed crops such as wheat and barley in the region are usually cultivated in October and harvested in May.
In Kunduz, the vast majority of rainfed wheat could not be harvested, said Abdul Ghafar Sediqi, acting chief of the provincial Directorate of Agriculture, Irrigation and Livestock (DAIL).
"About 49,250 hectares of rainfed land was cultivated in Kunduz, but crops on 80% of it died, and farmers in the area have suffered heavy losses," he said. "These lands are located in the centre of the province as well as in Khanabad, Dasht-i-Archi and Qala-e-Zal districts."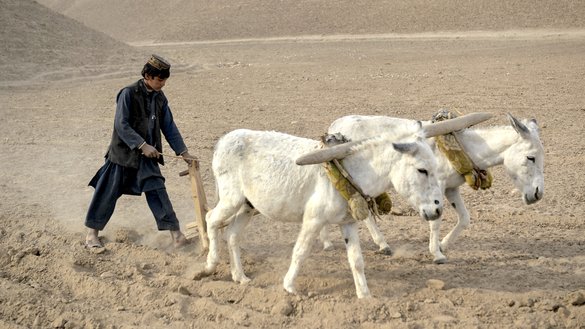 "We have shared details of the losses incurred by the farmers with the Ministry of Agriculture, Irrigation and Livestock (MAIL) and partner NGOs," Sediqi said.
"Hopefully, the farmers will get some assistance and compensation for their losses."
Meanwhile, in Sar-e-Pul province, up to 60% of wheat and barley crops in Suzma Qala, Sancharak and Gosfandi districts also have no yields this year, said Abdul Qader Wahdat, director of the Sar-e-Pul DAIL.
"There was no rainfall at the beginning of the year ... most of the farmers' rainfed crops dried up and died," he said.
"We are trying to help farmers through MAIL and partner NGOs," he added.
Suffering losses
Farmers with rainfed land in Kunduz have seen their livelihoods dry up alongside their crops.
Nazar Mohammad, 36, a farmer in Dasht-e-Abadan, said he had tried to cultivate wheat on more than two hectares of land.
"There was no rainfall in March and April," which killed the crops, he said. "I borrowed money to buy fertiliser, rent tractors and meet other expenses. Now I don't know how to pay back the money."
Drought and other disasters are causing major losses for farmers who work on rainfed lands that can be cultivated only once a year, said Rahman Berdi, 57, another farmer in Dasht-e-Abadan.
"We used to harvest crops this time of the year, but this year there is no harvest since all our crops have dried up," he said.
"Every farmer has suffered between 100,000 and 500,000 AFN [$1,122–$5,608] in losses," he added.
"I planted 3,500kg of wheat seeds on my lands last year, which yielded 14,000kg of wheat," said Abdul Raouf, 41, a farmer in Aliabad district.
"This year, I cultivated 2,800kg of wheat seeds, but not only I did not get any yields, I also owe money for the seeds," he said.
Concerns exacerbated by Ukraine war
"Wheat from Kunduz used to be supplied to neighbouring provinces in the past years, but because of the wheat crop loss this year, the price of wheat may go up," Raouf added.
Concerns are rising that residents of Kunduz will face wheat shortages, he said.
These concerns are amplified by the global wheat crisis triggered by Russia's war on Ukraine.
Russia's navy is continuing to blockade Ukraine in the Black Sea, preventing the breadbasket nation from exporting key food supplies.
Before the Russian invasion, which began February 24, Ukraine exported roughly 4.5 million tonnes of agricultural produce per month through its ports, including 12% of global wheat, 15% of corn and half of its sunflower oil, according to AFP.
The war and its ongoing blockade have largely brought the trade to a halt, with alternative routes by rail and truck unable to tackle the enormous logistical and financial hurdles needed to move so much produce to international markets.
"The government and NGOs working in the agriculture sector should buy wheat from farmers at a higher price and sell it back in the market at a lower price so that food prices don't go up and farmers don't lose money," said Mohammad Rafiq Qarizada, a provincial government employee in Kunduz.
"If this is not done, farmers will suffer losses every year," he said.
Mohammad Hussain Serat, an agriculture specialist in Kunduz, urged international agencies, NGOs and the government to compensate farmers for the losses they incurred this year.
"The volume of wheat crops on rainfed lands is lower this year than it was last year," he said.
"If partner NGOs would like to help to reduce the vulnerability of farmers who engage in rainfed cropping, then they should compensate them for the wheat seeds they used so that these farmers can continue farming next year," he said.